We love this time of the week as we get to catch up with one of our Real Brides getting married in France, and this week bride to be Jess discusses a France vs England wedding and what they have decided for their upcoming wedding.
Jess: "The past few months have been a bit stressful to say the least. We finally got our invitations out – initially we wanted to send these out a year before the wedding but couldn't get ourselves organised in time.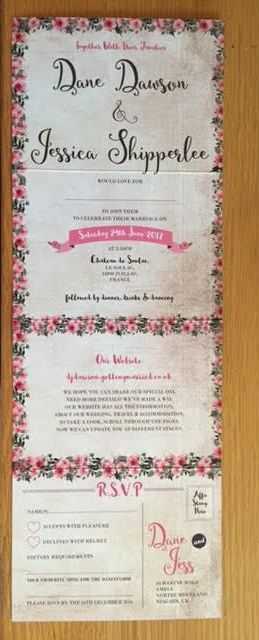 We ordered our invitations online through eBay with a company called Sienna Mai. They were beautiful invitations, good quality and a very good price.
They worked with us on every change we wanted to make and were gracious when I didn't notice a mistake on them. They were very quick at responding and sending them out. Couldn't fault them and would definitely recommend them.
One thing I didn't expect to be so costly was the cost of postage. We had accordion style invites with string tied around them, so these couldn't be sent as a normal letter and had to be sent as a large letter.
Quite a few of our invites were going overseas and it cost three times the amount of the actual invite.
My advice to anyone sending invitations would be to think practically if you are trying to reduce cost – if we hadn't put the string around them they would have been cheaper to send.  Also one less fold would have meant it could go through as a normal letter size.
We have sent most of the invites out now, and had some lovely responses from people that received them. However, some other responses caused us to question our choice to get married in France…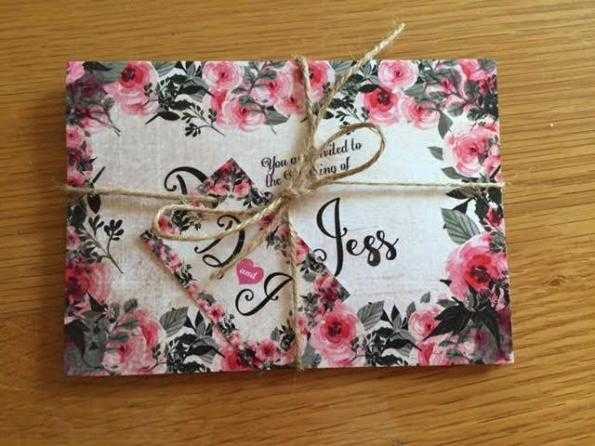 When we chose to get married in France we knew that our guest list would be smaller and some friends and family wouldn't be able to attend. We went ahead anyway, as we like the idea of a small intimate wedding with the chance to really spend time with our guests and celebrate over a few days.
We wanted something a bit different as we both love travelling and give others a lovely memorable experience. There have been a few friends and family members make some comments about our choice to get married abroad. Some family members are disappointed because they want us to have a wedding here in our home town where everyone can attend.
Where we live is very family orientated and getting married abroad is not the norm, however, my side of the family doesn't come from the area we live in anyway and most of them would of needed to travel wherever we chose to get married. We also don't want a wedding where we will be paying for a lot of people that we don't have much to do with. I've always believed in quality over quantity – I would rather spend money making the wedding beautiful for few rather than pay for more people to attend.
There have also been comments in regards to us not actually getting married in France. Due to the regulations in France we would have to sign the papers in the UK to be legally married unless we lived there for some time leading up to the wedding.
We didn't have any issues with this, as the wedding ceremony (saying our vows in front of God, Family and Friends) is the most important thing about the wedding to us and this is all taking place in France followed by the celebration reception. Most weddings these days require the signing of papers in a different location to where the ceremony is. It really wasn't an issue in our opinion.
Aside from people voicing their opinions we were concerned about the Pound as it has dropped its value since the referendum. We were concerned that the wedding was going to cost us a lot more than we planned.
So we did decide to go and look at some venues here in the UK. There are some fabulous venues in Northumberland such as Newton Hall, Woodhill Hall, and a new venue called Le Petit Chateau. Having looked at all of these I was getting concerned because no matter how beautiful these venues are it just didnt have the feel we were looking for.
Even the grand Le Petit Chateau which has been made to mimic a French Chateau didn't feel French enough – it didn't have the same surroundings of vineyards and small French villages/scenery.
The last place we viewed was Doxford Barns near Alnwick. This venue was my favourite of them all…very English but very rustic and the food and drinks were totally our style and taste maybe more so than at Chateau Soulac. The barn where we would get married was so magical. We finally had a place that I could see myself getting married.
We had to make a decision. We talked about it and re-evaluated our budget and costs. We looked at pictures and videos of past weddings at both venues. We asked advice from those closest to us.
We decided to continue with France. In our hearts this is where we really want to get married and the type of wedding I know I had always dreamed of. If we had gone with the UK we would have made it beautiful but I think I would have some regrets afterwards and wouldn't be providing our friends and family the same experience we were hoping to provide for our guests.
I love the idea that the wedding isn't over in one day but celebrated over a few. I love our venue and location and hopefully we will have some sunshine. In regards to the difference in cost there isn't too much difference but France still being the cheaper choice. It's for less people but more days and events. We have made up our mind and will keep it set. Most of our family and friends are so supportive and encouraging, and excited! We just have to understand that we can't please everyone and we always knew there would be the possibility that some people close to us couldn't attend.
We are happy and at the end of the day that's the most important thing in all of this."
Jess's Wedding Vendors so far:
Venue: Chateau Soulac
Photographer: Michael Mann
Top image by Samuel Shipperlee
If you are looking for ideas and inspiration on planning your wedding in France, don't forget you can catch up with Belle Bride Jess and you can find all the Belle Brides past and present here.
Save
Save
Save