Following on from this mornings post about the Wedding Blog Awards, I am take a looking at red carpet and bridal bling, as I want to introduce you to Fragments fine jewelry.
I am a lover of quirky jewelry and show me an oversized cocktail ring and I will end up purchasing it and adding it to my collection.  Part of the reason is that combining classic timeless style with flamboyant accessories, is a great way to change the look of an outfit whilst showing some pizzaz!
For these reasons Fragments fine jewelry is my idea of accessories heaven.  Created in 1984 by founder Janet Goldman, Fragments is a curated gallery of fine and fashion jewelry, seeking only original designs with unparalleled craftmanship.  Fragments is also a favourite for statement pieces with celebrities including the stunning Mila Kunis.
As I mentioned rings lets start with looking at some of their fabulous finds.
Three-Stone Asscher-Cut Diamond Ring, Vitrine Pear Ring
The stunning Alexandra Mor three stone asscher-cut diamond ring is just magnificent and some serious bridal bling.  It has a platinum and 18K yellow gold setting, holding two sister diamonds and a row of pave white diamonds that continue around the band. The second ring the Vitrine Pear Ring would make a great statement piece for your right hand on your wedding day.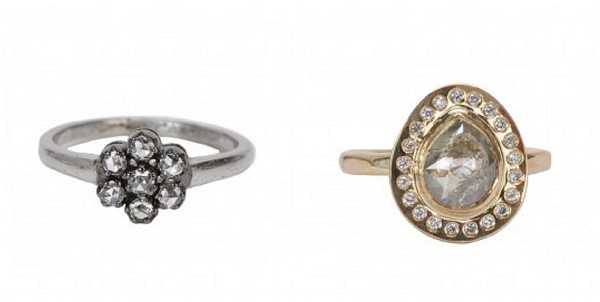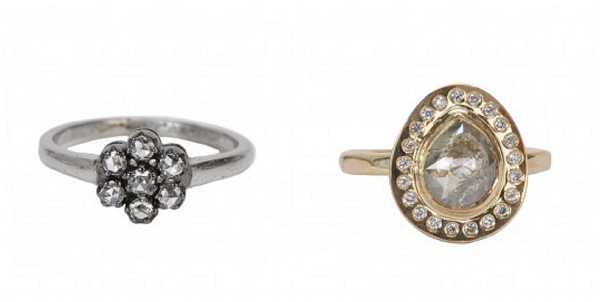 Daisy Diamond Band, Grey Diamond Halo Ring
If you prefer something a little less ostentatious, then the Daisy Diamond or Grey Diamond Halo Ring still offer understated wow factor.
Whilst bridal headwear, necklaces and rings are often high on the priority list, when it comes to the finishing touches of earrings, if you are not looking for a statement set, these are often the neglected accessory.
However right up there next to your headwear, the earrings you wear on your wedding day or to a red carpet event are one of the most photographed accessories.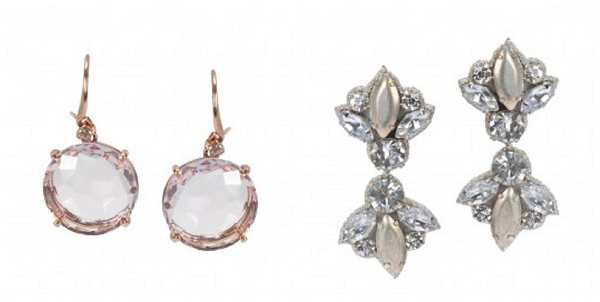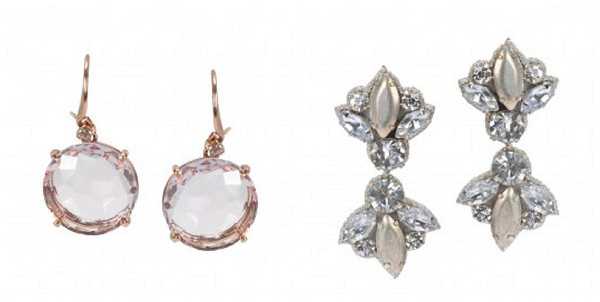 Drop earrings , Sunset Boulevard Drop
Some of my favourite bridal and red carpet styles involve adding a statement necklace to a classic dress, which transforms the ensemble.  This Crystal Bib Necklace is just show stopping!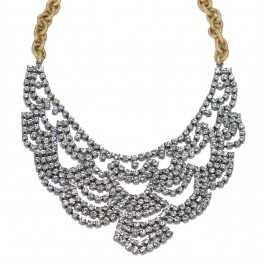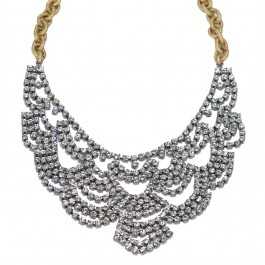 But there are options is you want to make a statement without wearing such a dramatic necklace. These two necklaces showcase the more traditional route of bridal necklaces, classic and timeless, adding to the ensemble rather than changing it  In addition timeless classic pieces such as these are often likely to be worn more often than statement pieces.
Round Vitrine Necklace, White Flower burst
The last bling treat I have for you today is bridal cuffs!  Now I love these, but they should come with a disclaimer.  If you don't have fabulous toned arms, DO NOT WEAR!
As I said I love these, but apart from my wrist I would never wear these.  I have features that I look to accentuate when putting together an ensemble and beautiful arms is not one of them.
But if you have naturally or through sheer hard work have beautiful arms, here are two stunning cuffs for you.
 Silver Elise Cuff , Silver Mattie Cuff
For more beautiful accessories visit Fragments Fine Jewelry Website.


This post was brought to you in collaboration with Fragments