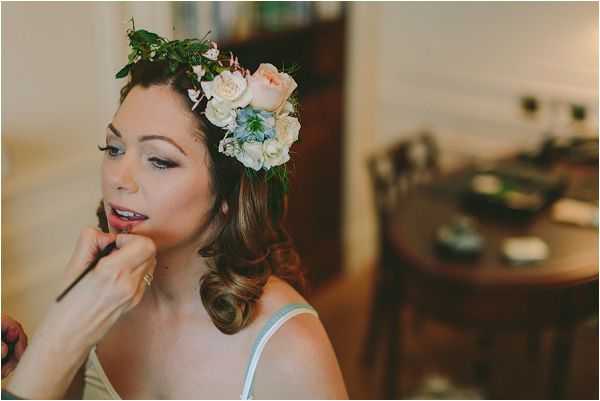 Today on the blog we have welcomed into The Study, TV, photographic and bridal makeup artist Mel Kinsman. Mel is going to be passing on some flawless destination wedding makeup tips and tricks to help deal with some of the issues that you may experience when travelling abroad.
Without further ado, over to Mel…
Achieving the best possible flawless results for your destination wedding makeup
Getting married in France is just so romantic.  All those Chateaux or stunning Vineyards to choose from.  How wonderful are your pictures going to look within settings such as mellow stone built buildings flanked by olive groves and lavender fields lit beautifully by the Provencal sun or formal grounds providing the backdrop your chosen castle basking in a Bordelais heat haze?  Aahh, yes, guaranteed weather is always such a pull for couples choosing destination weddings.
Most of my clients getting married in France tend to opt for May – September which sport much higher temperatures than here in the UK.   So how do you guarantee to stay as flawless as possible and what questions should you be asking your makeup artist (should you choose to have one) ahead of the Big Day, preferably at the trial makeup session?
Firstly, let's tackle the bride who is planning on doing her own makeup.  If that is you, then,  assessing your own skin type is key.  Are you prone to oiliness and stress breakouts?  If so, be prepared to apply a slightly heavier coverage foundation, one that has good absorption properties than perhaps your usual one or failing that, investigate in a good primer that will do it for you.  Oil control lotions are brilliant and can be applied before foundation and primer (I have even done a double application on some clients – just make sure you let each coat dry before adding any other products).  Also, a good concealer for any blemishes that decide to appear and use brushes for both. The trick is to layer makeup finely, even for blush and eyeshadow.  You can buy great eyeshadow primers, but I have a great trick that I've been using for over 30 years and that is to apply a little foundation all over the eye area, pat it well into the skin and set with loose or pressed powder.  Dust of any excess before applying your shadow.  This will absolutely guarantee no greasy creases in the eye sockets.
If your skin is dry, which is common with all the travelling and hours spent getting everything organised last minute and not drinking enough fluids, then a mild exfoliator will revive your complexion and hydrate with a facial oil the night before.
My advice for brides not totally au fait with doing their own makeup and still not wanting to hire a makeup artist, is to invest in a one-to-one makeup lesson specifically designed for their bridal makeup look.  It's invaluable.  I have done this with Brides before and overhauled their makeup bags first, so as not to let them overspend on things that they may already be able to use.  Ask the person teaching you to aim for a simple makeup, with fewer steps but still with the wow factor. When I do mine, I want my clients to work with the least amount of products that they can get away with and I provide step by step instructions to take away for them to practice with ahead of their departure.
Now, to brides who really want the luxury of having their makeup artist with them on the day.  If either hiring from home (where a trial has been a little easier to arrange) or locally from their chosen venue, then it is vital to have a thorough consultation as to skin performance under heat conditions that they are  likely to encounter on their Big Day.
Photo Credit: Cristina Rossi
Don't forget, you are not getting married in France to stay inside your lovely venue.  You will be outside, making the most of that gorgeous sunny weather.  More than likely, your ceremony will be around the 2-4pm mark.  Most Brides do not opt for early ceremonies abroad, but your makeup still has to last well into the evening and as the sun sets, it still remains very hot and sometimes humid well into the night.  Try, where possible to arrange your trial in similar conditions (or failing that, go to the gym or do a Zumba class afterwards to see how it performs!!) If your makeup artist is doing several people in the bridal party, make sure she/he gives your skin a quick assessment upon arrival.
You will, no doubt, have changed a bit since the trial and they can advise what put apply ahead of you having your makeup, ie a certain moisturiser or something to calm the skin should you have a nervous rash.  I have just come back from doing a wedding in Provence two weeks ago, where my client had a strong pigmentation issue after having been in the sun since our last meeting.  We reassessed her foundation and primer and I did a patch test to see how it performed, so by the time she was in my makeup chair 3 hours later after I had done the rest of her party, were ready to make her look a million dollars.
Photo Credit: Ilaria Petrucci
Keeping yourself in the coolest place possible will also help you look as perfect as you can whilst getting prepped.  My final point, and nobody wants to mention this, is to bring some standby makeup.  Whilst all care is taken to arrive with full kit, it is not unknown for baggage to not arrive.  Only last week a colleague of mine arrived in Italy on a late flight for a wedding the following day only for the airline to not have loaded anybody's baggage on.  The poor woman was distraught and had to think on her feet.
Top Photo Credit: We Heart Pictures
Mel Kinsman is a freelance bridal make up artist with vast experience in the film, TV and photographic industry. With a holiday home in Provence, destination weddings in Europe are second nature. For more information visit: www.melkinsman.com/