Happy Monday folks and welcome to another wonderful week here at FWS! Today we are going to soak up the sun in picturesque Provence in our fine art inspired Chateau des Alpilles wedding styled shoot.
We love this romantic style of photography mixed with picture perfect styling from Romanticist Studios. Each detail has been carefully planned and we love it! We especially love our brides off the shoulder Alexandra Grecco gown which was perfectly complimented by a fine art inspired bridal bouquet from Laetitia C florist.
The whole team came together to create a beautiful styled shoot and we are so excited to share the day with you. The shoot was held at a stunning chateau in Provence. The history of this property spans several centuries back as far as memory goes, legend has it that this rural land belonged to a 13th century knight.
We'll now pass you over to photographer Palermo Photo who will be walking us through this Chateau des Alpilles wedding styled shoot…
"Photographed by destination film photographer Maria of Palermo Photo and designed by Roberta of The Romanticist Studios, this photo shoot was a collaboration between American creatives and local French artisans to show destination clients how to marry 'home' and 'local' teams to bring their destination wedding vision to life."
"When planning a destination wedding, using vendors from your home county as well as your destination to combine both "worlds" can help make the big day more authentic and inviting, in this case bringing together American trends and the natural beauty and warmth of Provence."
"The logistics of any event abroad can be overwhelming for couples and planners alike so the team partnered with Coco from Travellur to scout the unique yet quintessentially Provencial venue Chateau des Alpilles."
"The rolling hills and fields of the French countryside inspired the organic colour palette of greenery and almond for this gorgeous elopement inspiration shoot. Using foraged grasses and roses, Laetitia Fleurs d'Atelier created a bouquet that was both organic and feminine for the occasion. The florals were wild and asymmetrical in shades of almond, green grass and soft rose. Silk and Willow watercolour ribbon infused the bridal look with the green and almond shades in a sophisticated way."
"The understated elements of the bride's look are able to take center stage against the earthy palette. The effortlessly minimal dress by Alexandra Grecco was paired with custom jewelry crafted by Sara Golden especially for our bride."
"The head table was designed to stand out at the location, perched at the end of the dramatic driveway up to the Chateau. Pillar candles and long café au lait tapers from Creative Candles were chosen to punctuate the tablescape, grounded by the dramatic fern-colored velvet tablecloth from La Tavola Linen."
"The place settings were adorned with local grasses and handwritten name cards, beckoning guests to their garden fete at the Chateau. All other tables were kept simple with the Chateau's own garden tables and simple flower arrangements. Tara Spencer designed a textural and bold invitation suite to give guests a little glimpse of all the moments to come in Provence."
We just love this fine art inspired chateau wedding. If you'd like to see even more fine art inspired weddings check out this stunning Chateau De Varennes Fine Art Wedding Inspiration shoot.
Fine Art Inspired Chateau des Alpilles Wedding Shoot Snapshot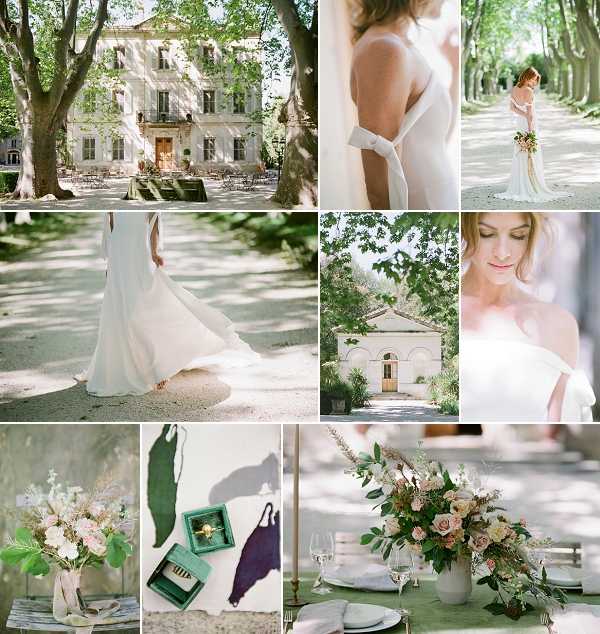 Wedding Vendors
Venue: Chateau des Alpilles | Photographer: Palermo Photo | Planner: Travellur | Brides Dress: Alexandra Grecco | Jewelry: Sara Golden | Florist: Laetitia C | Stationery: Tara Spencer | Tablecloth: La Tavola Linen | Candles: Creative Candles | Decoration: SandBox Ceramics | Stylist: Romanticist Studios