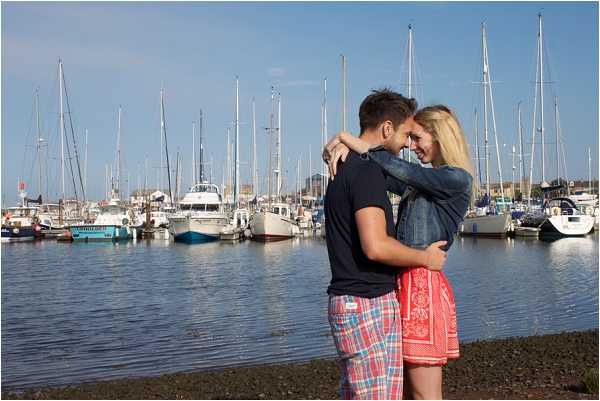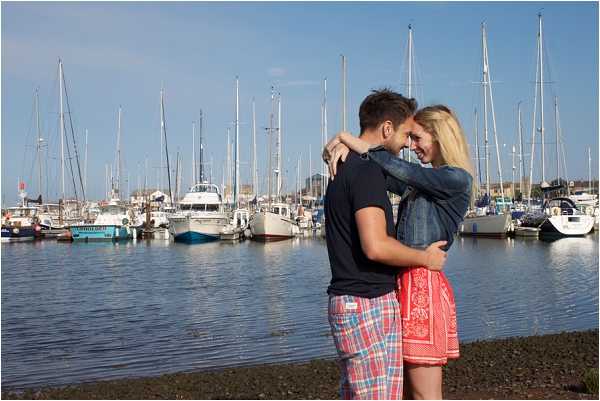 We are ending the week, catching up with real FWS bride Jess, and so much has happened since we last caught up with her and she's found her wedding dress! So let's waste no time and see what has been happening!
Jess: "Since my first blog there has been a lot going on in our lives wedding and non wedding related.
For starters I bought my wedding dress, I finally found it in one of the bridal stores in Coral Gables!!
I made a last minute decision one morning to go and look at some wedding dresses…just to get an idea of what I liked! My mum had been so excited about going dress shopping from the day we got engaged, so I went along with her and my aunty. As our wedding is small and intimate. I didn't want loads of people coming dress shopping with me as they would see the dress and not be such a surprise.
It's hard to know where to start looking. My friends had told me about Wed2B in Gateshead and thought this would be a good place to start as they had a range of dresses.
Friends of mine who have gone wedding dress shopping themselves advised to wear your hair how you want it in the day, and take a pair of heels about the same height you'd want.
I was so apprehensive when I walked into the store. The thought of choosing my wedding dress became very daunting as it was one of the things I had been thinking about since I was a young girl.
But from the moment we walked in the staff were so friendly. They let you have a look at dresses you liked and advised to pick four at a time and then try them on. In my head I knew what I was looking for – a more modern fitting fish tale laced dress. So we picked two out which were like this. But as it was the first time dress shopping, on the advice of my mum and aunty, we picked out a couple of others that were very different…
I started trying the dresses on and honestly it's one of the best feelings. It suddenly becomes real that you're getting married and you feel so beautiful. So cliche but you really do feel like a princess.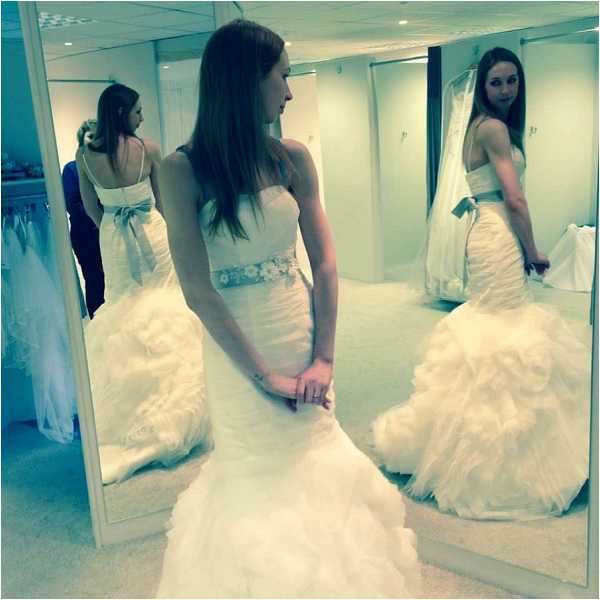 The first dress I tried on was a style I thought I had always wanted. I loved it but decided to try the others still. The second dress I loved also…in fact I loved every dress I tried on! How was I going to choose?! However I tried on this one dress which was the complete opposite to what I thought I wanted. A very classic and elegant dress. I put it on and I couldn't stop smiling! I had a few doubts because I then started thinking that it wouldn't fit our style wedding which is rustic and outdoors.
It was also going to be hot as we're getting married in the summer. But I loved the dress!! My mum and aunty fell in love with the dress too. They gave me a little encouragement. Both said to me that I needed to go for the dress that I felt best in and that I loved aside from the theme of the wedding. They said to ignore that because at the end of the day you want to feel good in the dress and that it does go with the theme!
I put on my heeled shoes and went for a walk. I then went and sat down in it to see how comfortable it was. It was perfect!
I had held off putting a veil as I wanted to wait until I had picked the dress…I hadn't cried all day. But as soon as the veil went on I became an emotional wreck!!! I couldn't stop staring at myself in the mirror! It was an amazing feeling.
I said yes to the dress! I was so surprised in my self because I hadn't actually intended on buying a dress so early. The best thing is that the dress fits almost perfectly so I don't need that many altercations done.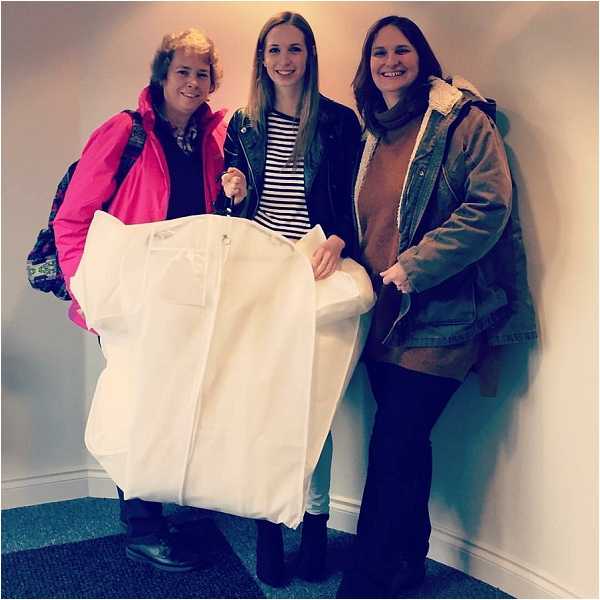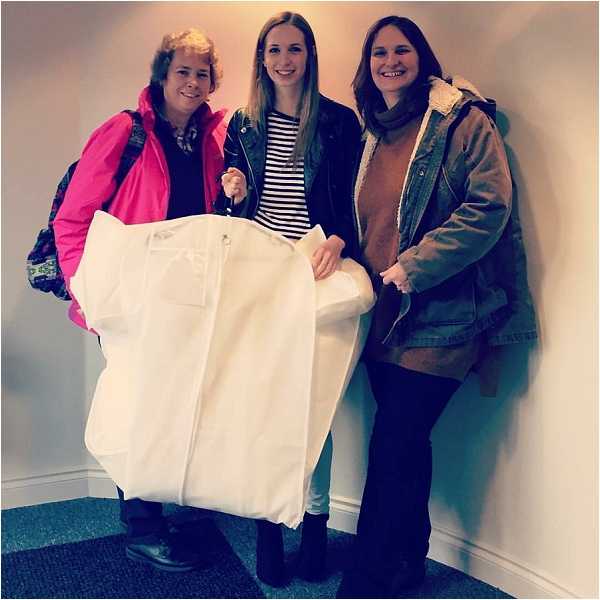 I was sad because that experience was over so quickly. What we decided was that I might get another dress for the reception, as the price of this dress was a lot less than I expected. So possibly another dress shop we will see!
Another thing we have sorted is out photographer…this was a lot more stressful than I thought! There are so many good photographers out there and each have their own unique style. I was struggling to find any in the area of where we were getting married. I loved the work of a couple in Slovenia  but we had to consider the cost of the travel to get them to France.
There were others I had seen on French wedding style such as Claire Morris Photography but again it meant travel costs and also most of them were already booked on our wedding date.  My partner was the one who actually said to me to ask the wedding coordinator from our venue. I should have thought about this first and saved a lot of stress!
She suggested Michael Mann from Dordogne. We had a look at his work and loved it! The presentation of the pictures afterwards was also something that really stood out to us. So I got in touch with him to get prices and then we arranged a Skype chat. This is something I would recommend anyone getting married abroad doing. We got to learn a bit about him and him learn a bit about us.
We leant about his style of coordinating on the day and answer any questions we had. He was able to show us samples of the album and USB. It reassured us that we had made the right decision on our photographer. We paid our deposit and signed the contract. One less thing to worry about…because in my opinon the photography is one of the most important parts of the wedding when getting married abroad, as less guest attend and we want to be able to show people when we get home.
Aside from the our own wedding planning we've just got back from our friends destination wedding at Lake Garda in Italy. An absolutely stunning wedding at the castle there in Malcesine and gave us a really good example of what a wedding abroad is like. It gave us lots to think about in terms of planning.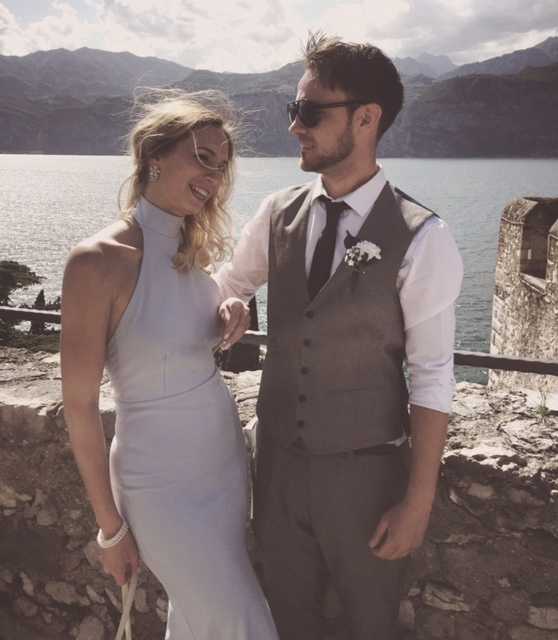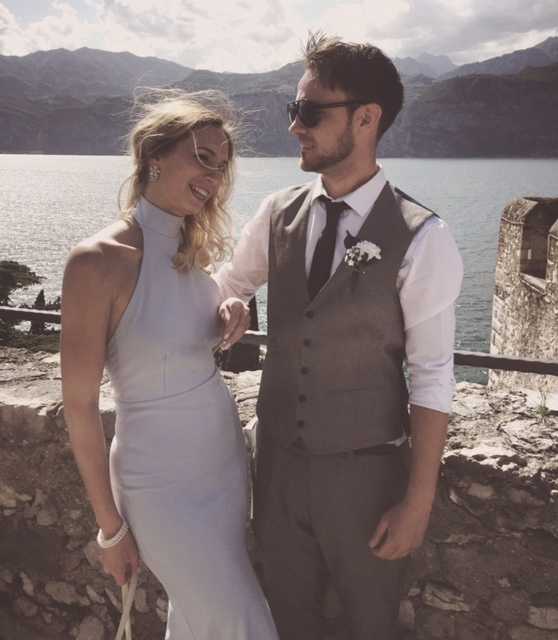 Another things that's happened since my last post is hat the UK had their referendum…they voted out of the EU. I'm not sure what impact this will have on our wedding but it's something we are thinking about and researching as best possible. Hopefully we won't be affected by this for our wedding but we will keep you posted! "
Jess's Wedding Vendors so far:
Venue: Chateau Soulac
Photographer: Michael Mann
Top image by Samuel Shipperlee
If you are looking for ideas and inspiration on planning your wedding in France, don't forget you can catch up with Belle Bride Jess and you can find all the Belle Brides past and present here.
Save
Save