Good morning folks, we hope you're having a great week so far. Today's luxury Paris elopement is perfect for all our fashion-forward brides. From stunning wedding venues (yes plural) to on-trend custom engraved plexi glass wedding stationery this is a day of pure luxury and love! It even includes not one but two of our very own FWS vendors…
Their beautiful day was planned to perfection by FWS vendor and go to Paris wedding planners Luxe Paris Events. They even created the amazing floral designs seen throughout this elegant elopement. Founder and an American designer Billy Folchetti specializes in event and wedding planning and floral design in the heart of the world's most romantic city.
There to capture their most precious moments on film was another talented FWS vendor Zen Filmworks. Chris, a wedding film maker based in Paris who has shot over 200 weddings since starting Zen Film Works in 2012, captured Michelle and Chris' day perfectly as you'll see at the end of this feature.
For now we'll pass you over to our gorgeous bride who will be walking us through her luxury Paris elopement…
"We met on the first night of a 5 day Bahamas cruise celebrating my 30th birthday. Our group of friends hit it off right away and we ended up hanging out with them for the entire cruise. I had torn a ligament in my knee and he had sprained his ankle, so we got to sit and get to know each other. We spent the last night alone talking on the deck just as the sun came up. Exactly a year later on my 31st birthday Chris moved to Tucson. We love our history but love the prospect of eventful and happy lives together even more."
"Rather than traditional stationery we opted for custom-engraved plexi glass pieces for our announcement and menus that tied in perfectly with the crystal and mirror elements in the room."
"I think at first we were so enamoured with what we saw online through Claire Morris Photography, Zen Filmworks works and Luxe Paris. The photographs and videos were breathtaking and really got the imagination stirring as we envisioned us having that same experience. Using the elegance and beauty of Paris as the setting for a brilliant, grand and holy day."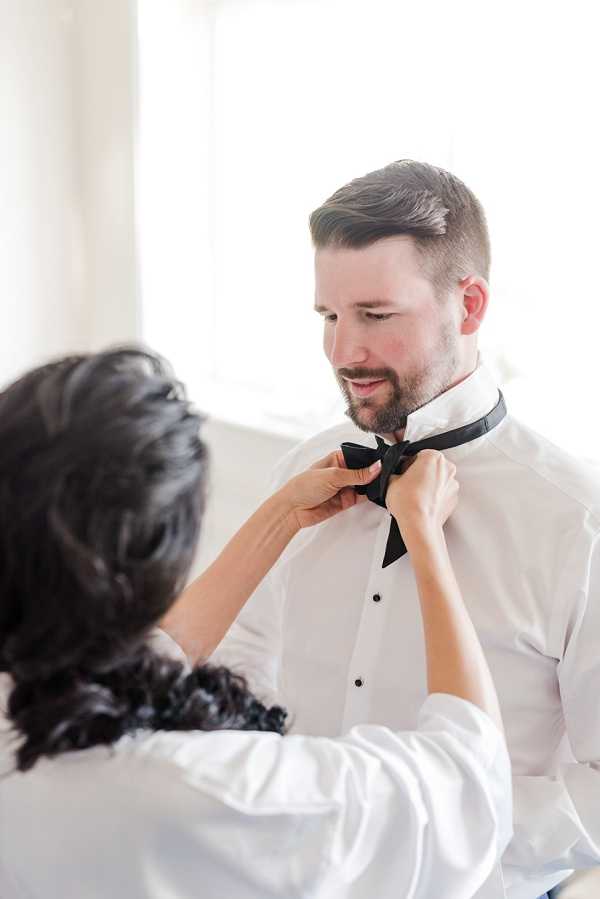 "I was lucky enough to have the talented Paolo Corona make my stunning dress. The entire process from the moment I tried on the pattern, until literally the second I made my entrance to meet Chris was incredible!"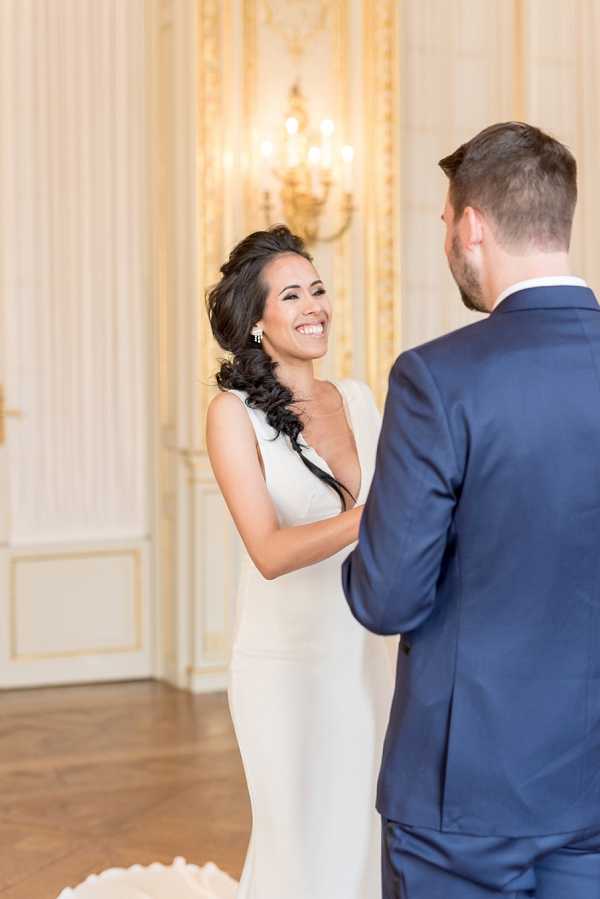 When asked about their favourite moment of the day our bride and groom had this to say…
"Michelle- Getting to see the view of the Eiffel Tower from the suite at the Shangri-La was breathtaking but we both agree that pulling up to The Ritz Paris in the beautiful car was pretty incredible. We felt like celebrities and after the hustle and bustle of the day it was so nice to have a little alone time before we headed in for dinner."
"Chris- Grand Salon of the Shangri-La, when the twenty foot tall doors opened Michelle came walking through with a huge smile on her face. She looked breathtaking. She walked slowly to me at the centre of the room and I could barely stand."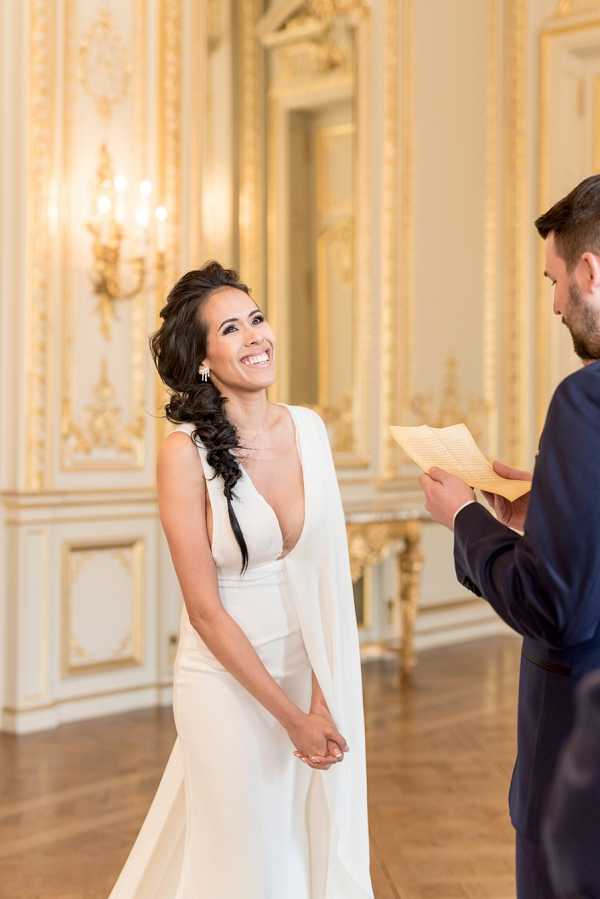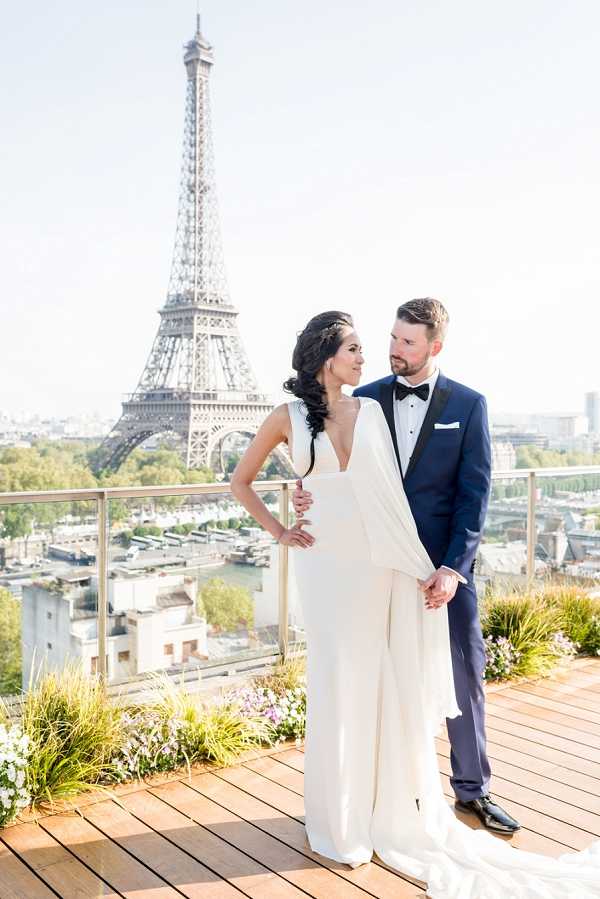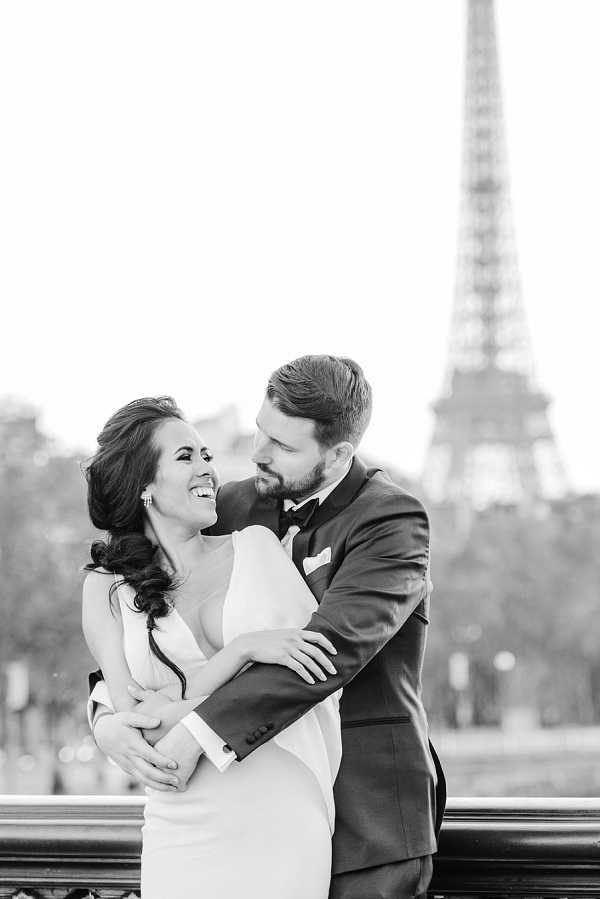 "Billy really 'thought outside of the vase' and used a huge arc'd branch that was off set on the table, not only did it look like the all-white flowers were actually growing up the tree but the position allowed us to "sit under the tree" and didn't block the intimate conversation with our two best friends sitting across from us."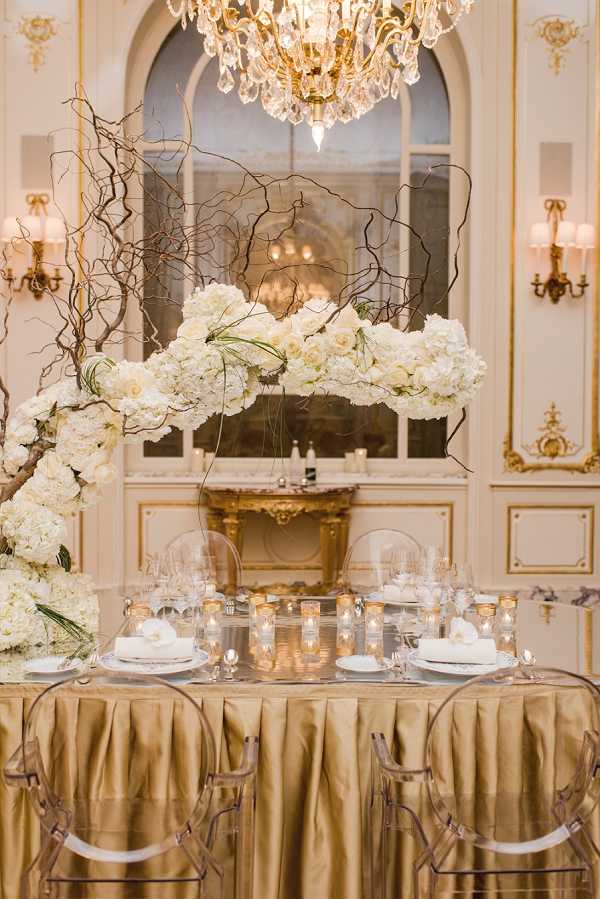 "Chris is in love with vinyl records and I asked Billy if it was possible to get our hands on a record player for our "first dance". Coincidentally, he just launched his new company Vintage by Luxe and was able to source an amazing one for us, we used it for our dance and listened to it the entire evening!"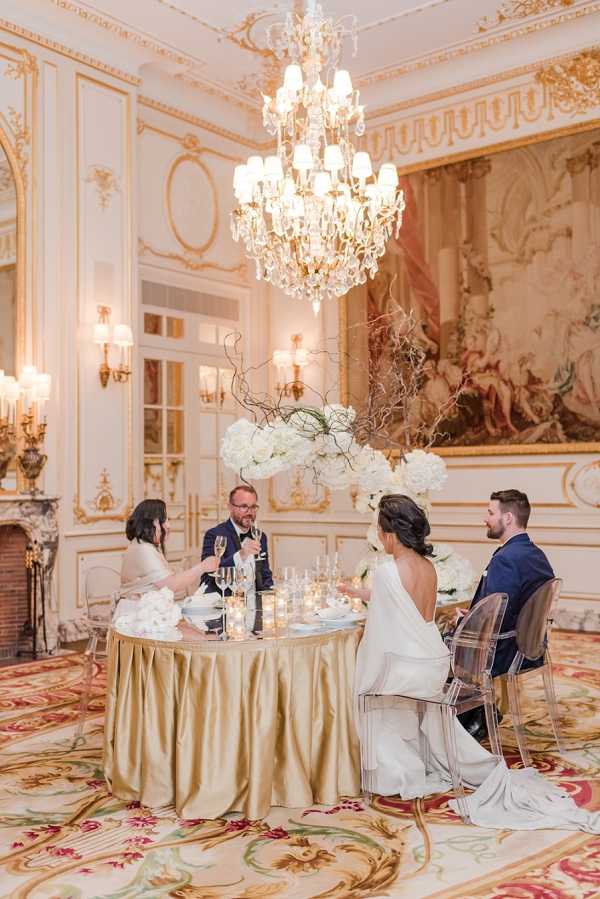 Congratulations Michelle and Chris from everyone here at French Wedding Style!
For even more glamour from this stunning wedding check out Zen Filmworks interpritation of their day…
Fashion-Forward Luxury Paris Elopement Snapshot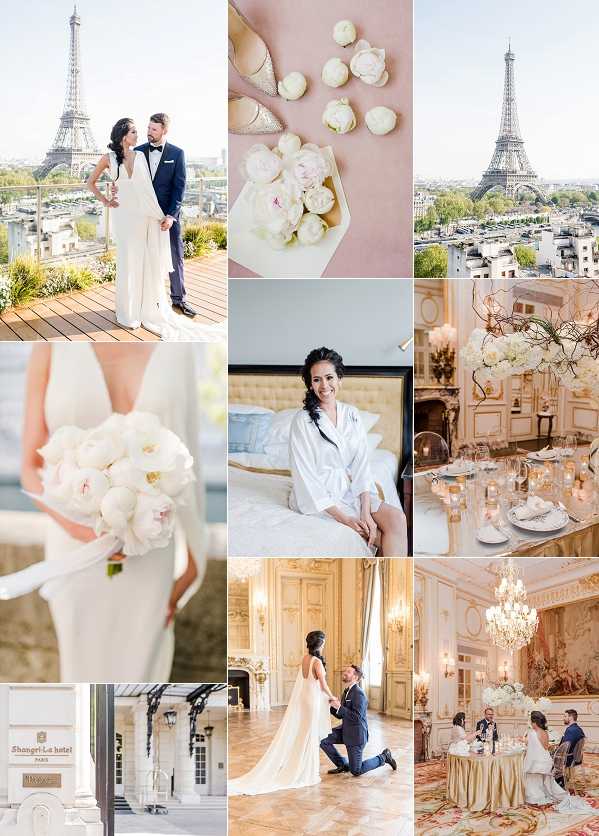 Wedding Vendors
Ceremony Venue: Shangri-La | Reception Venue: The Ritz Paris | Photographer: Claire Morris Photography | Videographer: Zen Filmworks | Planner: Luxe Paris Events | Brides Dress: Paolo Corona | Hair and Make Up: Sanni Sorma | Florist: Luxe Paris Events | Celebrant: Luxe Paris Events | Cakes: Pierre Herme I Sarah Meynaud | Transport: Cedric's Paris