Good Morning, I hope you are having a great week and it's about to get even better with these gorgeous views from our lovely family wedding in Chamonix that I have for you today!
Me and my hubby have always wanted to visit the Alps to go skiing and now after seeing this traditional french wedding in Chamonix I'm sold!! I know it's gone and I shouldn't even be mentioning the 'C' word but can you imagine Christmas here!! A white Christmas, just so dreamy, I'll blame all those romantic American movies for that dream!! OK, enough about Christmas… this beautiful region of France looks like a wonderful destination for family weddings, romance and even all you adventure seeking couples.
I must say I do love Dina's dress and wedding details, they perfectly show off her fun personality and adds a real uniqueness to the day.
I'm going to pass you over to the lovely Cathy of Cathy Stancil photography now to walk you through Dina and Thierry's fun filled day…
"I was so honored to document this union. The beautiful bride has been my best friend since we were teens! We went to the same high school in France, traveled and lived together. So I couldn't have been happier for her when she announced her big news. With Mont-Blanc as a background, her beautiful fun dress and red shoes, we set out to have the best day ever!"
"She got ready at home with the help of her sister Olga. She had plans for a very simple white dress but then fell in love with this beautiful fun and stylish Pronuptia dress. Growing up, Dina was always on top of what was hip and trendy and exuded so much beauty, style and confidence that anything she wore looked great! So I was not at all surprised to see her unique dress."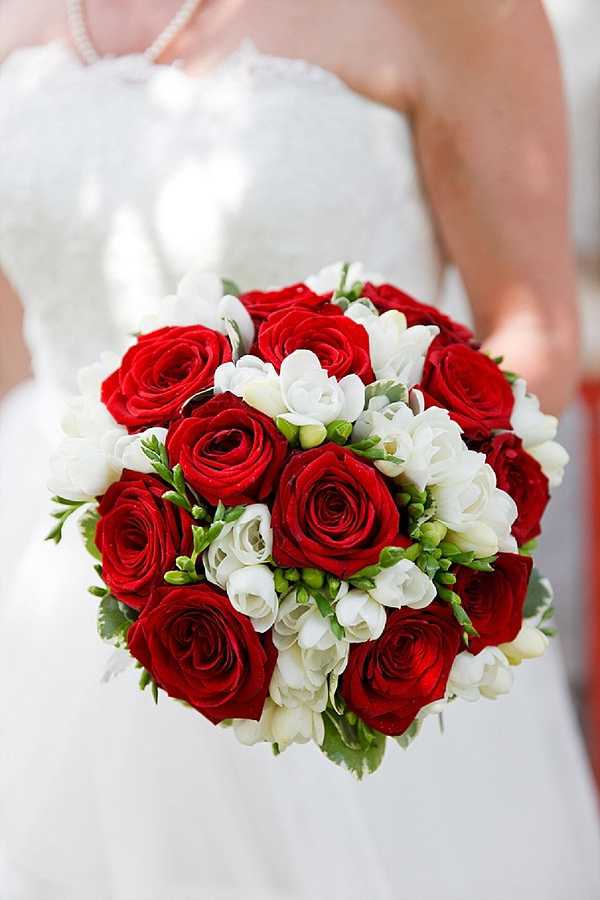 "Dina and Thierry met over 20 years ago in the ski resort of Les Carroz. They have been partners in life and in business ever since. Now raising their children and running their business "couleur café" in Chamonix, they decided it was time to make it official. It made sense to bring their family and friends together to this spectacular setting to celebrate with them. Dina has a big family and it was amazing seeing them all there showing their love and support." 
"They left their house in a Mercedes convertible, escorted all the way into the center of town by their friends riding motorcycles (one of Thierry's loves) and their sons driving their café's Tuk Tuk. What an entrance into town, I'll tell you!"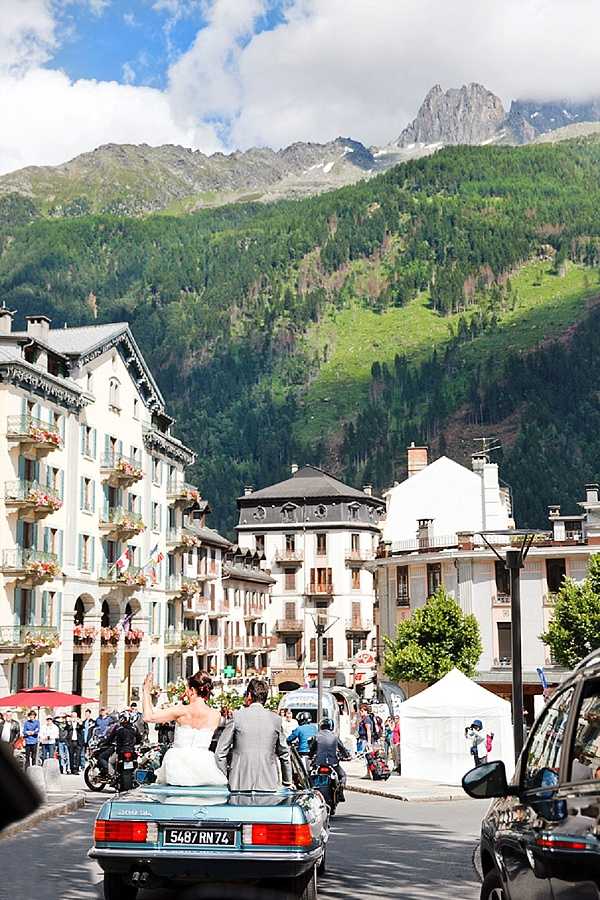 "After they said yes in front of the mayor, we made our way to the beautiful church just a few steps away taking a few portraits on the way. How could we not? With Mont-Blanc behind us and the dramatic skies."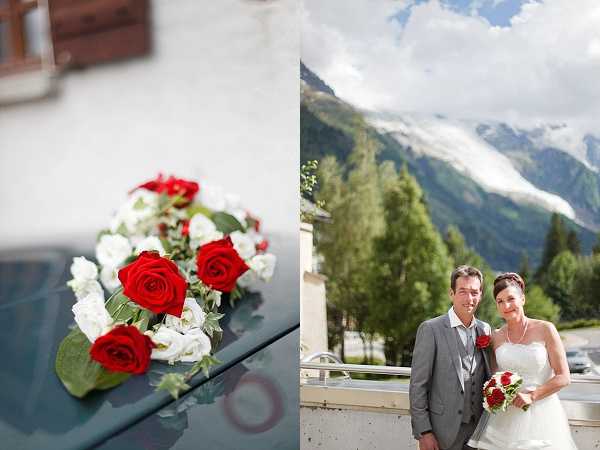 "The ceremony was beautiful. Dina's older brother walked her down the aisle, their son Mathéo was in charge of the music and their daughter Ambre in charge of the rings. As they walked out of the church, guests showered them with red flower petals and bubbles!"
"After a few more family portraits, we all walked to the restaurant "La Telecabine" where everyone enjoyed cocktails and delicious appetizers. Olga stepped up to the plate once more by having planned a "makeshift photo booth" where all guests were invited to pose behind a golden frame and then printed the photos right there and then for all guests to take home as souvenirs.
Of course, the party went on until the wee hours of the morning as any respectable French wedding does."
Photo booths are growing in popularity, have you ever thought about adding one to your big day? I think it's quite a fun idea and I love that Dina and Thierry's guests could print their pictures there and then, a very fun wedding favour!
I hope you enjoyed our trip to Chamonix! For more inspiration for your family wedding click here.
With love,
Christina x
Family Wedding in Chamonix Snapshot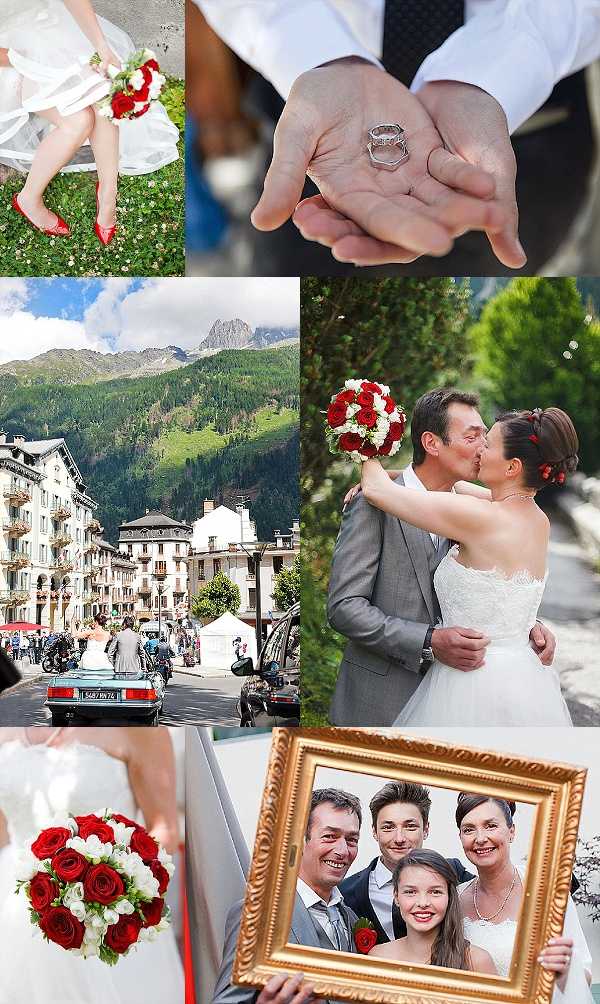 Wedding Vendors
Dress: Pronuptia | Photographer: Cathy Stancil Photography | Reception venue: La Telecabine | Hair: Cristal Coiffure | Florist: Fleuri'Cimes | Shoes: Minelli