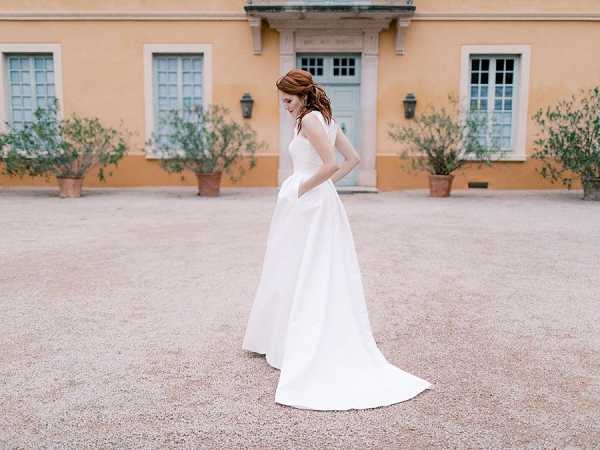 This fall wedding inspiration at Château de Chavagneux in the Rhône-Alpes is a luxury photoshoot showing off some beautiful possibilities for your own autumn wedding in France.
We love the romantic stationery suite created by Summer Yang Calligraphy which perfectly represents Angélique of AM Events & Lifestyle's vision. With the help of some fabulous vendors they brought together a stylish day at a prestigious French Châteaux.
We'll now pass you over to Angélique who will be walking us through this Château de Chavagneux wedding inspiration shoot…
Fall is here at Château de Chavagneux, a stunning 18th century French castle at the gateway to Beaujolais and its spectacular vineyards.
This is a very special day, the big day! That special moment when two soulmates are about to celebrate their union. Amanda Miller and Chris Brooks' wedding will be magical, chic and sophisticated. This beautiful young lady from California has thought of her wedding day for a long time and she is splendid, happy and extremely relaxed.
She wakes up in a 18th century Franco-Italian style bedroom. She looks so perfect! Before getting up, she has breakfast and eats delicious French pastries. Then, she gets her makeup and her hair done by a professional artist, Fanny Garcia for FG Maquillage. She looks fabulous!
After that, she puts her wedding dress on. A beautiful wedding dress designed by Jesus Peiro and offered by Douce Mariage, a lovely French bridal boutique in Lyon. A full skirt strapless dress within cobra taffeta and laced bodice. She feels comfortable and she lives each moment to the full. She walks inside the château and looks around. She discovers the outside of the property and she takes her time with her splendid bridal bouquet created by Les Demoiselles de Fleurs.
She pays attention to all the details and she loves that: the beautiful white and pink wedding stationery created by Summer Yang Calligraphy, the Frerejean Freres bottle of Champagne, the flower crowns designed by Les Demoiselles de Fleurs, the dishes and wedding table decorations offered by Velvet Rendez-Vous, the wedding shoes created by Chamberlan, the napkins and table runner created by Coco Vanille, the hair jewelry created by Douce Alchimie and the stunning bridal ring designed by Paulette à Bicyclette.
Finally, she sits down on a beautiful sofa in the living room and she adds the final details: a pair of earrings designed by Paulette à Bicyclette, a bespoke perfume created by Maison Laugier and a wedding veil designed by Florence M for her very special day. She is ready! It is now time for her to meet her future spouse.
Are you thinking of tying the knot in a French chateau, then you must check out our:
10 FRENCH CHATEAU FOR A PICTURE PERFECT WEDDING
Fall Wedding Inspiration at Château de Chavagneux Snapshot
Wedding Vendors
Planner AM Events & Lifestyle | Photographer Sylvain Bouzat | Catering Frerejean Freres | Florist Les Demoiselles de Fleurs | Accessories Les Demoiselles de Fleurs | Accessories Douce Alchimie | Accessories Paulette à Bicyclette Jewelry | Hair and Make Up FG Maquillage | Decoration Velvet Rendez-Vous | Decoration Coco Vanille | Accessories Maison Laugier Perfume | Stationery | Summer Yang Calligraphy | Reception Venue Château de Chavagneux | Wedding Dress Douce Mariage for Jesus Peiro | Shoes Douce Mariage for Chamberlan | Wedding Dress Douce Mariage for Florence M