Good morning lovelies and welcome to another wonderful Real Wedding here at FWS. Today we have for you a gorgeous fairytale French Chateau de Saint Loup wedding captured by uber talented French Wedding Style vendor Hannah Duffy.
Hannah is an experienced wedding and event photographer in the UK. "My style is super friendly and my goal is to produce beautiful wedding imagery that is a natural reflection of my clients, the atmosphere and the emotion of the day."
Matthias Guerin, wedding videographer and FWS vendor also captured our bride and groom Alex and Lisa's joy, emotion, and energy throughout the day.

From sumptuous florals by yet another talented FWS vendor Lisa Gatenby of French Flower Style to our bride's beautiful Pronovias gown each detail has been carefully planned. We know you are going to love this pastel pink and gold affair…
"Lawyers, Alex and Lisa were married at Château de Saint Loup, Saint Loup sur Thouet, France on 27th August 2016. Alex is half French and apart from his mother, all of his family live in France, so getting married in France just made sense. Plus we loved the idea of a summer wedding so where better to do it than somewhere beautifully sunny!"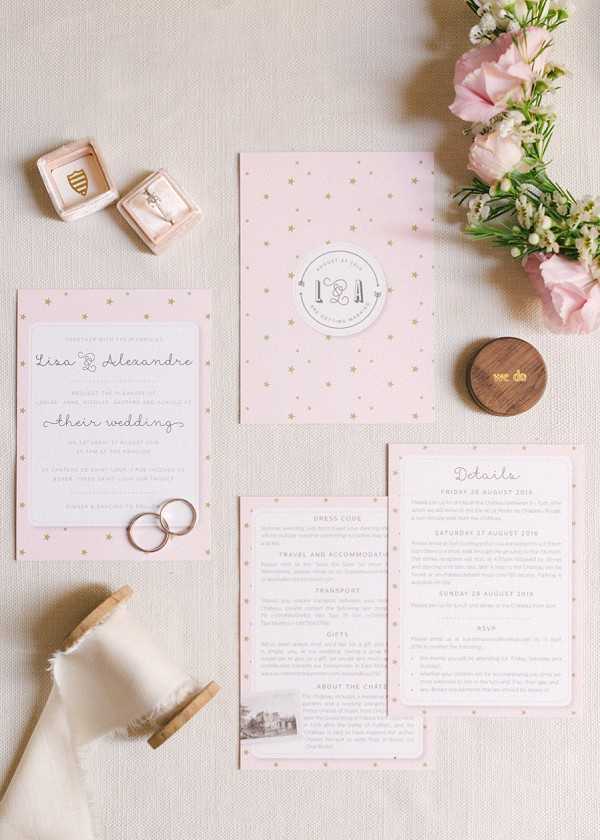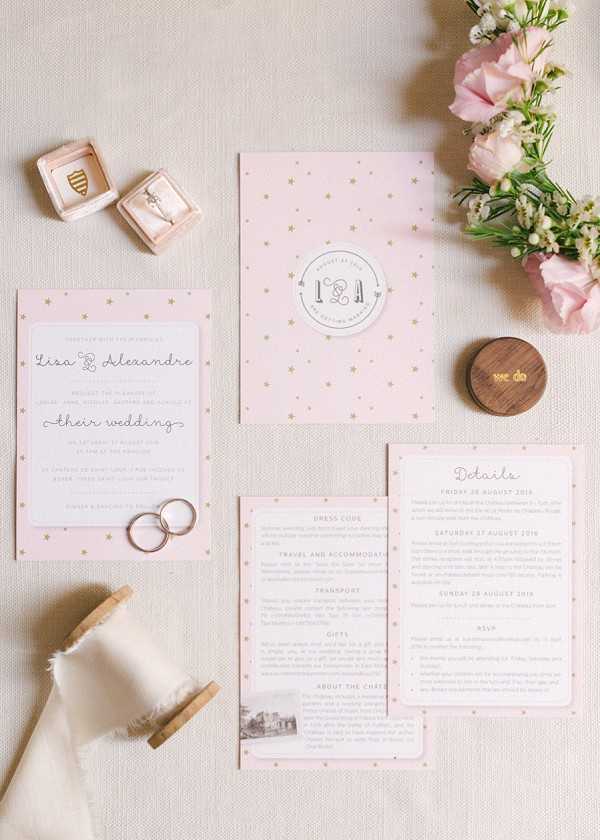 "We were quite adamant from the outset that we didn't want to hire an event planner. We're both very organised and wanted to have the opportunity to create the wedding ourselves and have control of the process. I used Pinterest mainly to find colour schemes, and in the end settled on pink and gold. I wanted something soft and romantic but also fun and glamorous. I knew on the tables that I didn't want anything tall that restricts guests from seeing the other people sat at their table and I liked the idea of the jam jars with flowers being a bit more informal."
"For decor on the day we had lots of candles of different sizes on the tables, jars with flowers, fake flowers, fairy lights, decorative boxes for cards etc. I had an image in my mind of what I wanted in a dress. Something backless but with straps but it was actually quite difficult to find. I tried on lots of different styles of dresses but found that the fitted ones suited my shape better. The dress that I eventually chose from Pronovias had a low back with very delicate straps, it was fitted with a flare at the knees. It was also quite structured to ensure that it kept its shape. I also chose my veil from Pronoivas. It was an extra long cathedral style veil which was just stunning when walking down the aisle. I wore Jimmy Choos. They're amazing because you can get the different styles in three different heel heights (I'm tall so wanted a smaller heel size than what I would usually wear for my wedding day)."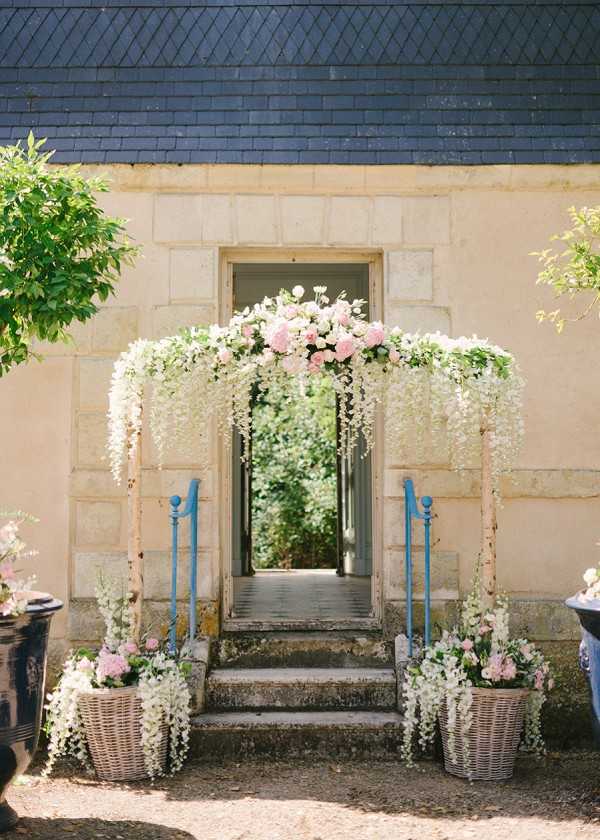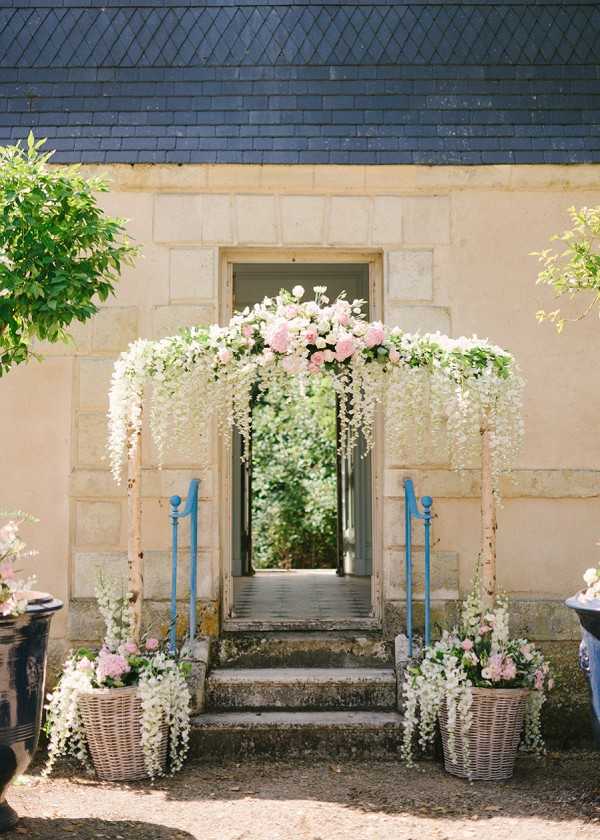 "I wore a Jo Malone perfume on the day which was specially created for me by my bridesmaids – so amazing! I wore a bracelet – purchased by my grandmother and the ring that Alex proposed with (he proposed with an antique ring in Guatemala so that we could choose the 'real' ring together so I wear two)."
"My dad walked me down the aisle to an acoustic instrumental version of 1000 years by Christina Perri. The most amazing part for me was walking down the aisle. It's incredible to have all of your family and friends in one place and the love that I felt looking at everyone when walking down to meet Alex at the top of the aisle was like nothing I had ever experienced before. I felt truly blessed for how lucky we are."

"Our photographer Hannah is amazing. We had an initial photo shoot session in London and immediately knew that we had chosen the right person. She made us feel so relaxed and comfortable which isn't an easy thing to do with two lawyers who are useless at having their pictures taken. We loved the fact that she gave us direction and was able to 'style' the shot to make it look great. She has a really good eye for the pictures and getting the right light and backdrop to make it stunning. We were so unbelievably happy when we received the pictures and saw what an amazing job Hannah had done. I would highly recommend Hannah to any brides to be – her work is incredible!"
"Matthias was our videographer. He is based local to the venue and had been to the Château a few times before the wedding. His work is just stunning. He was such a sweetie on the day and made us feel very relaxed. The highlights video that Matthias created is just beautiful, it bought back all of the wonderful emotions of the day, and really captured the essence of all those special times."
"I wanted to have an English make up artist (Jodie) and hair stylist (Nikki) so that we could have the trial in the UK and they would really understand what it is that I wanted for the big day. I highly recommend Jodie and Nikki – they're both so amazing at what they do. The make up was just beautiful and our hair styles were wonderful – considering it was 37 degrees on the day, it was a feat itself that it all stayed in place until the early hours the next morning, through the emotional tears and the dancing!"
"The Dukes of Havoc were our band – I would really recommend them – great music and super organised and responsive in the booking period. They came out to France the night before the wedding."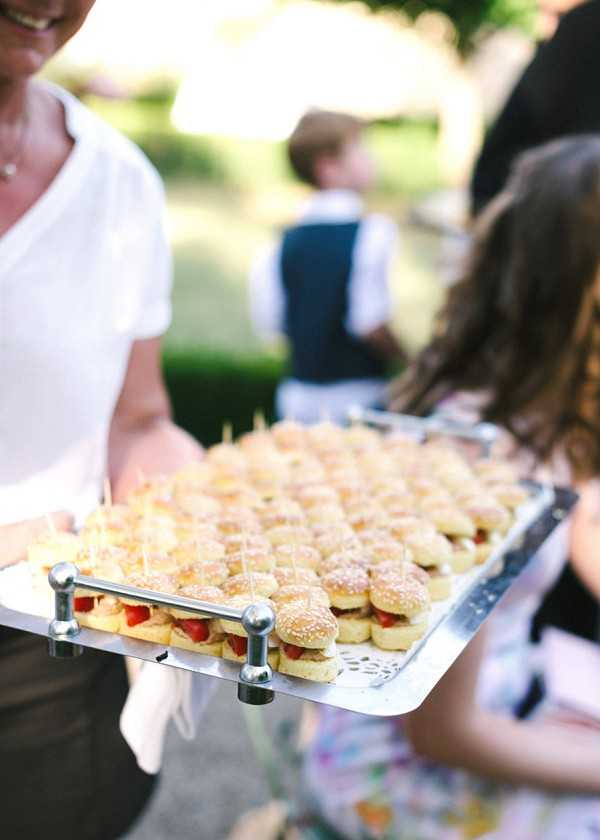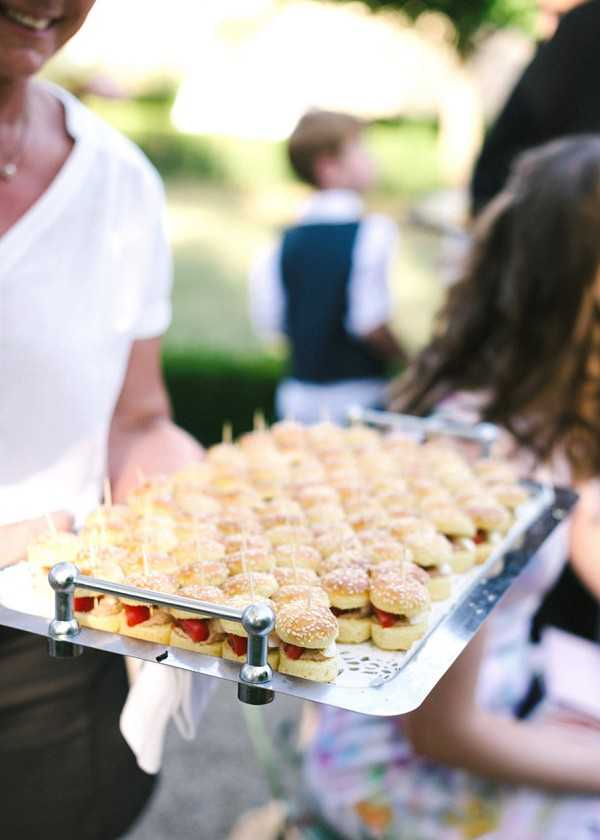 "Our caterer was Guy Clavier. The food was incredible – He's based in Bordeaux but travelled up for the wedding."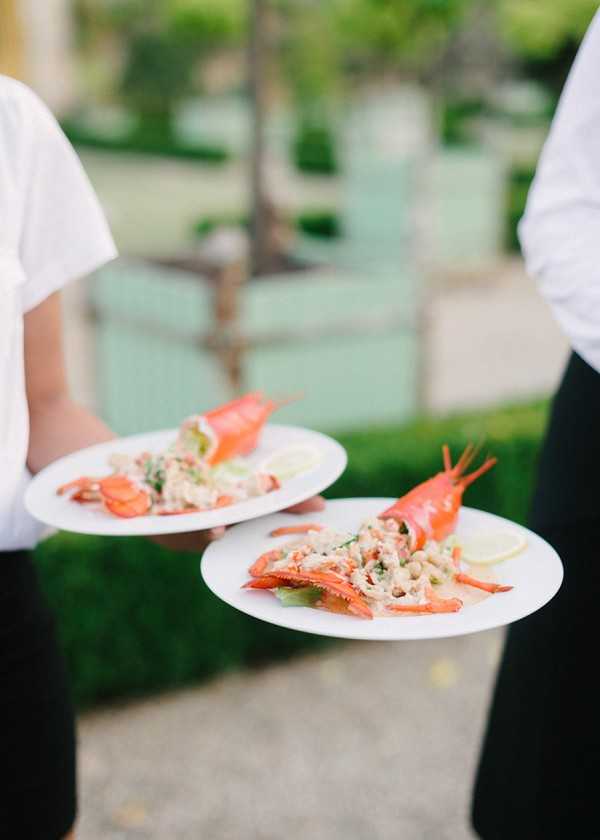 "Our florist was Lisa Gatenby at French Flower Style. I found a few different pictures of what I wanted and sent these to Lisa. She was amazing – turned up on the day with the most beautiful creations – it was exactly as I had asked and just like the pictures that I had sent to her. Lisa also created a beautiful flower crown for me that was just wonderful – it was exactly what I wanted. It was such a joy to walk down the aisle on the wedding day and see the beautiful flowers that Lisa had prepared down the aisle."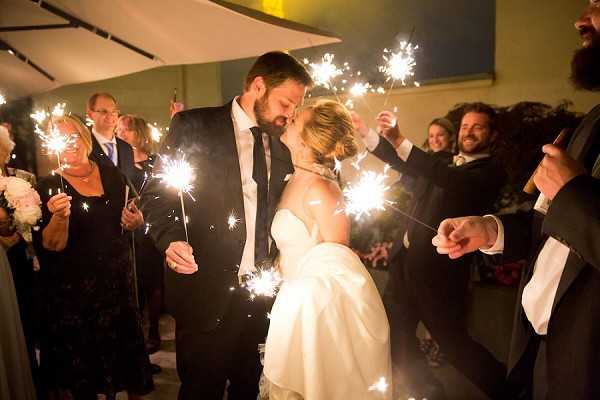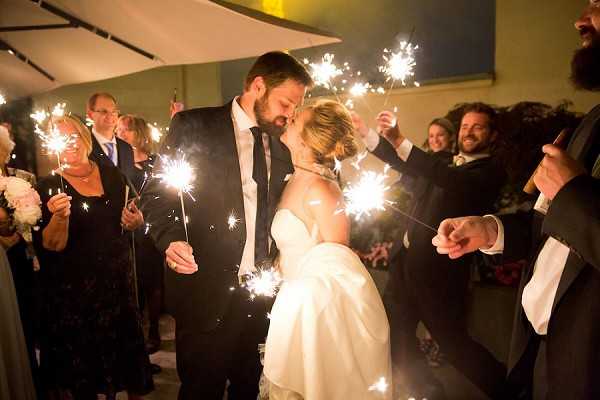 Congratulations Alex and Lisa from everyone here at French Wedding Style!
Fairytale French Chateau de Saint Loup Wedding Snapshot
Wedding Vendors
Venue: Château de Saint Loup | Photographer: Hannah Duffy | Videographer: Matthias Guerin | Brides Dress: Pronovias | Shoes: Jimmy Choo | Brides Perfume: Jo Malone | Hair and Make Up: Make up by Jodie | Florist: Lisa Gatenby at French Flower Style | Bridesmaids Dress: David's Bridal Versa Convertible Dress | Grooms Outfit: Suit Supply | Grooms Shoes: Church Shoes | Catering: Guy Clavier | Entertainment: The Dukes of Havoc | Stationery: Paper Arrow Press | Favours: Paper Arrow Press
Save
Save