So you have seen the fairytale wedding, now it is time for some cake porn on the blog as we take an indepth look at  fairytale Chateau Challain wedding cake in France created by the award winning Cakes by Beth.  I am especially delighted to feature this cake as I felt all Cilla Black as Cynthia from Chateau Challain got in contact with Beth after seeing her beautiful cakes featured on the blog.
Beth talks us through the project: "I nearly feel off my chair when Cynthia from Chateau Challain contacted me about the wedding cake. Her chateau is absolutely stunning and it was an absolute honour to be asked to recreate it in cake. Aside from taking many, many long days of very hard work to actually make, the planning process, including transport for such a long journey (about 700 road miles across two countries and the English Channel) and how to structure the cake to cope with this, were also critical and took a lot of planning.
I'm talking architectural drawings and everything! The cake became such a big part of my life that I wanted to make sure I captured some studio images of it before it went on its way, so Neil Redfern kindly offered to photograph it for me. I love his work and was absolutely thrilled with what he did here, especially the shot of the cake with its lights on. It really does look like a real chateau at night! This truly was an unbelievable opportunity and I am so thankful to Cynthia and her fabulous couple for asking me to be a part of such an amazing event.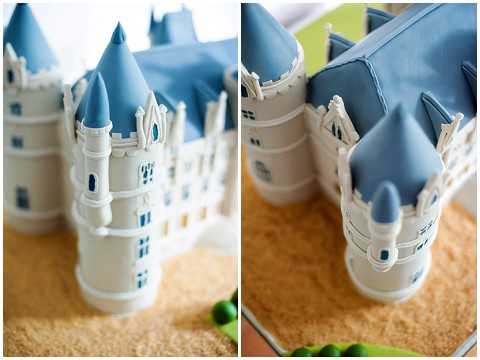 As an extra level of detail on top of all of the intricate Neogothic architecture, the couple also wanted the chateau cake to have working lights. The chateau has a lot of windows, some of them very small, so we decided for neatness and structural integrity, the lit windows would be restricted to the long tall windows on the ground floor. I also included some outside spotlights around the rear staircase to create a subtle "glow" around the chateau when it was lit.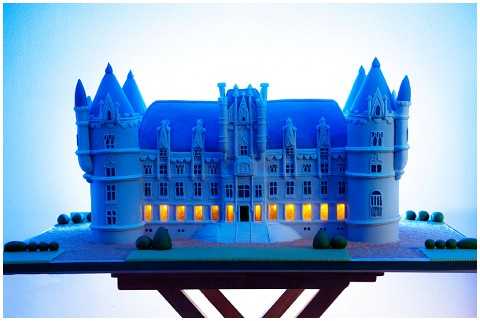 The cake itself was constructed from rich fruit cake on a shallow dummy base and with dummy towers to create a frame. I am based in Manchester and the wedding was being held in The Loire Valley so we wanted to ensure that the cake was as stable as possible for its huge journey (approximately 700 road miles!). This allowed it to be fully supported from all four corners and keep in perfect condition, no matter what. All of the smaller turrets and shaped details were crafted from cake, marzipan and sugarpaste. I chose waterproof LEDs for the lighting, with a layer of cellulose acetate over each window to give a warm glow when lit. 
The board that the cake is sitting on measured 90 by 60 cm and the whole cake was so heavy, two grown men had a struggle carrying it. The gravel around the chateau is made from Demerara sugar, held in place with clear piping gel, and I believe it took me at least two hours just to lay the driveway! The real chateau changes colour dramatically, depending on the light, so I kept the colour scheme very clean and simple, with the roof being a soft grey and the stonework a pale sandy grey. I also kept the landscaping simple with smooth lawns and lightly textured plants so that the detail of the building really stood out."