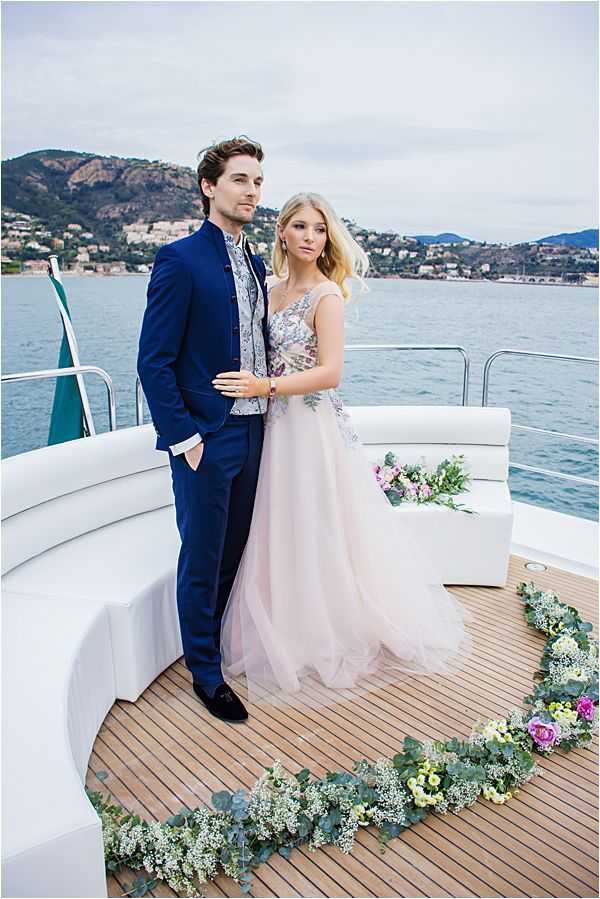 Hello, hope you're having a fabulous day! Today we're going to feature an inspiration yacht wedding styled shoot masterminded by FWS vendor and wedding planner Nadia Fry Events.
This feature highlights works from three equally talented photographers: Gregory Maingret, Ekaterina Kurilovich and Eric Barnabe – all with different concepts and styles. Each of our lovely model brides and grooms were all made beautiful and chic with the whole band of wedding entourage to bring out the best of these wedding inspirations.
Our master collaborator, Nadia Fry Events tells the event best. Here's the story below.
When planning the weddings, couples are increasingly trying to find unique wedding ceremonies and celebrations places. And often the young couple chooses not to limit themselves to the opportunities offered by the land but to say Yes on the water or in the air. The wedding ceremony, while the rest of the guests drove in boats or on a luxurious yacht with the closest guests – the opportunity is indeed not lacking.
Yachting weddings are a worldwide concept, especially in the Mediterranean countries, where climatic conditions allow it very well.
The wedding and event agency in France, Nadia Fry Events & Weddings, specializes in organizing weddings in a variety of non-standard locations, including yachts. Wedding organizer Nadia Fry herself points out that when organizing weddings in open waters, the location and the yachts is very important.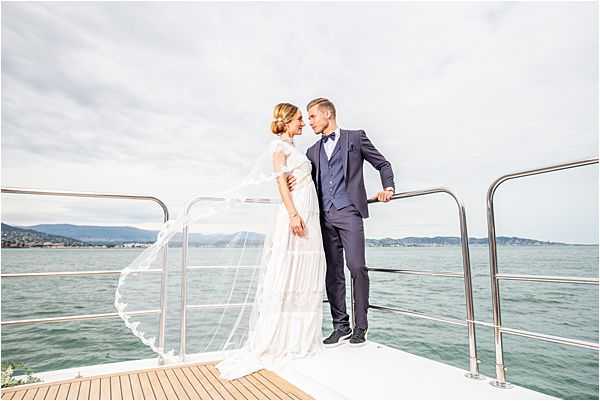 However, planning a wedding on a yacht needs to take into account several aspects.
Firstly, if a couple wants to say yes on the water, then about 12 people will most likely be able to get there. Consequently, it will not be possible to invite a large number of people. However, if the wedding is held on a yacht in a port, then the situation is completely different – depending on the size of the yacht it will be able to accommodate 30, 50 or even 100 guests, therefore, such a wedding concept for big weddings will be more suitable.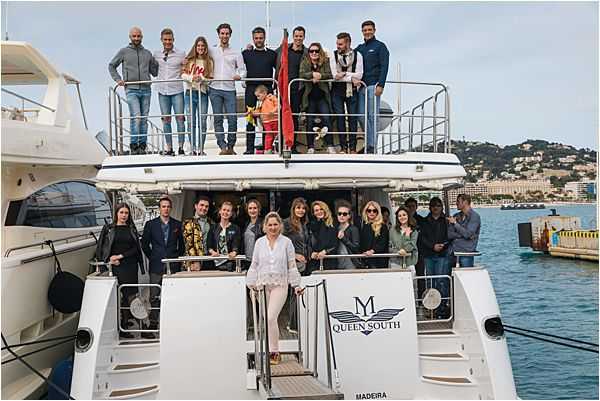 No high heels and red wine
Another thing you definitely need to find out from the owner of the chosen yacht or on the board is the possibility to climb with shoes. The wedding organizer, Nadia Fry, points out that this is not allowed on many yachts, especially high-heeled or dark-colored shoes, which can damage the yacht deck.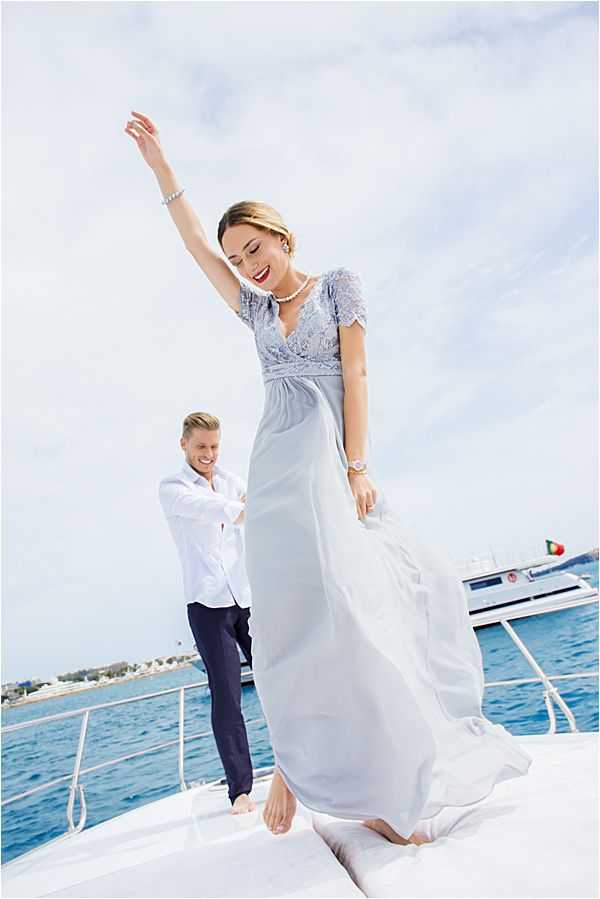 Each yacht has its own internal rules of procedure, which may indicate that it is not allowed to use red wines or red juices and drinks, and what the security measures are when a yacht manages to leave the open waters.
Also, one of the practical issues that young couples are asking is what to do if a dream of a yacht wedding can obscure the reality of marine disease. This is also the solution, because as a couple, guests can be provided with medication or special bracelets that help to prevent the symptoms of sea sickness.
For larger or smaller wedding anniversaries
A great place for weddings on the yacht is definitely the South of France – Cannes. A full-service yacht wedding in this location could cost from € 10,000, depending on the size of the yacht. Nadia Fry recommends that weddings be held in the region in spring or autumn, when the weather is still fluttering, but the prices for services are not so high and the tourist inflow is also much smaller.
It is also possible for each budget to find the most appropriate solution. Different size motor yachts, sailing yachts, catamarans – all these options can be applied to different wedding budgets. "As far as the budget is concerned, in my opinion, such a concept of celebrations is perfectly suited for larger or smaller wedding anniversaries."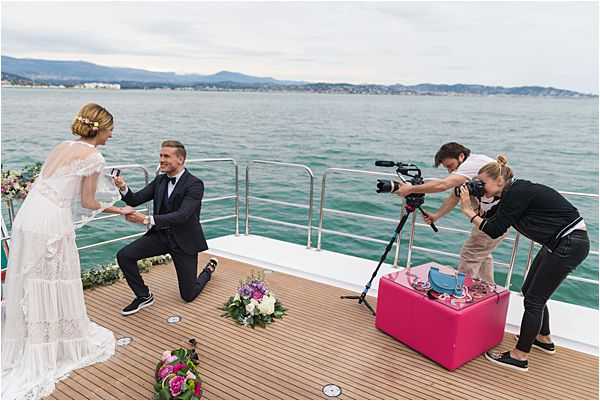 Often, couples are married early in their youth, when the wedding budget has not been so great, while already 5, 10, 20 or more years later, when the couple have fulfilled themselves professionally and there are many more opportunities, they can.
Yacht wedding and anniversaries in France – Snapshot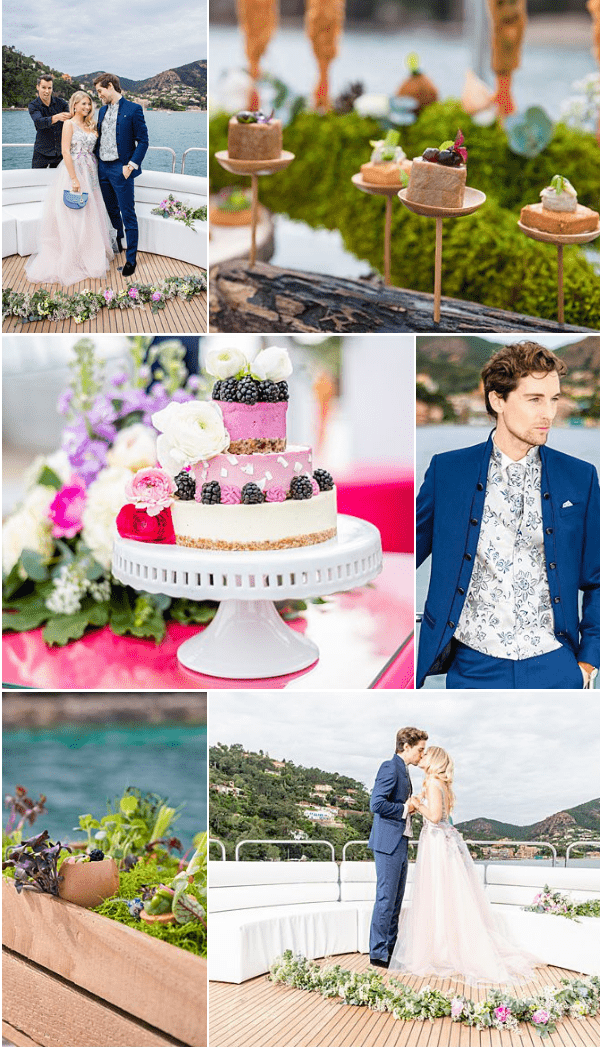 Vendor Details:
Wedding planner: Nadia Fry Events | Charter manager: Julie Guiderdoni  | Yacht Manager: Olivier Decrouy | MUA: Olga Lozytskaya | MUA: Anastasia Krichko | Hair Stylist: Barnabas Baros | Photograph: Gregory Maingret | Video operator: Alexandre Minangoy | Video operator: Elia Kurilovich | Photograph: Ekaterina Kurilovich | Model: Sebastian Liljeblad | Model: Tom Diversy | Bride: Eloise Evans | Bride: Elena Trofimova | Caviar: Hibšfelds Rodrigo | Furniture: Olivier Millot | Jewelery: Marie-Olga Charriol | Model: Laeticia | Vegan cakes: Vladimira | Jewelery: Geraldine Martin | Costumes: Lucia Briand | Catering: Romain Fayas | Photograph: Eric Barnabe | Florist: Steffen