Do I have a treat for you today!  On FWS we have had various exclusive offers before, but today I have a bundle of fabulous Valentines Offers exclusive to FWS readers from discount elopement packages in Paris with a FREE Michelin starred lunch to a 30 Bottles of sparkling wine for your wedding reception!
Special Offer on Valentine's Elopement and/or Honeymoon in Paris and FREE lunch at a Michelin starred restaurant
Bliss Travels will plan a personalized ceremony in romantic Paris for you and your fiance. You will have a beautiful bouquet of flowers in your wedding colors, an hour of professional photography (with the DVD of all photographs and all rights), a bottle of Champagne to toast the day, and a private car for 2 hours to take you around Paris.
Bliss is offering this at a special price of $1,900 over Valentine's weekend. Do this alone and make your own travel arrangements or combine it with our "mini-moon" which includes 3 nights in a lovely Left Bank boutique hotel, daily breakfasts, a romantic Seine river cruise with Champagne, and your choice of a custom designed private tour of the parts of Paris that most interest you, or an additional hour of professional photography." Mini moon"  special price is $2,300 per couple.
A special romantic  gastronomic lunch at a top rated Michelin starred restaurant will be offered as our gift to anyone who mentions French Wedding Style when booking.
Subject to availability. Only two available. Booking before Jan 25, 2013 is highly recommended. Possibility to add additional services and  nights in Paris at additional cost.
Contact info: [email protected] or 609 462 6213 www.blisstravels.com
30 Bottles of Sparkling Wine FREE when you book your wedding reception
Chateau des Buis extends its love of engagements, weddings and all things that bring happiness to this world. Our 2013 Valentine's Special Offer is for 30 Bottles of Chateau des Buis Grand Cru Rose Sparkling Wine for your Wedding Reception, free of charge!.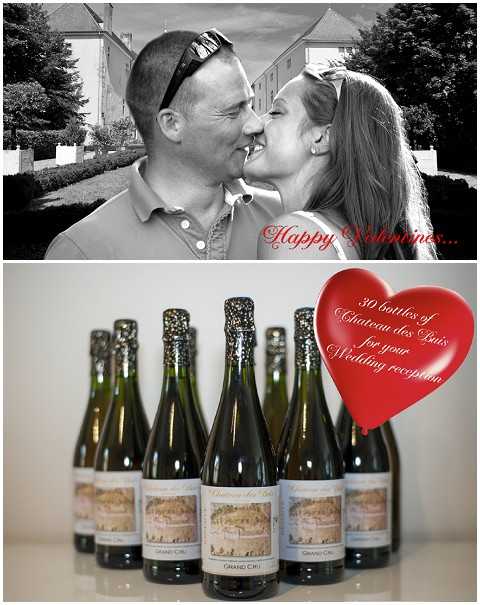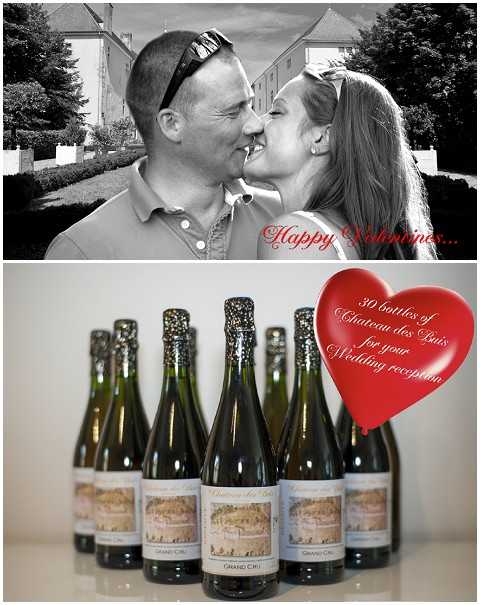 This offer is valid on all bookings made prior to 30th April 2013 (event booked, not wedding date). To claim your free wine simply quote VAL2013 at the time of booking. Visit www.chateaudesbuis.com for more information.
Engagement shoot in Paris for 150€ instead of 450€!!
Zosia Zacharia Photography is offering 5 couples an engagement shoot in Paris for the special price of 150 euro's instead of the usual 450euros for a limited time only!
The offer is for a 2hr photo shoot and include a disc of all the photographs. Im a film photographer, but all the photographs would processed so that the client would receive a CD of all the photographs for their own printing of approx 30-40 photographs within 8weeks of the photo shoot.
Couples need to email zosia at [email protected], payment made in full in advance, photo session's from 18th January to 23rd February 2013, visit www.zosiazacharia.com to view Zosia's portfolio.
Last Minute Wedding Package Offer at Chateau Lagorce
If you are planning a last minute wedding then Chateau Lagorce are offering an all inclusive package for 30 adults:  3 night stay in 15 en-suite bedrooms ,a four course wedding meal with wine pairing, including service, tableware, table and chairs , a wedding planner , a photographer, flowers , sound system for 9900€
The price of the wedding meal and wine including the service, tableware and if you have more than 30 adults it is  60€ per extra wedding guest adult.  For a wedding booked with the discount code " Valentine's day " we will offer a local wine tasting with a light lunch buffet .
The start of the offer is for weddings taking part on Valentine's day through to the 23rd of March pending availability.
To take advantage of this offer call Anna on 0033 668 653 000 or visit www.frenchweddingchateau.com
Free Engagement Session when you book your wedding photography
Ben & Aurore Photos are offering you a FREE engagement session when you book your 2013 wedding photography before the 14th February.
Ben & Aurore Photos packages starts at 1200€ from the preparatives to the cocktail so don't hesitate to contact them and you will have a beautiful pre-wedding shooting. The shots can be used as a save-the-date reminder and for other announcements. They can also be used to decorate the wedding venue. Or maybe you prefer to just keep them as personal treasured memories.
To take advantage of this offer visit www.benaurorephotos.fr/en  and be sure to mention 'French Wedding Style Valentine's Reader Offer'.
Valentine's Day Contest: Genuine Eiffel Tower jewelry from Korbella and a romantic Paris photo session by Pictours Paris
In the spirit of Valentine's Day — and to celebrate the world's most romantic city — Pictours Paris and Korbella Jewelryhave teamed up to launch an online contest! For centuries, Paris has been acclaimed as " a city for lovers," and today still very much lives up to its reputation.  Pictours Paris and Korbella will host an online contest from January 21 to February 14th and the winning couple will receive a 2 hour Paris photo session, a sterling silver necklace made from an actual piece of the Eiffel Tower, and accessory earrings!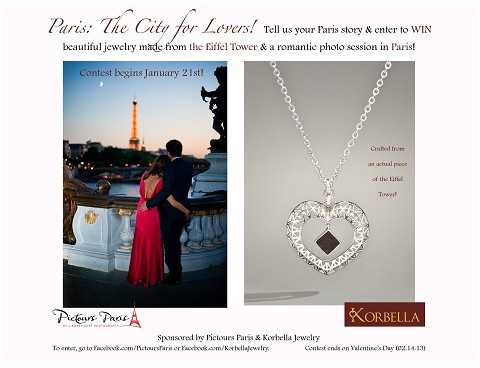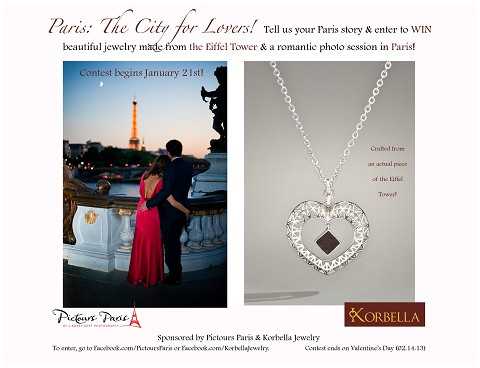 The contest is simple: "Why is Paris the City of Love?" In 150 words or less, couples — and friends or families of couples — can enter by providing their answer to this timeless question. Share a personal story about a time in Paris that was especially romantic. Or, if you've never been but are planning a trip (or dreaming of going someday): Why is Paris the perfect destination for lovers?
The contest will take place on Facebook at Facebook.com/PictoursParis and Facebook.com/KorbellaJewelry, so stay tuned for more details and to enter when the contest launches on January 21st!
Wonderful offers for FWS readers, so be sure to snap up a bargain and don't forget if you do, I always want to see pictures!
Monique xx