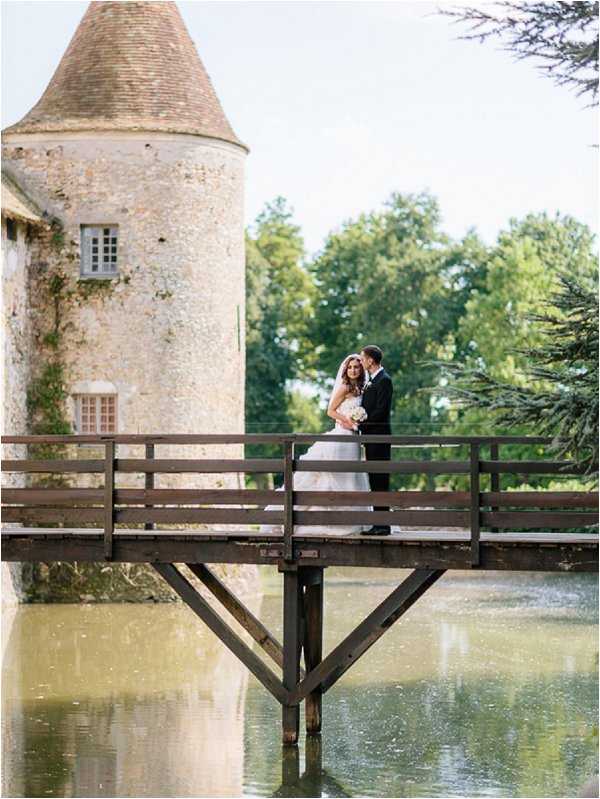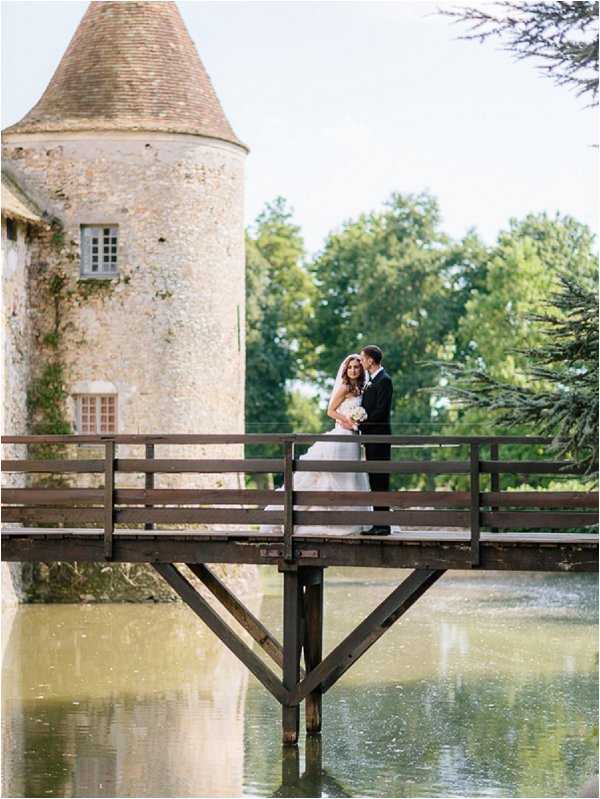 An enchanting castle with a moat,  a Parisian pre wedding shoot, a romantic Pronovias wedding dress and all captured by Ian Holmes – could today's enchanting wedding at Chateau de Villiers Le Mahieu be any more fabulous!
I LOVE French chateaus, I mean how could I not when I have the privileged of editing so many weddings held in them.  But give me a chateau with a moat around it, and I am left swooning at the romanticism of the venue.
You know that I have my photography crushes, well today's photographer Ian Holmes, his beautiful work certainly makes my photography crush list!
But before I swoon any more of Ian's work, I will let bride Alexandra takes us through their wedding planning:  "We have not the easiest, but I think really makes for a beautiful love story with my husband. We have met on 25th 2011 in Moscow and after less than a year I have signed a contract with German company and moved to live to Germany. Then followed thousands of trips, planes, hours on the phone and skype, vacations together and of course endless days of waiting to the next meeting.
On the one of such meetings (we celebrated my 25th Birthday) we were in Austria snowboarding and enjoying the open hot spa surrounded by Alps and Vadim (my husband) presented me a ring and said that he doesn't want to live without me anymore. Since then we have started our wedding preparation.
To be honest we didn't have the exact plan from the very beginning (the only one thing that we knew that we want to celebrate our special day in a small company of our closest friends and family in a nice, cosy, romantic place). And the special wish of Vadim was to have celebration in a castle.
We started our research and found Ekaterina (our wedding planner) who advised us to have a look at France and French castles. Katia is living in Strasbourg (French/German border, not so far from the place where I live in Germany) and that was perfect for us. We have visited with Vadim around 10 castles nearby Paris and we made our choice after visiting the last castle in our list: it was cosy old castle Château de Villiers Le Mahieu.
Vadim was convinced from the first minutes we arrived. He told me that the atmosphere and service there is the exactly what he was dreaming and looking for. Immediately after that we have decided that we want to be married and blasted by the monk, who should act as custodian of the castle. Together with Katia we started the search of our monk:) Katia advised us to meet Anton Yakovlev (Russian/French actor) and after few minutes of talking to him we were convinced that we want him not only being the monk but also to lead the whole wedding ceremony.
Then we have started to look for photographer and videographer. That was one of the most important suppliers for us, because we wanted to have the best memories of our day and everything should have been captured in a professional way. That's why we had really high expectations to the photographer and videographer and spent hours in the internet doing our research.
We found Ian Holmes page by accident and immediately fell in love with his pictures and the way he captures the most precious moments. Patricia (our videographer) was suggested by Katia and she made a wonderful job! I should say that all the suppliers with whom we worked: florist, fire show men and magician, Ian, Patricia, Katia, Anton.. did their best and made our day in the best way it should be.
The day before our marriage we have done photo session in Paris together with Ian and I should admit that Paris is really one of the most romantic places in the world and you can only dream to be married there. Our marriage in Château de Villiers Le Mahieu was on the 24th July  (after 3 years I met my husband) leaded by monk and custodian of the French Chateau and surrounded by our closest and beloved family and friends. We would like to thank everybody who shared our day with us and made it unforgettable."
Wedding Suppliers:
Wedding Photographer:  Ian Holmes   | Wedding Videographer Weddream Productions | Wedding Planner Mariage Parisien   | Wedding Venue Château de Villiers Le Mahieu | Wedding Dress 1 (Paris Photoshoot) Pronovias Orce, Wedding Dress 2 (Main Ceremony) Pronovias Manuel Mota collection |
Bridal Shoes Jimmy Choo | Florist Au Jardin de Matisse | Hair and Makeup Artist Yana Dolgodvorova   | Wedding Cake Sugarplum cakeshop| Wedding Celebrant/Officiant Anton Yakovlev