Good morning lovelies, it may be chilly outside but we are not letting that dampen our mood! Instead we're heading to the beach and taking you with us for an emotional beach wedding in Aquitaine, France.
Our cute couple made the most of their weekend with their closest family and friends by planning activities for the few days before their celebration. This allowed everyone to enjoy the beautiful region they had chosen for their nuptials.
Our beautiful bride Stéphanie wore a stunning lace gown and chose delicate roses which appeared throughout the day to continue the rustic chic theme! We love their wedding arch created by talented FWS vendor Sylvie of Atelier Déco'ps. Sylvie who is in love with flowers decided to become a florist and a wedding designer, catering for weddings all over the south west of France and Bordeaux.
We'll now pass you over to Sylvie who will be walking us through this beach wedding in Aquitaine…
"Here is the wedding of Stéphanie and Cédric who met fifteen years ago at work. When Stéphanie saw Cédric she fell in love immediately."
"Stéphanie decided to create a new life with her two children and Cédric. Many years after they left Paris to come near Bordeaux for their work and they decided to get married in this beautiful region."
"They contact Elise from Wedays Agency to plan their wedding on Bassin d'Arcachon. They chose to enjoy three days with friends and family to offer them enough time to discover this beautiful area. Before this amazing weekend, they had an engagement session with the photographer, Sandra Hygonnenc, near the ocean. A simple and romantic time shared with nature and the sea. There is something special in their love and respect."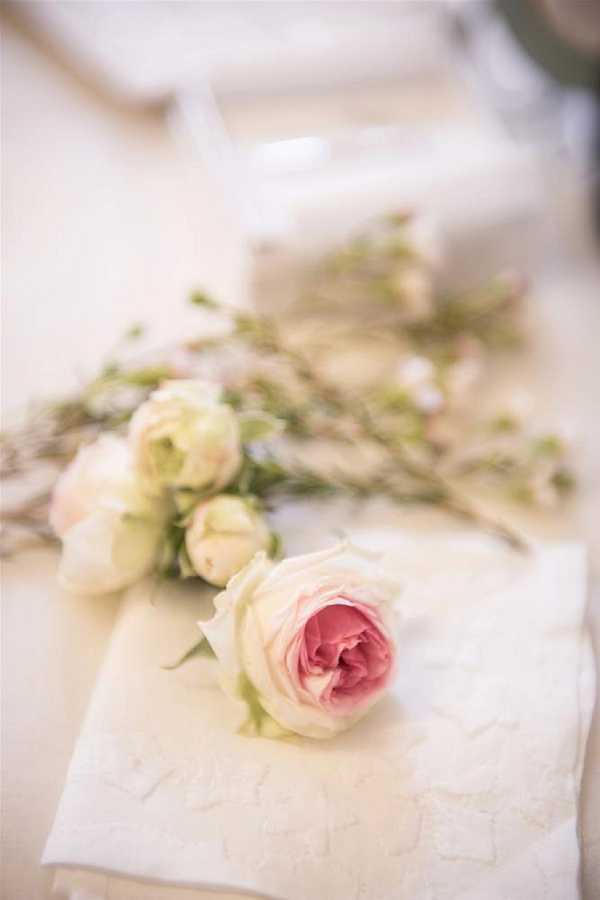 "The days before the wedding they suggested to their guests to have some fun surfing and enjoying other activities available in this beautiful region."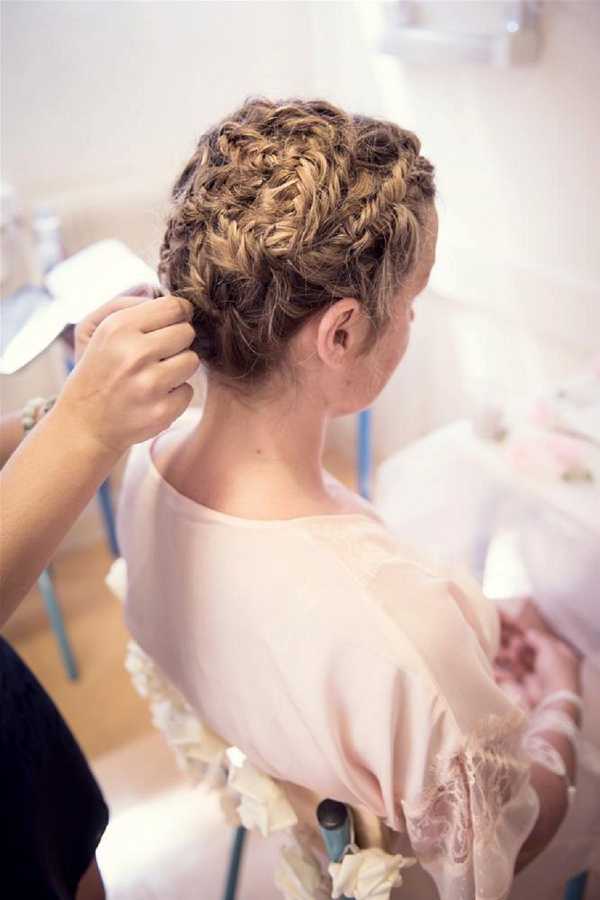 "The ceremony took place at a small beach in Bassin d'Arcachon on a perfect sunny day! They wanted their guests to take off their shoes and walk on the beach for the ceremony. An arch with romantic flowers was set in front of the sea. Peonies light pink and veil, were the style of the ceremony with some landscape bouquets and frames with baskets for the shoes."
"They had a very emotional ceremony because Stephanie's children were so happy for their mother to have found her "prince charmant". After so many years together they are a perfect family. Their freinds and familly were there to share this beautiful moment, to tell them their love and their hapiness to be there."
"After the ceremony they went to the Golf du Cap Ferret for dinner and the party, just on the other side of the Bassin d'Arcachon. It was at Golf du Cap Ferret, a special place with a private space for weddings. They choose to have dinner with decorations around a lounge place. Just simple vases with flowers in a landscape style. A friendly time because everyone could get to know one another."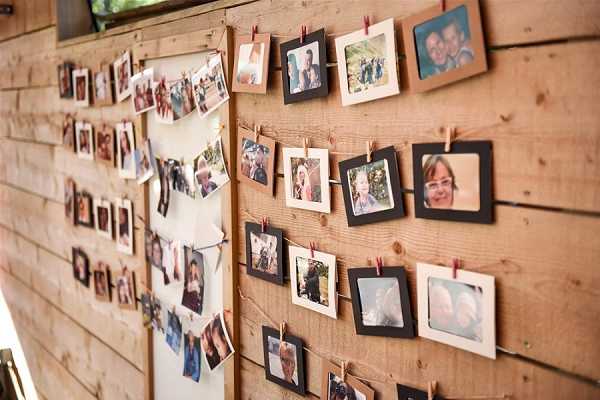 "They asked me to do create decoration around the place in a romantic and vintage style."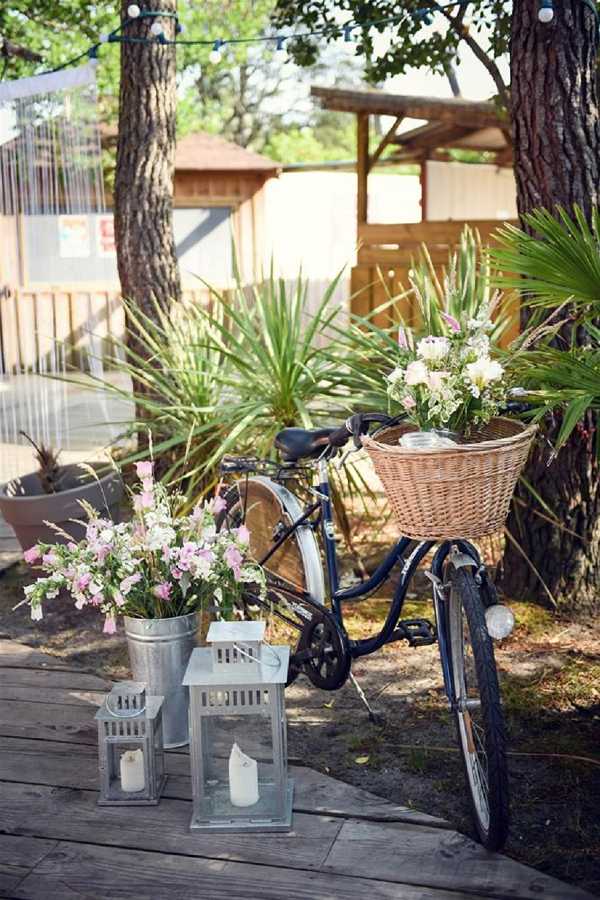 "So I used a bike and an old scale with the letters LOVE and decorated with seasonal flowers like Peonies, Freesia and Roses. Shabby glass vases with lace and lanterns. It was a romantic and friendly wedding that I will never forget, because this couple are an unforgettable couple!"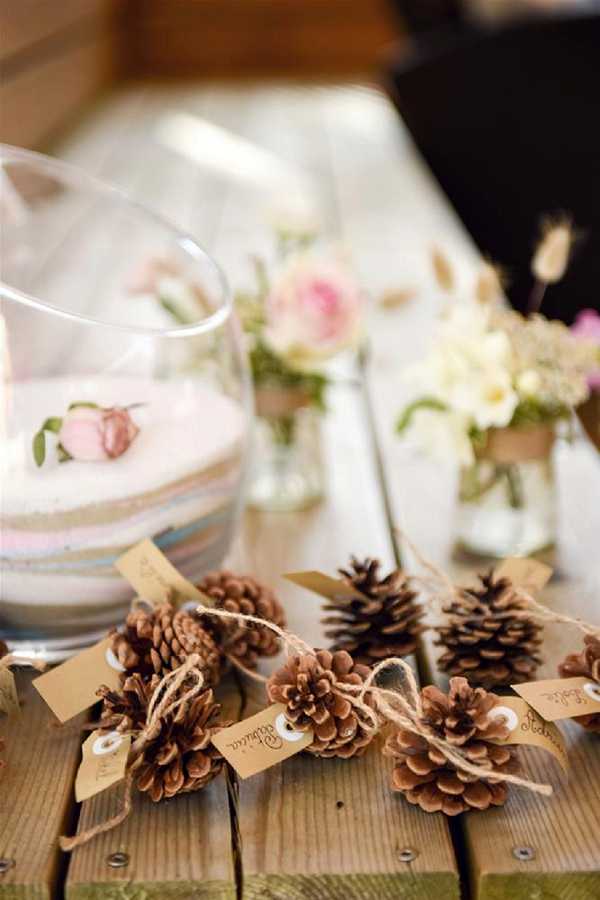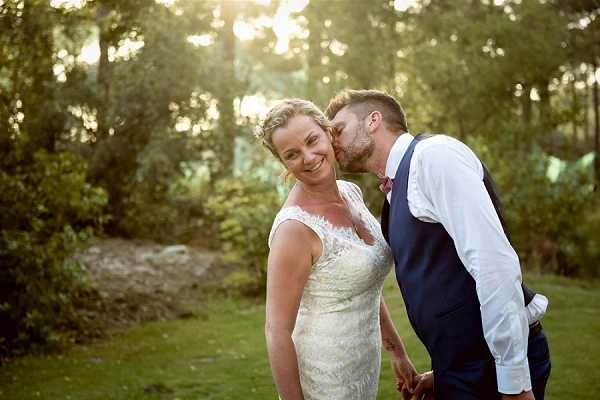 Congratulations Stéphanie and Cédric from everyone here at French Wedding Style!
Are you planning a beach wedding? If so you'll want to check out these 5 beaches for your perfect wedding in France.
Emotional Beach Wedding Aquitaine France Snapshot
Wedding Vendors
Planner: Wedays | Photographer: Sandra Hygonnenc | Venue: Golf du Cap Ferret | Flowers & Decoration: Atelier Déco'ps | Hair and Make Up: Cyrielle Delas | Catering: Dulou Traiteur