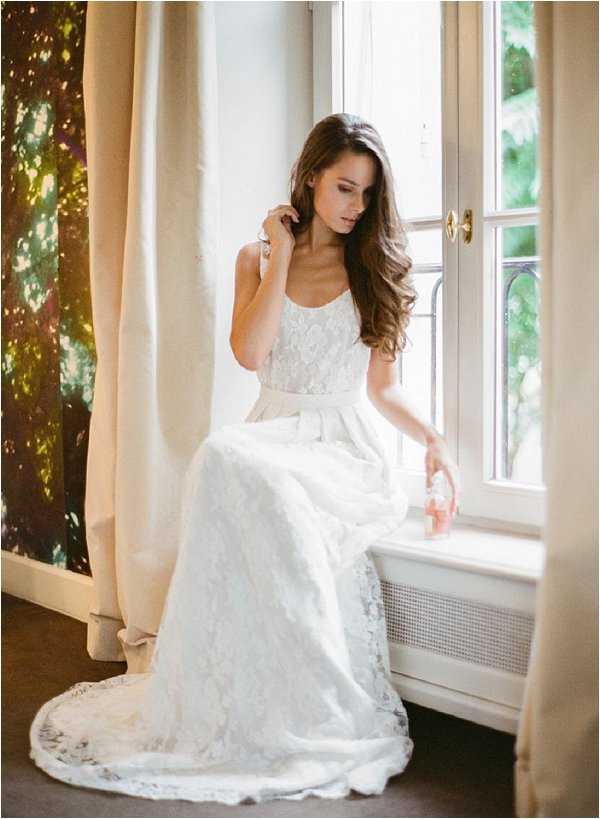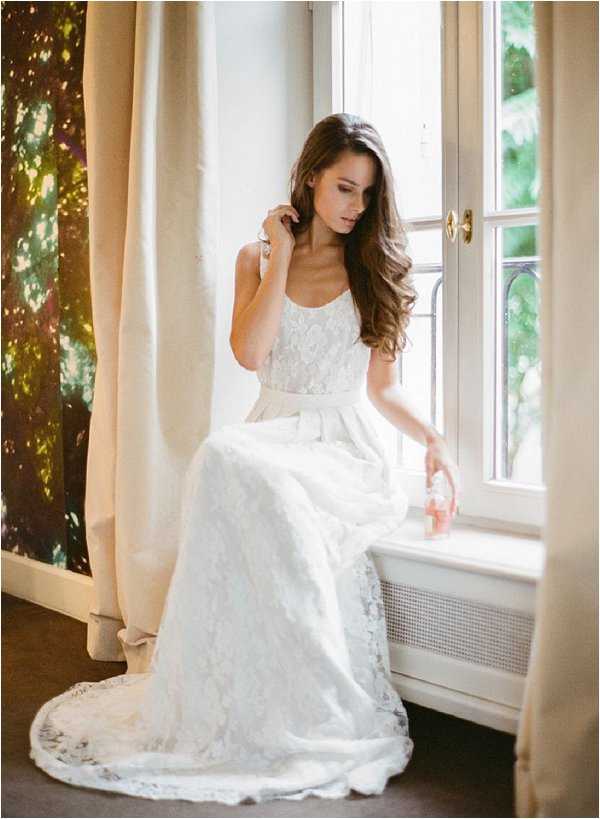 I am so super excited to share today's bridal editorial with you for many reasons, the first being that the beautiful Elise Hameau 2015 Collection stars in the fabulous shoot.  I am also thrilled to share the work of film photographer Gert Huygaerts and welcome the inspiring styling of Naomi Goodman from At First Blush and Co.
The culmination of my excitement is the location for the shoot, the exclusive Hotel Particulier in the Montmarte area of Paris.
Super stylist Naomi takes us through the shoot:  "Elise Hameau has been the designer to watch ever since she debuted her very first bridal collection in Paris in 2012. With her mom as the sole dressmaker  Elise quickly realized that she was going to need more than just her mother's help once orders started to come in from stylish brides all over Paris.
Pulling from various eras and her own creativity, Elise was able to incorporate the romance of eras gone by, the gracefulness of the 20s, and the free loving bohemian essence of the 70s creating a capsule wedding dress collection that personifies the Parisian woman's effortless sense of style. Sticking with classic bridal white the easy flowing silhouettes feature spot on details such as  backless gowns, two piece bridal attire, and perfectly placed peeks of French lace throughout the collection.
With her first trunk show in America this year Elise Hameau is sure to gain more admirers from the newly engaged for this and future collections.
Shot in France at the exclusive Hotel Particulier hidden in the Montmartre area of Paris, Elise debuted her 2015 collection photographed by Gert Huygaerts, styled by Naomi V. Goodman of At First Blush & Co. Productions."
Wedding Suppliers:
Photographer: Gert Huygaerts | Film Lab used: Richard Photo Lab | Styling: Naomi Goodman from At First Blush and Co | Wedding gowns: Elise Hameau  | Make-Up: Peggy Timmermans | Florals: Amy from Flowerjugs | Perfume + make-up products: Guerlain Paris | Venue: Hotel particulier Montmartre | Hair: Epic Hair Turnhout, Belgium