A rainy wedding day, every brides worst nightmare but it doesn't need to be something to fear! Today's elegant Hôtel des Grands Boulevards wedding reveals how wonderful rain can make your wedding!
It's not something you can control so all you can do is have plan b in place (or like Paulina a clear umbrella) and enjoy every moment of your big day come rain or shine.
Paulina looked very chic in her short Anomalie dress which she wore with a stylish birdcage veil. We love their wedding photographs by Angélique Provost who has perfectly captured this rainy Hôtel des Grands Boulevards Wedding. We'll now pass you over to our beautiful bride Paulina who will be walking us through her big day…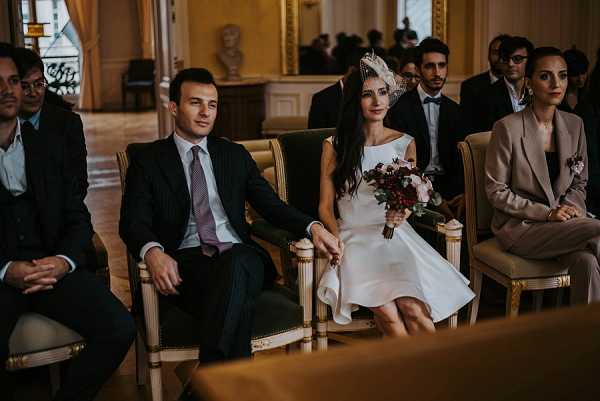 My wedding took place in two different parts, as it is often the case in France. Part one was set in Paris, for the "city hall" part at the Mairie du IXe arrondissement, and Part two was held in the South of France, close to Montpellier. I decided to submit Part one because of the pouring rain, which I feared and loathed so hard… before seeing how the pictures turned out! I think it conveyed something very special, which I am excited to share.
Part one was very small with only close friends (our "témoins") and family. Following the ceremony, we had a luncheon at the boutique hotel Hôtel des Grands Boulevards, a 5 min walk away from both our apartment and the Mairie. We chose this venue because it is one of our go-to places as a couple. The outlook is amazing, and the food remarkable. They even open a rooftop in summer, which is not so common in Paris. The staff were incredibly helpful and dedicated – another not-so-common thing in Paris. They exceeded all our expectations!
Our photographer also went beyond everything we could hope for. She stayed a little over an hour with us, and managed to capture all the magic! She delivered our pictures in less than two days, can you believe it?
To me, the civil marriage is the time to go for everything you don't usually risk at the religious ceremony: a short dress, a low-cut back, red lips and a broadly glam and playful look. Which is what I was shooting for, does it show? We also enjoyed a hint of retro, as exhibited by my fascinator and my husband's thin stripes. Anomalie made my dream dress come true, using the most beautiful duchess satin fabric.
I should thank Laëtitia, the fabulous Reflets Fleurs florist who didn't laugh at the cheesiness of my request: dahlia marsalas to match my lips.
I hope you'll enjoy discovering the pictures of our wedding just as much as we enjoyed living it.
Wasn't that just dreamy? We want to get married again just so we can have gorgeous romantic images like these in the rain!
For even more Paris wedding inspiration…
Click here for an abundance of Parisian wedding inspiration
Elegant Hôtel des Grands Boulevards Wedding Snapshot

Wedding Vendors
Photographer Angélique Provost | Brides Dress Anomalie | Florist Reflets Fleurs | Venue Hôtel des Grands Boulevards | Hair Cédric en Particulier | Shoes Aquazzura | Grooms Outfit Boggi