Hello lovelies, we hope your week has started off great! Today we have for you a utterly romantic French wedding proposal which has been beautifully captured by FWS vendor and wedding photographer Olivia Marocco Photography. Olivia is a destination wedding photographer, capturing weddings in both London and neighbouring southern counties as well as the stunning south of France. Her work is often described as original, creative, atmospheric, emotional and fun.
Capturing every moment on film was talented videographer and FWS vendor Airsnap… "We try hard to realize a video which will make sense and which will cause emotions for the newlyweds even after several viewings. The key point in the video editing is the sound. We do everything to make it perfect, which will add intensity to the video. We care about every detail."
We are in love with every detail of this shoot and we think you will be too… get your Pinterest boards at the ready ladies this ones for you!!
"Asking your soulmate and special someone to spend the rest of their life with you is an extraordinary moment and most probably one of the most memorable experiences of your life."
"Planning the perfect marriage proposal at home or abroad – especially a surprise one – can sometimes be tricky and coming up with the right way to ask those four little words "Will you marry me?" can be a real challenge, even for the most romantic at heart. On top of which, the story of where it was done and how it was done will be told over and over again to friends, family and strangers for the rest of your lives. Phew, that's a lot of pressure!"
"But don't worry, what you need is the perfect location, a beautiful engagement ring, lots of love and belief in the promise of a wonderful future together. Those are all the sweet things that have inspired me to create this gorgeous styled shoot which will hopefully give you some fabulous ideas to help you plan the ultimate proposal and to capture the "YES!" forever."
"Jack and Alison are staying in a beautiful chateau in the south of France surrounded by elegant interiors steeped in history and lavish gardens perfect for intimate dining. Unbeknown to Alison, Jack has prepared a very special evening and sends her a beautiful handmade invitation asking her to join him for cocktails."
"He nervously awaits her at the bottom of the stairs. Everything is planned to perfection, the candles are lit, the champagne is on ice and the words MARRY ME are surrounded by flowers. Quelle surprise! Of course she says "Oui" and he presents her with the ring."
What a surprise!! Don't you think Olivia Marocco Photography captured it beautifully, her images made us want to walk into the scenes, very enchanting indeed!
And you can see here, the moment captured on film by the talented team at Airsnap:
For even more proposal inspiration check out surprise proposal in Paris by Pictours Paris.
Elegant and Chic French Wedding Proposal Snapshot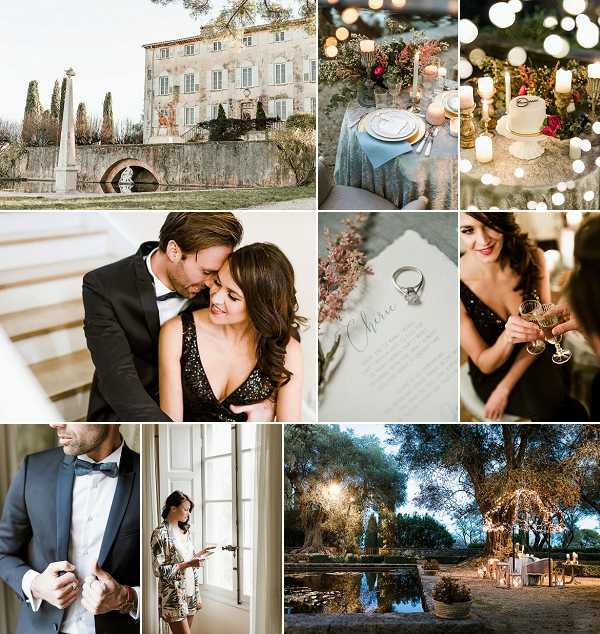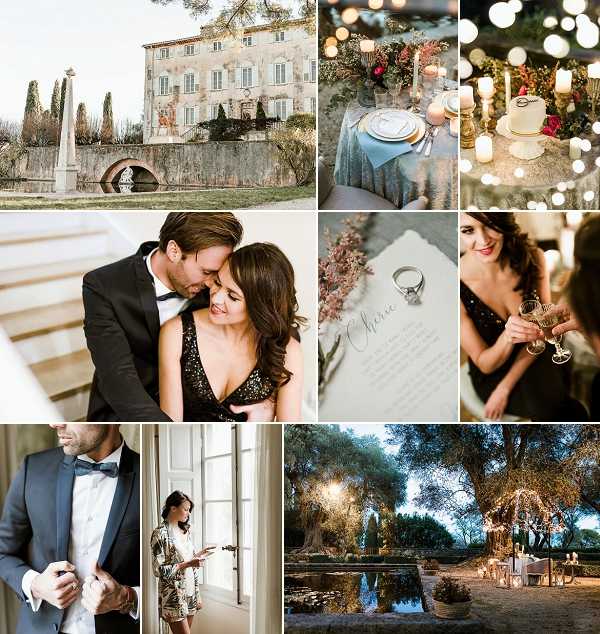 Wedding Vendors
Venue: La Bastide du Roy | Photographer: Olivia Marocco Photography | Videographer: Airsnap | Stylist: By Mademoiselle Deco | Dress: Annah Roxxah | Shoes: Carmen Steffens | Accessories: Bijouterie Volterra | Grooms Outfit: Father & Sons | Florist: By Mademoiselle Deco | Stationery: Crème de Papier | Catering: Pavillon Traiteur | Cakes:  La Cerise sur le gâteau | Model: Tiphaine Skender |Model: Sebastien Ducasse