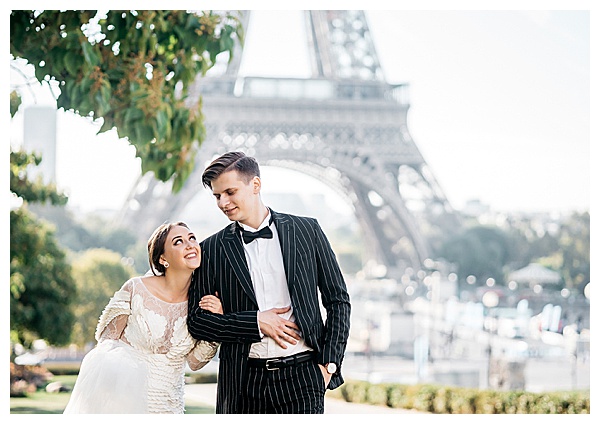 Today we have fallen head over heels for this Autumn Elopement in Paris, the city of love. The photography team with Do It Paris Way captured all the natural light, the authentic love story, and historical backgrounds for this stylish duo. Together they hit the Paris streets in the early morning to shoot at classic locations like the Notre Dame de Paris, Arc de Triomphe, and Square René Viviani. They made sure to beat the hustle and bustle of the city to share these intimate moments together.
Their photographer, Helene Kos, shares all the details big and small with us! Let's begin…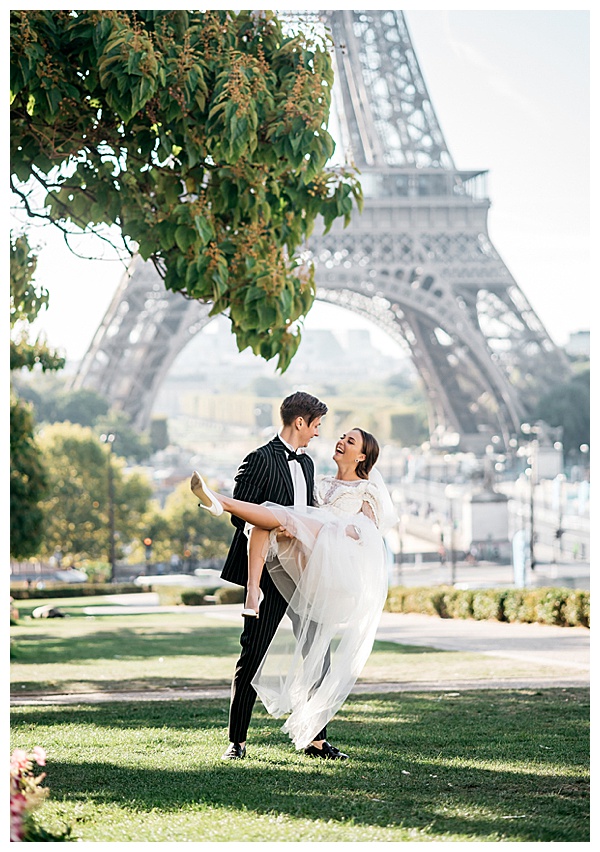 This Fall elopement in Paris was relaxed and very sweet. We used the natural light to create soft and beautiful portraits of this picture-perfect couple. Dan and Louise worked so hard and spent so much time to ensure their big day was perfect. Our team captured all of those important details and precious moments all throughout Paris.
The early morning wedding ceremony was at 7 AM at the beautiful Notre Dame de Paris. Louise, the bride, said: "Our planner Helene showed us Square René Viviani and instantly we knew it was the spot for us. It was the most intimate setting".
Looking at this beautiful couple, you sincerely start to believe that love at first sight really exists. Even from a glance, these two prove that a long and happy life with your loved one is absolutely possible.
Dan and Louise studied together at school. Their friendship began after they took part in a sports competition. Their friendship blossomed over time and became something much more. As their feelings got stronger and stronger their love started to grow. They first met 7 years ago and today they are still happily in love with each other and can't spend more than a few days apart.
They are an active, bright, young and ambitious couple. The two beloveds wanted to have a modern, stylish and extraordinary elopement. They achieved that and even more!
Louise's dress was very elegant, non-traditional, outstanding and sensual. She herself worked with her close friend and designer on the creation of this unique gown! We loved it.
The groom looked no less stylish in his custom made striped tuxedo and chic bowtie. His outfit became a bright remarkable detail, the center of attention, and it beautifully complemented his sweetheart's image. The duo appeared harmonious. The Do It Paris Way team managed to capture that balance, elegance, frank emotions, and energy in an extremely lively photo shoot.
The beautiful park and Paris streets had a lot of greenery, flowers, and sunshine. The gentle and soft color palette fit so perfectly in this city of romance. The true implementation of a dream wedding. We know these two will cherish these incredibly happy lifelong memories forever.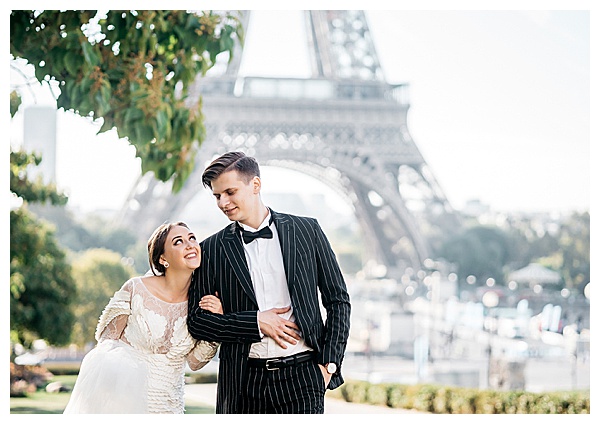 This shoot will be so inspirational for future brides and grooms who are planning an Autumn elopement in Paris. Thank you to the incredible vendors who made it all possible.
Dreamy Autumn Elopement in Paris Snapshot
Wedding Vendors
| Hair and Make Up Yana Dolgodvorova | Photographer Do It Paris Way | Florist Elyfleur |