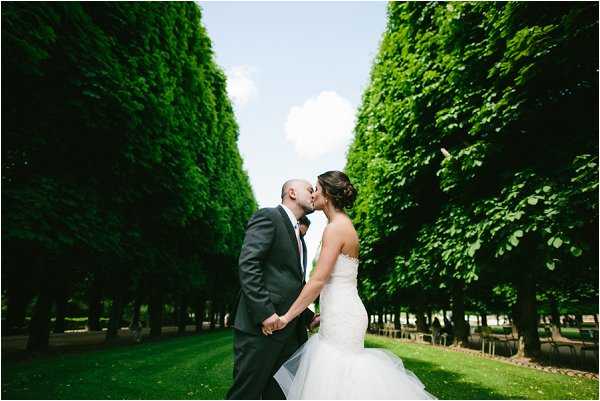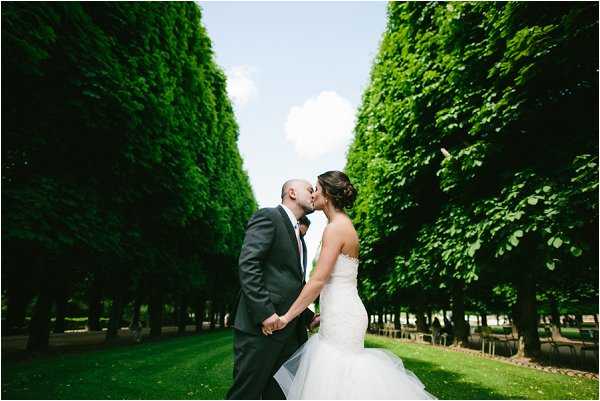 It's off to Paris today for the Dream Intimate wedding in Paris of Amber and Victor, captured by Brant Smith Photography.  With family spread all over the world, Paris seemed like the perfect location to plan their dream wedding, an intimate and romantic affair, combined with their honeymoon.
Bride Amber shares with us their love story: "I like to say that having our dream wedding in Paris was one of the many perks to marrying someone foreign. With my husband's parents living in Romania, brother-in-law in London and my family residing in Wisconsin, planning a wedding can be a little tricky to get everyone together.
We got to thinking, what could be more perfect for an intimate and sophisticated wedding then Paris, not to mention romantic! Oh and a little vacation!! Trying to plan a wedding across the country and not in your dominate language can be quite the task. But luckily having found our amazing photographer, Brant Smith, was a godsend.
I knew from the moment I saw his pictures, he was the perfect person to capture our beautiful day. Brant provided me with every contact under the sun from people he had worked with before to even going as far as researching restaurants for us to have our small reception at. After a little research online from French Wedding Style, Style Me Pretty and after walking around Paris with Brant, we decided that the Luxembourg Gardens with all of the lush, tree lined gardens would be a perfect spot for us to say our "I dos".
Our celebrant, Claire Bay, from Une Belle Ceremonie was super sweet. We had exchanged emails prior and together custom made our vows, adding in personal touches about each other, even mentioning our furry cats who unfortunately couldn't attend; clearly my husband put the kibosh on me bringing them across the country.
After our intimate ceremony our car driver, Cedric, whisked us away in our vintage car to take photos in the magnificent city. Cedric was remarkable, he knew everything about Paris, it was like having our own personal tour guide but also feeling like it was our friend for years because he was so down to earth. Cedric and Brant took us to some of the prettiest and most romantic spots, some that unless you were a local would never find, like the cobble stoned alleys of Montmartre, also iconic Paris staples, like the Eiffel Tour, Notre Dame and The Louvre.
I don't think we could have honestly dreamed up something more perfect for us. Having an intimate wedding gave us the chance to really take in the day and remember what a wedding day is about, it's about the two people getting married, joining their lives together as one, and not get caught up in all the hustle and bustle of planning a big wedding. I would highly recommend this to anyone. It may seem daunting at first but with the right resources, your day will turn out amazing and you will remember it forever!"
Wedding Suppliers:
Photography: Brant Smith | Hair: Ciara Coiffure |   Makeup: Sanni Sorma |  Officiant: Claire from Une Belle Ceremonie |  Ceremony:  Luxembourg Gardens |  Driver: Cedric  |  Reception: Atelier Maitre Albert | Brides Dress: Tara Keely | Brides Shoes:  Sam Edelman | Brides Jewelry: Givenchy |