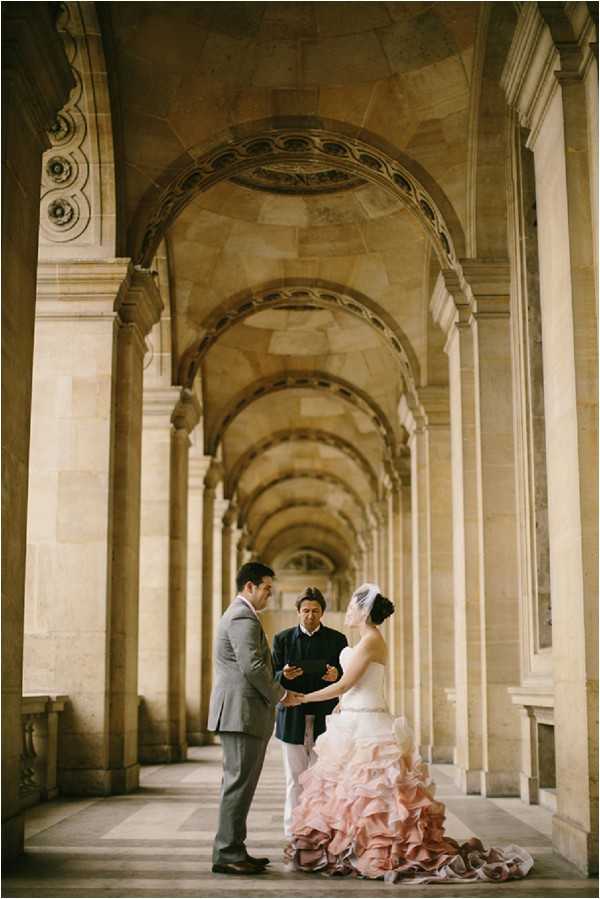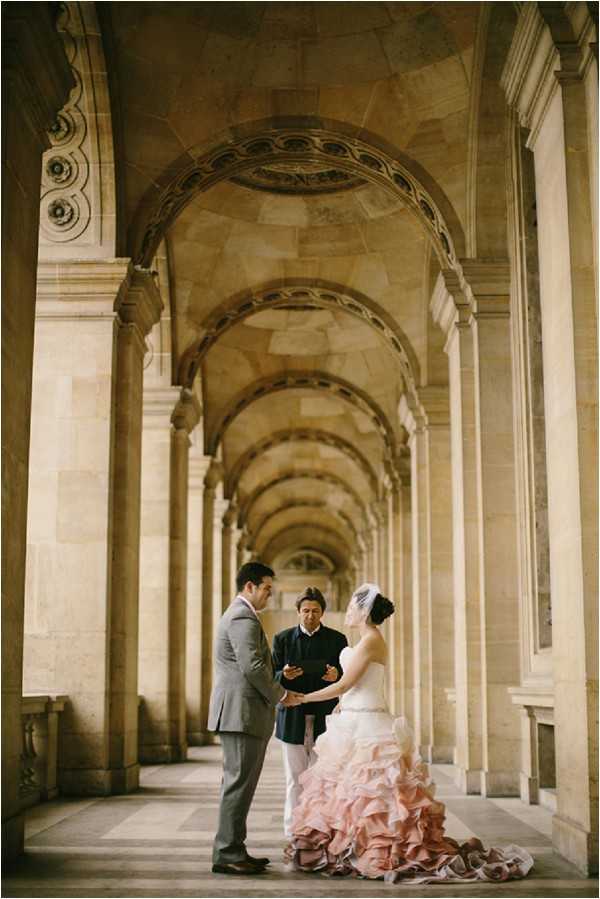 As soon as you get engaged, your mind starts to plan your dream wedding and when you know that you want to travel, choosing the location can be one of the most difficult starting points.  However taking it all in their stride, when today's real couple Jennifer and Aaron got engaged, they knew that they wanted to get married in Europe, finally deciding on a dream destination wedding in Paris.
Thank you to Brant Smith Photography for submitting Aaron and Jennifer's beautiful destination wedding.
Bride Jennifer takes us through their love story: "Aaron and I met through mutual friends after high school. Oddly enough, we went to same school together but never knew each other. After hanging out several times over a period of months, we finally went out on a date at the end of summer in 2007. Our first date was at a sushi restaurant (we both love sushi) and we've been together ever since.
Before Aaron proposed he put together a video compilation of friends and family sending their personal messages and well wishes for our new engagement. It included friends who had moved away, my parents, and Aaron asking my father for my hand in marriage. Aaron sat me down in our friend's home to watch the video, and at the end, he got down on one knee and proposed. Turns out, Aaron chose October 12th to propose because it was the 6th anniversary of the first day he told me that he loved me.
I've always wanted to travel, and throughout high school and college, I dreamed of going to Europe. Being a non-traditional couple, a big wedding was not appealing, so we discussed destination weddings. Since I had always wanted to go to Europe, we discussed Ireland, Italy, Greece, and settled on Paris! We chose Paris because it is the most romantic city in the world, and it would serve as the perfect backdrop for our wedding day pictures.
We decided on the style of our wedding piece by piece, starting with my dress. I knew early on I wanted an ombre affect, and after days of shopping and searching, I found the perfect gown that I could add color to. I chose to ombre the dress with blush pinks through rosy mauves.
Then I started accessorizing: something old – a broach bouquet made from broaches that belonged to my mother, aunt, and grandmother; something new – a new pair of sparkly shoes, something borrowed – my mother's diamond necklace, and something blue – a handmade garter belt with a blue charm. I matched the groom's colors to my dress for a full spectrum of color and grace.
We chose their wedding date specifically because it was our seven-year anniversary.
I relied upon French Wedding Style, IntimateWeddings.com, Pinterest, and the magazine Destination Weddings and Honeymoons to inspire and plan our wedding details.
I read other brides' testimonials about their Paris weddings, and then contacted the vendors listed until I found the perfect fits. I selected Brant Smith for our photographer, Love Gracefully for the celebrant, Experience Paris Concierge Service, Cosette Patarot for hair, La Fontaines du Luxembourg for the hotel, and Impressions Bridal for my dress.
The wedding day began with getting my hair done by Cosette, which was a fun challenge as I do not speak French and Cosette knew only a few English words. Despite the language barrier, Cosette fashioned my hair into a lovely chignon with gentle finger-waves, to add a vintage flair.
The photographer stayed with us throughout the dressing period, taking wistful photos of the myself, Aaron, and our friends. Brant Smith took us to a quiet street for photos of the Aaron's first glance at me in my dress. We then went to the Louvre where we met with our celebrant – Pierri-Henri. He married us in the early evening under an alcove by the Denon Wing.
We then toured the city to places such as Notre Dame, the banks of the Seine, Pont du Alexander III, the Eiffel Tower, Palais Royale, and Sacre Coure for more photos and to bask in the ambiance of Paris. It rained the whole day but we were so happy that we didn't care. People would stop us in the street to tell us our wedding day was lucky because it was raining!
I found planning a wedding in Paris surprisingly easy! With the help of wedding blogs that had testimonials I was able to easily find vendors who met our needs. Our friends and family were all excited for us and felt that it was a unique experience that reflected who we are as a couple. We are celebrating with everyone later this month where we will share all of our pictures and stories.
My best advice for couples would be to plan a wedding that will make you happy. When your day finally comes just sit back and enjoy every second. Chances are everything won't go exactly as planned but that can be part of the fun. Paris is such an amazing city it's impossible to disappoint!"
Wedding Suppliers:
Photography: Brant Smith | Celebrant: Love Gracefully | Assistance: Experience Paris Concierge Service | Hair:Cosette Patarot | Accommodation: La Fontaines du Luxembourg  | Dress: Impressions Bridal |