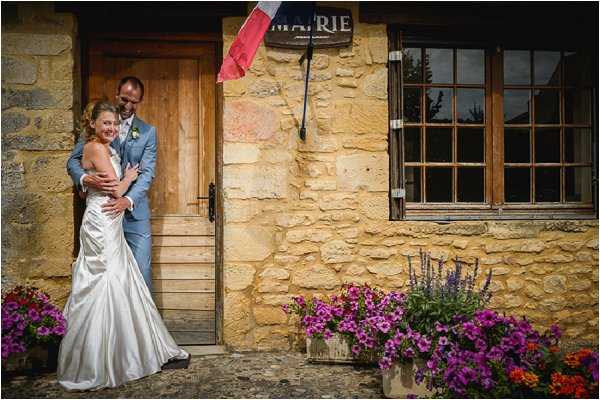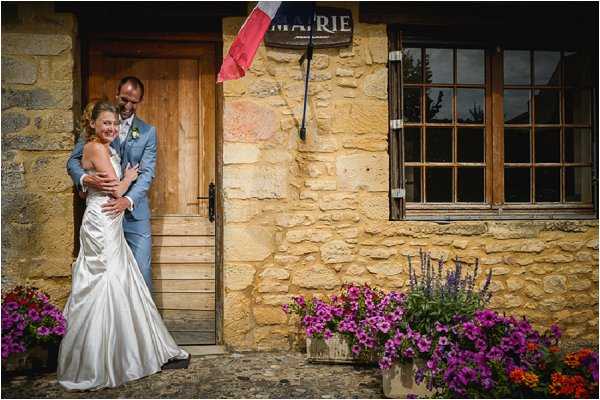 As December approaches it is wonderful to think of summer days full of warmth and light and that is what we are doing in today's Dordogne Valley wedding.  Maryline and Tom got married in the heart of the  Black Perigord at Domaine des Farguettes.
A French bride and English groom, the couple opted to get married in France, with a legal wedding at the mairie's office followed by their wedding celebrations.
Thank you to Pixies in the Cellar for submitting this beautiful wedding.
Bride Maryline takes us through their wedding planning: " Not very romantic but Tom and I met at work, started as friends then realised that we had a lot in common and fell in love.  Tom proposed over a candlelit curry at home but it got better as Tom booked a surprise holiday to Crete three days later 🙂
We choose to get married in France because the I am French!!! And Tom really loves this beautiful country…
We choose the Dordogne being easily accessible for English people and one of our favourite destinations (great food and wine + sunny weather most of the time!!) Domaine les farguettes was great as we could accommodate close family and friends all on one site and in such a character filled house too. Perched up above the valley in its own woods it felt quite secluded with fabulous views and a pool too which all the children (and big kids) really appreciated.
For our wedding style we wanted French, rustic, not too fussy… a rough fuchsia pink and lime green theme (everyone thought this was a bit weird but it worked well when executed subtly).
Our day started with a lovely French short ceremony in the village mairie, home-made rose petal confetti outside and accordion music (Edith Piaf played by a friend). Following the ceremony we went back to the Manoir where festivities started with relaxed aperitifs and a lot of little canapés, with great music from our amazing musicians Les cousins d'Aldo.
Then on to the sit down dinner, a few speeches (not too long in French and English), piece montee (delicious profiteroles!) then straight into the first dance joined by our two beautiful girls and lovely guests. And of course lots and lots of wonderful pictures.
The only issues that we had for planning a wedding in France was sorting out all the papers for the maire was a bit of a challenge…Also as the marquee company couldn't travel on a Sunday, the erection of the marquee was left until the Monday, which didn't leave long to do all the decorating, as we got married on the Tuesday.
My advice for getting married in France – Go for it!"
Wedding Suppliers:
Wedding Photographer: Peter & Sara of Pixies in the Cellar alongside Chris of Photogravy and Rachel of Vagabond Baker – we were lucky to have so many professional photographers as friends! |
Wedding Venue: Le domaine des farguettes, paleyrac, dordogne | Wedding Dress: Stockport wedding dress outlet | Bridal Accessories: Etsy | Bridal Shoes: Rainbow shoes from John Lewis |  Florist: Bug Fleurs, paleyrac | Hair and Makeup Artist: Salon D'emilie, Elise Beaute (les eyzies) | Bridesmaids Outfits: Monsoon | Bridesmaid Accessories: Monsoon | Grooms Outfit: Hugo Boss|  Grooms Shoes and accessories: Debenhams | Wedding Rings: Natalie Holt | Caterer and Wedding Cake: Jacky Delmont | Stationery & Invitations: home-made (Hobby craft) |  Wedding Band/ Entertainment: les cousins d'Aldo |  Wedding Celebrant/Officiant: maire of Paleyrac