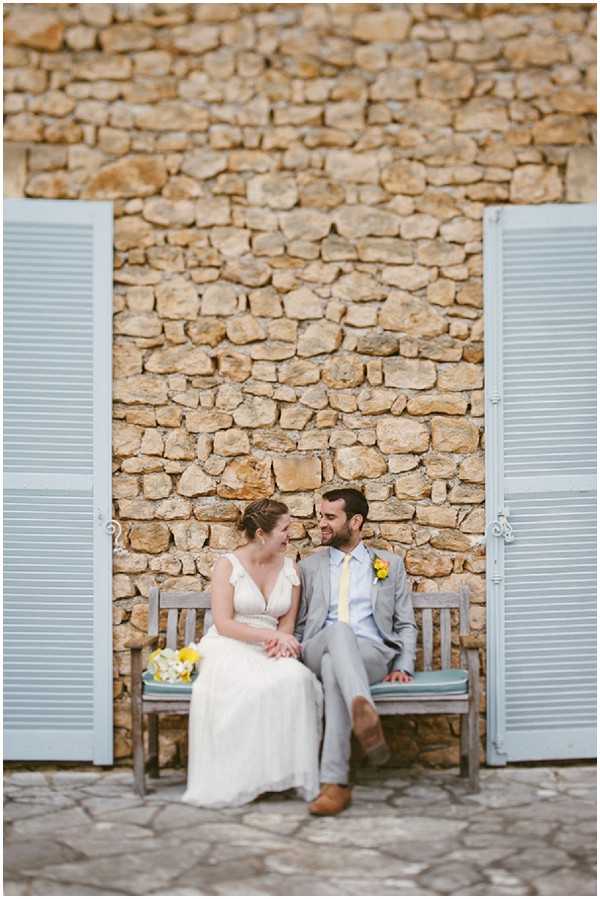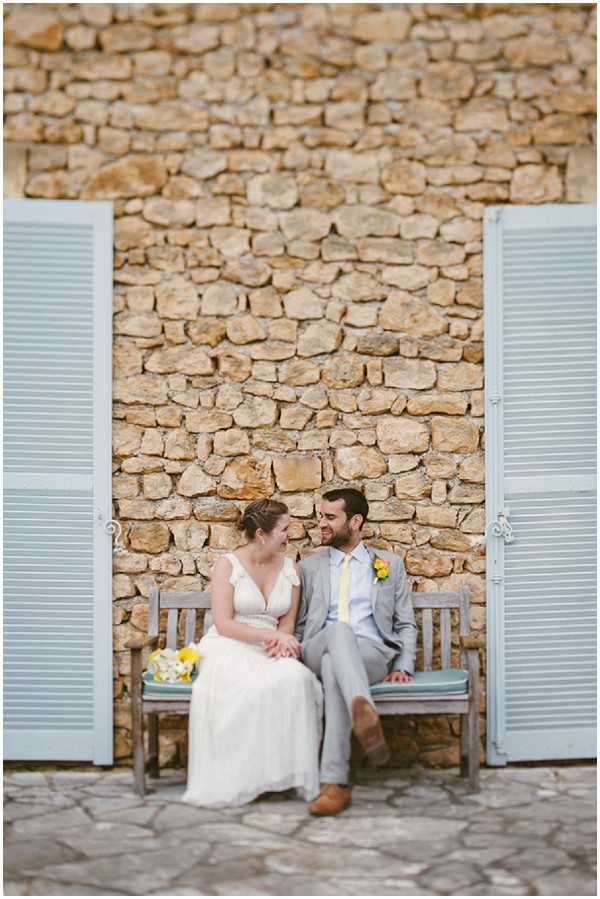 A mid week real wedding pick me up today as we head to France for the Dordogne country wedding of Will and Claire.  Submitted via Two Bright Lights by My Love Story Photography, I am completely in love with Claire's 1950's inspired Alberta Ferretti wedding dress, so feminine and chic!
It has a Coco Chanel essence to me and works so well with the contrast of the Spring white and yellow flowers and romantic Dordogne countryside.
Groom Will takes us through their engagement: "For our engagement I whisked Claire away to Rome, wandered around until there were few people overlooking the Coliseum and asked Claire to be my 'special person'. She knew it was coming why else would we be in Rome without arranging it together first…"
French Wedding Style – Photography © My Love Story
Of their choice for the wedding day bride Claire says: "Will has a connection to the Dordogne as his parents have a holiday home there, where he was made to go since he was 12, every summer for the whole school holidays. We have been there together a few times and love the way it seems away from it all and classically French when you scratch the surface.
We choose a venue that was very near to Will's parents house and has good memories from holidays with each other and Will's holidays to that area with his friends.
We didn't really have a style but just wanted our wedding to be what we wanted without having to sway to suppliers telling us 'do it like this'. W looked at wedding fairs (where we met our photographer Alex – my Love Story), Pinterest was used heavily when we were trying to decide on flower arrangements and how to make things looks a little shabby chic! We didn't use many wedding magazines, but instead scoured a lot of online wedding blogs and web sites for glimpses of people's wedding styles we could pinch!
For our suppliers, choosing a photographer was easy – we saw My Love Story Photography snaps at a wedding show and were blown away, we knew we had to have our wedding told as a story in as unpretentious and relaxed way as possible.
For the cake we found an expat in Dordogne that specialised in wedding cakes and just took a bite. The catering main meal was typical Perigordian style with Fore Gras and walnut salad, so we found a caterer that works in local chateaus and function, some very impressive duck gizzards.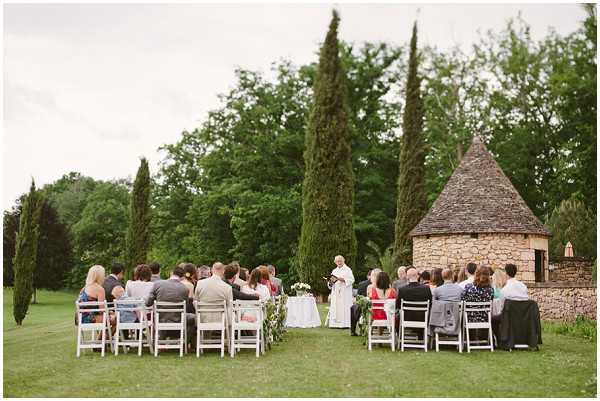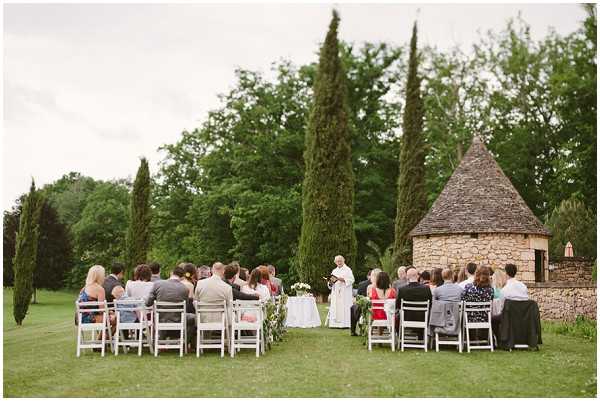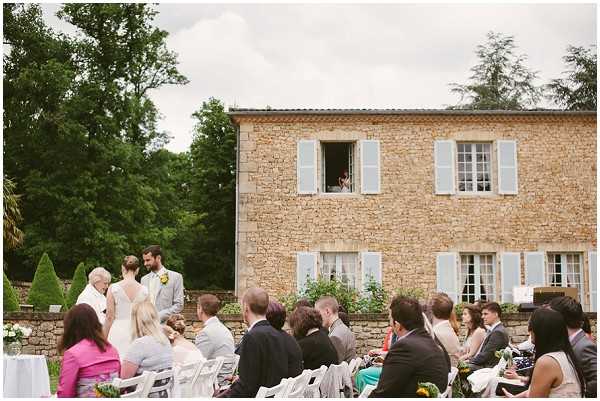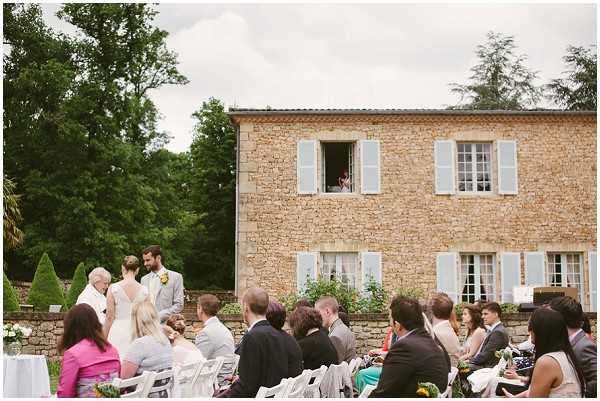 The setting for the wedding was a large house in the village of Carsac-Aillac, we were able to use the grounds and large reception hall for our needs and it worked as a blank canvas allowing us to personalise. The setting is so beautiful that it wasn't hard to make it look good even with raining weather!
I wore a wedding dress was by Alberta Ferretti and featured 1950's pleats, the grooms suit and best man were from Zara.
On the day of the wedding I woke up to sun (which was a first) with 2 days of solid rain before! Will had to get to the venue to finalise the flowers with his mum and decide if the ground was dry enough to stand the chairs on for the ceremony.
I got ready at my mums with the help of family and friends whilst Will went over to his parents house for a couple of drinks and then off with best man and friends to the wedding venue.
The ceremony performed by the local deputy Anglican priest was a fantastic and allowed us to have a humanist ceremony in the setting of a lovely garden that faded into meadow and forest.
Next came to champagne reception and meal which was fantastic, with the food offering the very best of the local area such as duck gizzard salad, glazed duck and a triage of deserts and cheese. I can taste it all now! The afternoon turned into evening with a brief dip in the pool and several pints of Gadds ale (shipped over from Ramsgate, Kent) for the occasion. All were well oiled and day finished on a high.
When planning a wedding in France, Language was an issue and it did mean that you were limited to scouring expat forums and speaking to friends/family to recommend people.
But if we have one piece of advice it would be go for it, you will love every minute of your French experience and family and friends will want to make the effort for your special day.  We are just to take a honeymoon as we brought a house and had a baby so the honeymoon is on the back burner!"


Wedding Suppliers:
Venue: Peycibeau, 24200 Carsac–Aillac, France
Photography: Alex of My Love Story Photography
Cake: Carol Menzies [email protected]
Catering: Emily of Emily cooks for you Home Dining Perigord
Wedding Dress: Alberta Ferretti
Groom and best mans suits: Zara
Flowers: Maurice from Elisa Fleurs 47 Boulevard des Martyrs, 46300, Gourdon, France