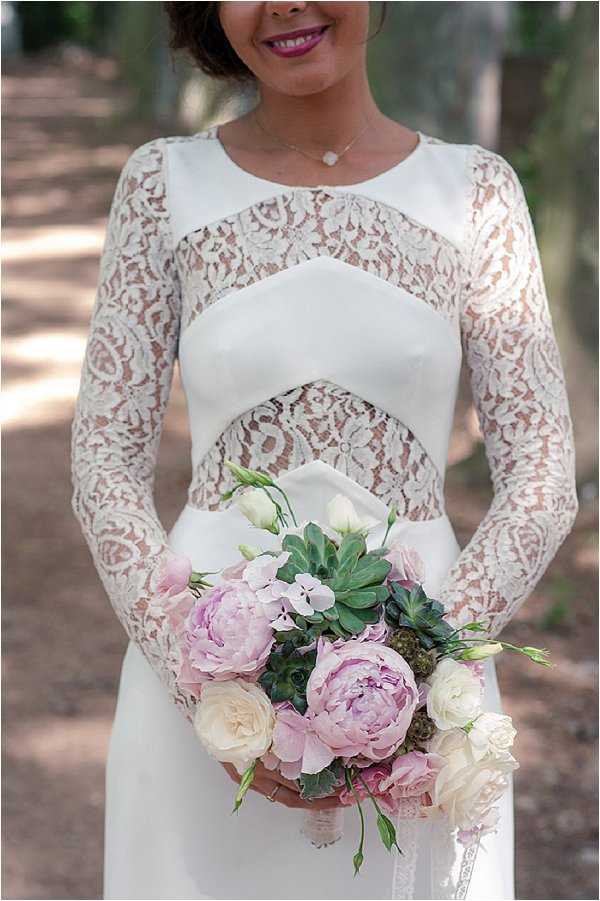 Welcome to another fabulous week and we are starting off with a DIY wedding in Languedoc-Roussillon captured by French Wedding Photographer Linda from Lovely Peonies, originally from Cannes and now based in Montréal Canada.  However Linda can't resist the call of the South of France and returns to France every summer to capture couples big days.
There are so many details to love in this real wedding, but how can I not mention the amazing Rime Arodaky stunning Olsen wedding dress, we are just in LOVE with this!
Bride Marlène takes us through their big day and love story: "Jonathan and I have been together for 11 years. We grew up together and we supported each other during university. We love traveling and were lucky enough to go places together quite a lot.
In 2011, we welcomed our daughter Nila into our lives. Becoming parents is such a life changing experience!
Getting married came into our minds last year when we celebrated our 10 years together, we had the idea to take advantage of our vacation in Thailand to get united symbolically, a perfect night with some Buddhist monks and a lovely meal on the beach. When we came back home we wanted to celebrate and share those moments with all of our family and friends, we embarked into the adventure of organizing a big affair in France!
All of my days off and week-ends rapidly got transformed into "wedding making workshops". Finding the best vendors, DIY the decoration (my favorite part!), hours scrolling all of the wedding blogs to find good ideas… We went every Sunday to flea markets to find vintage plates, vases and decoration details. We really wanted to give a vintage buccolic 50`s feel to our big day.
I really wanted to do most of the things myself, not only to save money but mostly to have the most personalized day possible. We have made meters and meters of garlands. We also bought really old furniture from a thrift shop to paint them. We bought the pompoms on etsy. And as wedding favors we gave home made jam pots. It was the first time I was trying that out!! The result (strawberry-basilic) was quite tasty…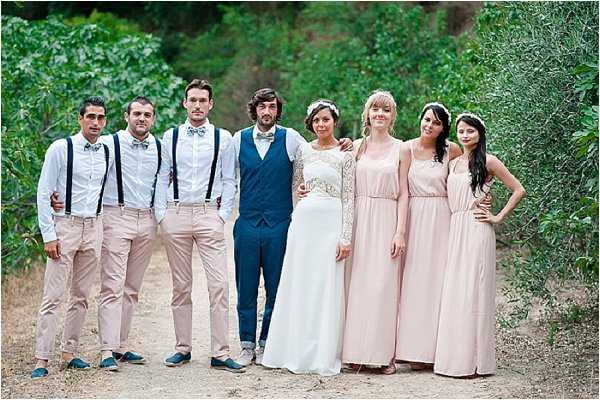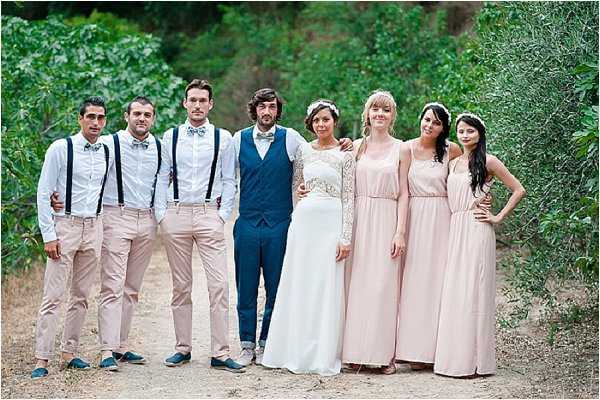 The best memories: preparing the venue during a good 3 days with our bridesmaids/groomsmen (they still remember how we created the podium!). And of course the first look, such a magical intimate moment that I would advice every bride to schedule.
Funny stories: I've got so many! From the balloons that would go off because my tassel garlands were too heavy, or the car that didn`t want to start… Now we laugh at it when remembering…
My advice is prepare well in advance. Really think through a common theme, choose a color palette and stick to it throughout the whole décor. And of course, really take in every little moment from getting ready to dancing the night away because the day flies by very fast!"
Wedding Suppliers:
Dress: Olsen from Rime Arodaky |   Flower crown: Pauline Drom |  Suit: Faubourg St Sulpice |  Shoes: Repetto for the both of us |  Bridesmaids: dresses and crowns from H&M |  Groomsmen: suits from Jules and bow ties homemade by the mother of the brides |  Nila: dress from Repetto, crown from Etsy |  Venue: Domaine du Pech Laurier à Quarante |  Make Up: Natalie de Nate Esthetic |  Hair: bride's  friend Monique |  Caterer: Jerome and Serge |  Flowers: Angelique from Côté Fleur |  Decor: DIY and some Etsy finds |  Invitations: DIY |  Photographer: Linda from Lovely Peonies