For many the romance of Paris and France includes chic patisseries, enjoying afternoon tea with a glass of champagne and trays full of delicate pastries before heading off to the designer boutqiues for a spot of shopping.  Now this may not be reality apart for the famous or extremely affluent, but why not make your own delicate pastries and create a little Parisian gourmet treat with the help of this DIY tutorial for petits fours recipe by French Made London.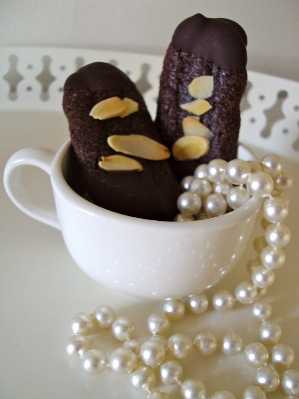 Based in London, French Made specialise in extraordinaire, retro classic sweet and savoury cakes and bakes and all hand made. They use traditional French recipes and bake with fresh, high quality ingredients AND we are lucky today that they have shared one of their recipes and step by step tutorial on how to make Petits-Four au Chocolate.
Petits-four au chocolat
Ingredients (makes 12)
40 g ground almonds
85 g granulated sugar
20 g cocoa powder
1 big egg white
50 plain chocolate
Toasted flaked almonds or walnut pieces
Preheat the oven to 160 º C. Lightly grease a sheet of baking paper and place on a baking sheet. Place the ground almonds, sugar and cocoa powder in a bowl and mix together well.
Add the egg white and mix to form a firm mixture.
Fill a piping bag, fitted with a small nozzle. I use the Wilton n° 12.
Pipe 7 cm lengths (approx 3 cm wide), spaced well apart, onto the baking sheet.
Place the almonds on top and bake in the preheated oven for 8 minutes. Transfer to a wire rack to cool.
When the petits-four are cold, place the chocolate in a heatproof bowl over a saucepan of gently simmering wather and heat until melted. Dip each end of the petits-four into it and leave to set in the fridge.
Voila! They should be crispy on the outside and chewy on the inside.
Thanks to French Made for sharing their recipe, I can't wait to have a try.  This recipe would be perfect for those looking to create and make as many elements of their wedding day as possible, in particular these would be really lovely as a wedding favour.  Alternatively if you are based in the UK French Made can provide yummy treats for your wedding day and they also have a range of french inspired wedding cakes coming out soon!
Anyone trying the recipe, please post your pictures.
Monique  Mariage x x