I have been fortunate to feature many stunning real life weddings and one thing that has stood out about the shabby chic weddings outdoors, is the dramatic and eye catching hanging displays that are featured.  Now if you have or are planning your wedding, you know that the words dramatic and eye catching normally come with a large price tag.
So I set myself the DIY projects challenge of creating an eye cathing hanging decoration, using items I have laying around Maison Mariage and the end result a this DIY Projects: shabby chic chandelier!
Now I am not saying everyone will have everything in their home, Maison Mariage is like a craft/ bric-a-brac horders dream, but with a few items and patience you can create your own DIY shabby chic chandelier/ centrepiece.
Materials/ Equipment
Wicker hanging basket, preferably old
Ruler
Scissors
Floral Wire ideally 24 gauge
Paint – white or off white that you have left over
Any articial flowers, odd and mismatched is fine
15 – 20 sheets Tissue paper  – I chose white for true shabby chic, but you can colour co-ordinate with your theme.
To add the hanging sparkly element:
Crystal effect beads that are able to be strung
I had some old hanging baskets which have seen better days, just sitting in the garden full of weeds.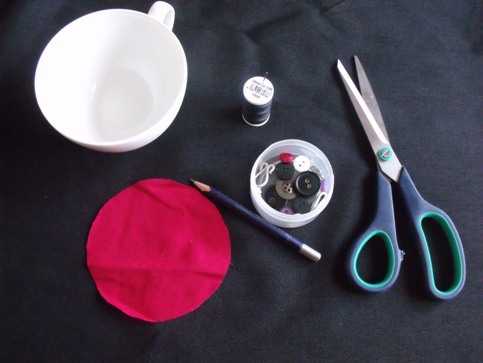 Empty out all the weeds and take the liner out.  Using a stiff brush that you are not using to paint, make sure to brush out all the bugs and loose bits and pieces.
I had a bunch of tester pots left in a mismatch of off whites, that I used to paint the hanging basket white, and don't forget to do inside and out and also the chain.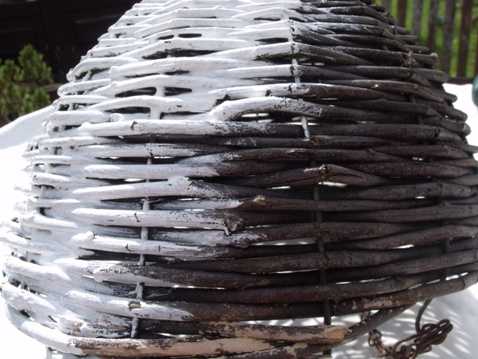 The main part of the shabby chic chandelier is made with white paper flowers.  You can find the full paper flowers tutorial here, but instead of 10″ squares make the flowers in a mixture of 4 and 5″ squares.
For my 12″ diameter basket I needed 47 flowers and I used 15 artificial flower heads.
Once you have made the flowers take your basket and using the wire, thread through the gaps in the basket and tie together to secure the flower to the basket.
Work your way around the basket adding the paper flowers and the artificial flowers with the floral wire to secure them to the basket.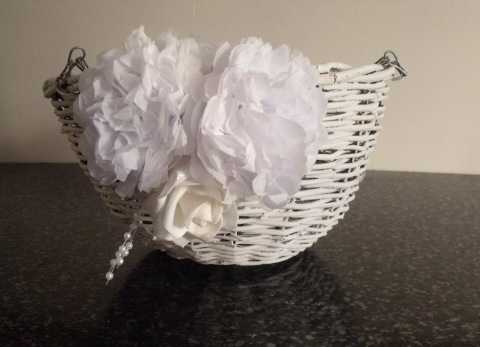 Once you have got all the way around now turn your attention to the sparkly elements.  Using the floral wire string the crystal beads together to form a variety of different lengths.  You will need about 9-10 bead strings.
Thread the bead strings between the flowers on the bottom of the basket, so they hang down like a chandelier.
If you have any other decorative butterflies or pearl strings these can also be added to the chandelier for extra effect. And Et Voila your done!
The hanging chandelier decorations could be created to hang directly above your wedding ceremony location or create multiple baskets and hang them in a row above the wedding breakfast tables.
Have fun creating your shabby chic chandelier decorations and don't forget I want to see your shabby chic projects over on facebook.
Monique xx