My DIY projects posts have today gone gourmet ( well loosly) and I am trying out a concept that I have been wanting to try out for some time, Pernod Ice cream Pots! Pernod is an anise flavoured liqueur often taken on its own or with added water depending on your taste, I like mine neat especially on a Friday evening to hail the weekend.
There are two parts to this DIY desert, marinated strawberries and home made Pernod Ice cream, both of which can be created well before the wedding and stored in these cute pots or mason jars in the freezer, for a DIY frozen dessert buffet.
To me Pernod and Ice cream is like heaven, add in Strawberries and delicious, but if you don't like Pernod don't go ahead and make this as I don't think that it would be to your taste.
French Wedding Style Blog – Photography © –

French Wedding Style
Ingredients and Equipment
720ml whole milk
240ml whipping cream
50g pure liquorice
9 egg yolks
100g caster sugar
1/8 tsp salt
Pernod
250g Strawberries
1 tbsp sugar
1 tbsp lemon juice
2 pinches black pepper
More Pernod!
Sauceapan
Wooden Spoon
Hand Mixer
Scales
Ice Cream machine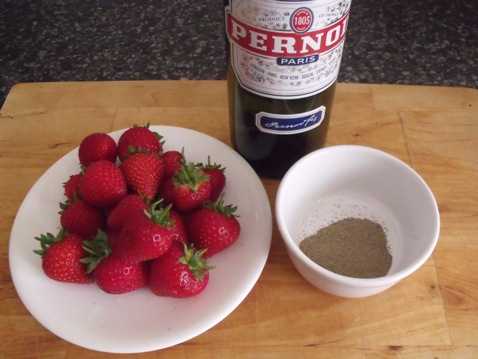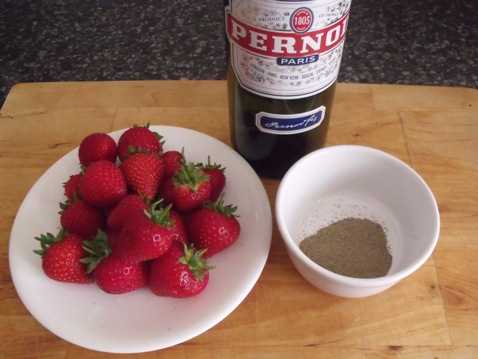 Firstly we are going to make the marinated strawberries.  Cut up all of the strawberries, pour over 2 tablespoons of Pernod, 2 pinches of black pepper, 1 tablespoon of sugar and  1 tablespoon lemon juice.  Mix it all together and refrigerate!
Next for the making of the ice cream. Place the milk and cream in a pan, add the liquorice and bring to a simmer, turn the heat down to very low and slowly melt the liquorice. On my 4 ring hob this mean using one of the smaller rings so that the cream mixture didn't boil before the liquorice held melted.
Whilst the cream is simmering, mix the egg yolks and sugar together.  For any left over egg whites try Edd Kimbers Rose and Raspberry macaron recipe.
Once all the liquorice is melted, pour the cream mixture into the egg mixture and combine.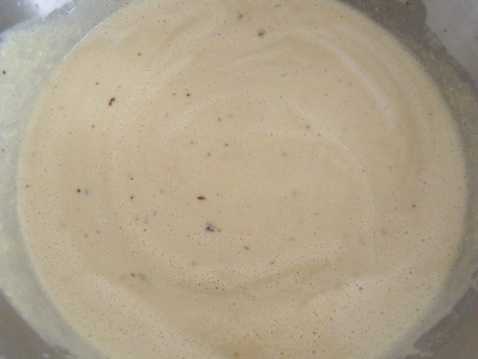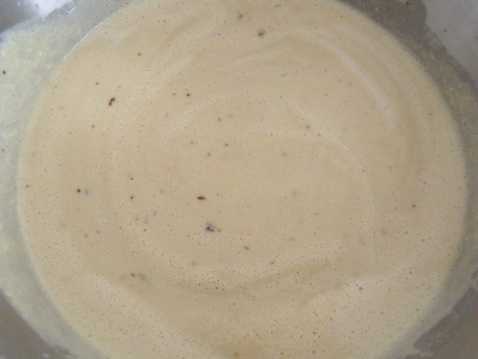 Pour everything back into the pan and place back over low heat.  Cook until the custard, stirring constantly with a wooden spoon until the mixture thickens.
Strain the mixture.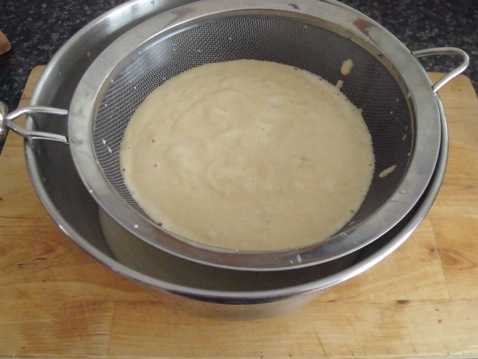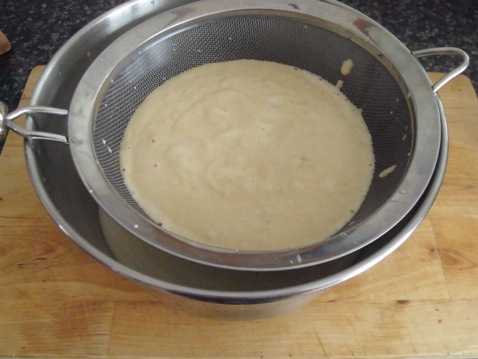 Refrigerate before transferring to the Ice Cream maker to work its magic.
Before the ice cream is completely solid, take the strawberries out of the fridge and arrange around the sides of the pots or mason jars.  Dispense the ice cream into the pot until nearly the top and then finish off with some more sliced strawberries and put the lid on.
Put them into the freezer to firm.
When ready to display for the wedding I cut out some red fabric circles and attached them to the jars with thin black ribbon.
Et Voila Pernod Ice Cream pots for any DIY dessert buffet, serve them in a metal rustic large bucket over ice and you could make multiple flavours including a non alcoholic one for the kids.
Enjoy!