Whether you are planning a dessert table, edible wedding favours or planning on looking for a fun easy dessert for a dinner party coloured meringues are the perfect solution, they have a long shelf live and are relatively easy to make!
Now before I even start I will have to say, that I did try to do these whilst multi-tasking and I over whipped the egg whites.  So whilst easy to make, best not to try to answer emails whilst whisking eggs….  This makes today's DIY project post a 'how to' and 'how not to' at the same time, but I thought I would share anyway so you can not make the same mistakes as me.
Don't you just love the 80's glass sundae bowls that I found for a steal in a thrift store!
Ingredients and Equipment
100g egg whites or 3 large eggs
Pinch of Salt
100g caster sugar
1tsp vanilla extra
100g icing sugar
food colouring – i used colouring pastes
3 piping bags and 3 star piping nozzles
Bowls and mixer
Preheat/ warm the over to 80°C and line baking trays with greaseproof paper. Place egg whites and pinch of salt into bowl and mix.  DO NOT walk about to answer an email!  As you are carefully watching the egg whites thicken, slowly pour in the caster sugar and be careful not to over-whisk.  The key part to this recipe, add the vanilla extract (takes away some of the sweetness from meringues for me) and then fold in the icing sugar.
Split the mixture between as many bowls as colours you are looking to create.  I did three and mixed the paste colours into each one.
Now if I had been paying attention my mixture would have been stiffer. If so and you are creating meringues kisses with lovely piping then place the star nozzle into each bag.
Instead I created meringue puddles on the baking trays and placed them into the over for 2 hours.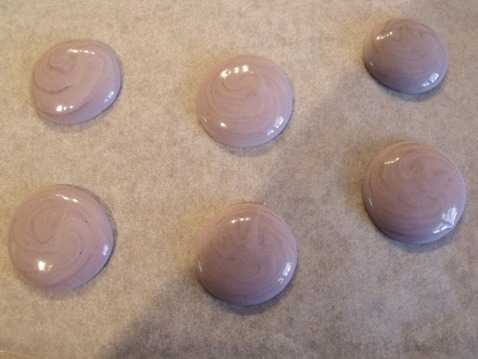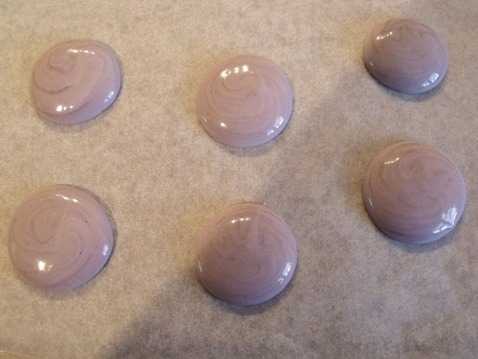 And there you have it coloured meringue puddles …………….
But not to be deterred and they do taste delicious, I got onto google and found a delicious recipe on Wedding
Off I went again and made the vanilla cream filling and broke up the meringues into their individual colours.
I found some cute cafetiere glasses from the dresser and assembled – et voila meringue parfaits when meringues kisses go wrong!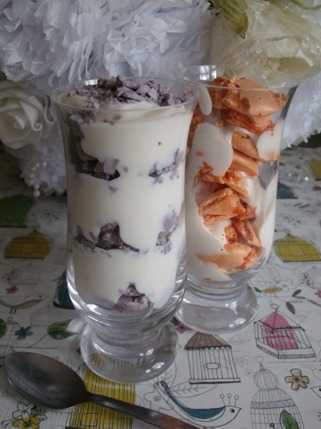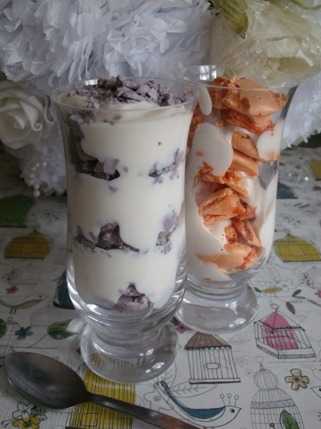 In case you were wondering the meringue parfaits tasted delicious!