Every wedding is unique, or at least it should be.  I don't like the term cookie-cutter wedding as some bloggers use this disparagingly against brides who have a traditional style, but I do believe that your wedding should reflect your personality and beliefs.  So I am delighted to showcase Xenia and Daniel's DIY Italian wedding in Paris, captured by Mateos Weddings, that just oozes personality and style.
Bride Xenia says: "Daniel and I have been friends for 8 years but beginning of 2004 something changed…  After a "rational analysis" of virtues and vices with my best friend Olivia, I finally decided that I had to spend the rest of my life with him and he agreed, even if he did tell his mother : "I date Xenia and I like her but she is completely crazy!"
French Wedding Style – Photography © Mateos Weddings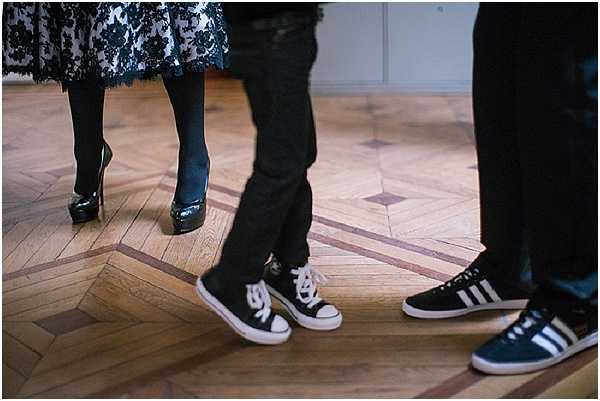 "In just few months Daniel moved to my apartment in Florence with his stereo and his Fender Jazz Master, but he sold his motorbike to give me a gift of a Cartier Trinity ring.
I am the brains and he is the brawn of the couple, we love DIY and cooking, our kitchen is always opened for our friends. He is happy with few things, but I am a shopping addicted so we decided to buy a larger apartment in Prato. In 2009 Enea was born, he's the little knight of our fabulous fairy tale!
I have been in Paris several times thanks to my job and Daniele lived in France for one year, but we have never been there together so we planned a trip for our 10th anniversary and at the same time we decided to celebrate these wonderful years of love by getting married.
Our friends and our family couldn't believe it was real, most of them thought that it was a joke! We have always said that we would never get married!
We contacted the Italian Consulate in Paris to have a legal wedding valid also in Italy and we had the chance to fix our ceremony on the date of the anniversary.
We were not interested in a traditional wedding, we don't like rules, but we wanted to share this great moment only with our parents and my brother.
We planned everything alone in 5 months, through nights spent on the web!
First of all we contacted Jacques Mateos to fix the shooting, when I saw his blog and his work I understood that he was the right person, in his photos you can feel the hearts of the couple beating, they tell stories…
Then we rented a cozy apartment in the Marais, my favorite Paris area. For the restaurant we looked for a gastro bistrot for an informal lunch with selected organic products, we reserved a table at Vivant, a restaurant located in a restored bird shop from 1903. For all the transfers we hired a minivan with driver.
I wrote several emails to arrange the flowers because its not easy to find fresh flowers early on Mondays morning and despite that  the end result was a little less than perfect.
I drew my dress, ordered the black lace from Calais and asked to my Mother-in law and Daniel's Aunt to handmade it. They were excited and worked hard for this project.
On the wedding day I felt like a 50s diva in a romantic movie. Ornella, the hair and make up artist, suggested me natural colors, my skin looked like porcelain and finally I had for the first time in my life voluminous and long eyelashes. Everything was perfect except my bouquet. When I saw it I really got angry because they weren't the flowers I have asked for but it was too late to change it!
I said yes to my fantastic husband with my "sposino" ( trad. "little groom", that's the way Enea wanted to be called before the wedding!) in my arms and he helped us to exchange our wedding rings.
The lunch was delicious, simple and genuine like our family.
We love macarons and Enea was really happy to see a tower of his favourite taste, raspberry!
We asked Jacques to shoot also in unusual locations. After the Canal Saint Martin we had a walk in the Butte Chaumont Park and we discovered magic corners like the tracks of an abandoned 19th century railway line (La Petite Ceinture). We were really touched and the hours went by too fast!
The funniest thing of our wedding is that our friends in Italy followed it via WhatsApp on the mobile. We sent them the photos of the preparation, the ceremony and of the restaurant and we read their comments all day long.
They were extremely moved to be virtually with us, especially my "bridesmaids" Olivia, Maria, Laura and Renata who, at the end of the honeymoon, waited for us us at the airport in Florence dressed in peach pink (handmade by Renata)and at our arrival, as per Italian tradition, launched us the rice (black and white like my dress) and Maria, the maid of honor, finally got my bouquet!
We cannot stop seeing our amazing photo shoot!   I would suggest to all the couples to arrange also a pre or post wedding session to keep memories of these special days."
Wedding Credits:
Wedding Photographer: Mateoa Weddings // Hair + make up : Ornella Giannone www.ornellagiannone.it  // Nails: Done by my friend Olivia // Wedding Dress : handmade by the mother and aunt of the groom // Bride's Shoes and bag: Gucci // Hat and earrings: Camomilla store (Prato) // Groom's Tuxedo: Gucci // Son's tuxedo: made to measure by the grandma of his Little friend Giulia // Men's ties: Gucci // Mothers dresses: Donna Franka (Prato) // Cake: Ladurée // Cake topper: Lego // Restaurant: Vivant Paris // Apartment: Paris accommodation // Car rental: Paris Mini Van