Hello again lovelies, today we are heading to Montpellier for our destination Domaine de Rieucoulon Styled Shoot.
Montpellier is a city in southern France, nestled between the Mediterranean sea and the Cevennes mountains. There are lots of things to see and do in Montpellier which you can discover with the assistance of Fleurs Design by Faustine in our wanderlust post "Exploring Montepellier" here.
Today's shoot was planned by our talented FWS vendor and wedding planner Emeraude & Coton. They plan destination weddings with ease and are the perfect addition to your wedding vendor team. Together, you will create a day which represents you both… "Since 2014, I create luxury and tailor-made weddings in Languedoc and Provence areas. My mission is to bring you my expertise, an infallible coordination to create together your gorgeous wedding. Thanks to a perfect knowledge of my region, I shall make for you all its treasures. For your ceremony and your wedding planning, I work with accessible and transparent tools. I shall be for you an attentive and reassuring ear in the realization of the most beautiful day of your life."
We love the elegant stationery by CelaCom and the relaxed tulle skirts the bridesmaids are wearing in four different shades adding a touch of colour to the day! We're also a HUGE fan of the stylish perspex wedding menu created by Laura K Events… we can see these being featured in many more weddings in the future.
Anyway, we will now pass you over to Emeraude & Coton who will be walking us through today's destination Domaine de Rieucoulon styled shoot…
"Emeraude & Coton had the great pleasure to be contacted by the new Domaine de Rieucoulon, in Montpellier, in order to make a new inspirational photo shoot. Based in the heart of Montpellier, the Domaine de Rieucoulon is the perfect venue for your destination wedding in southern France. The nature has been preserved there, even if you're closed from the city. The Domaine is moreover, a vineyard! We know you love French wine right?"
"Our make up artist, Annelie Barbier made a beautiful job with the beauty treatment. It was natural and romantic. The undulations is her hair are worn in a low bun."
"First of all, the bridesmaids prepared themselves in a girly atmosphere, drinking champagne! They are wearing a bohemian-chic dress. Simple but very cute. A white top matching some long skirts with pastel colors. Add to that look some half attached braided effects for their hairstyle and the girls look so pretty!"
"Meanwhile, our groom is wearing a sophisticated navy blue Hugo Boss suit. The groomsmen are dressed in the same colour code and are wearing some elegant bow ties."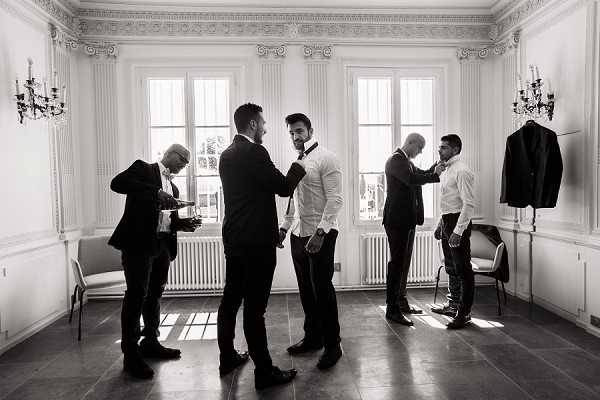 "The beautiful bride is wearing the awesome "Primrose" dress, handmade by our creator Amandine Grimm for her 2017 collection. That dress is "vaporous and romantic by the lace details from Puy en Vellay". We loved that beautiful necklace also!"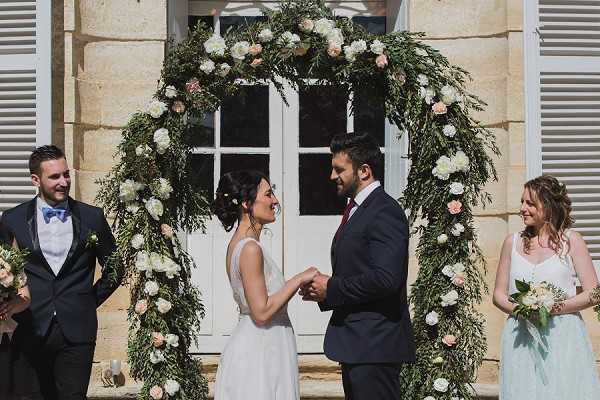 "Our photographers, Wedding et Confettis perfectly captured the laic ceremony. We were under a beautiful "arch of roses, carnations and foliage" created by Laura, our decorator."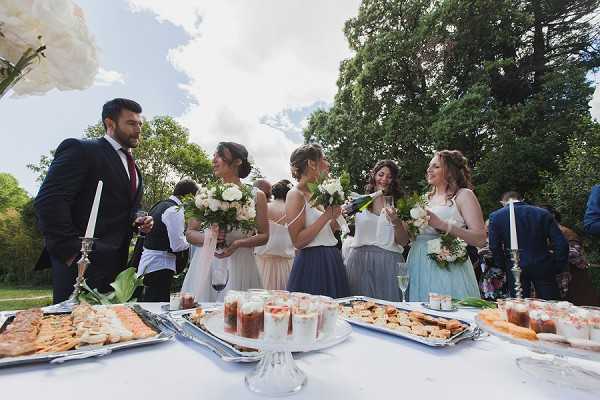 "Afterwards came the cocktail and canapé time and what could be better than doing it in a vineyard in the sunny south of France?! Our caterer, the Traiteur Des Garrigues, proposed some cute "verrines" and some fresh delicate dishes for a friendly cocktail!"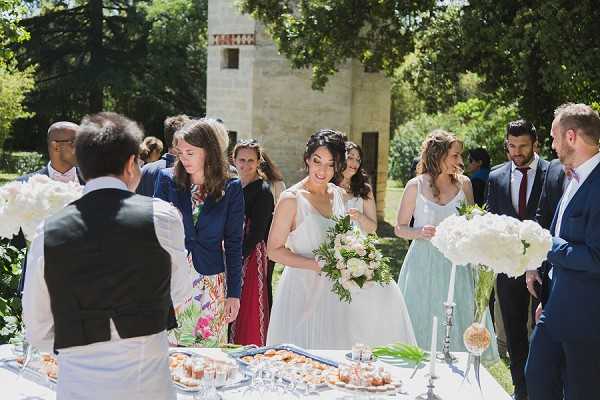 "Vaporous floral compositions, with peach and rosé colors" have been chosen by Laura on this shoot. She pursued that atmosphere in the majestic Orangerie from the Domaine. The dinner table looks so romantic… powdered pink, photophores, candles, beautiful flowers, everything is elegant and chic!"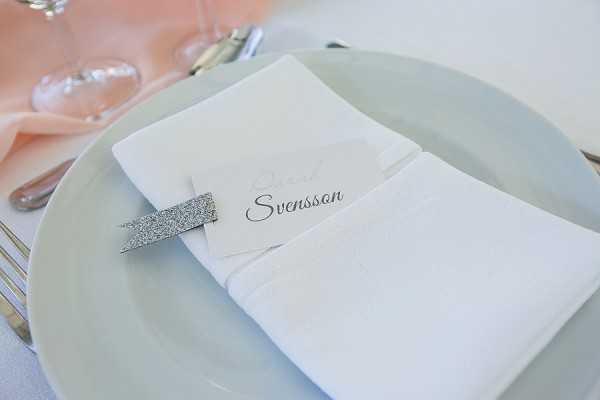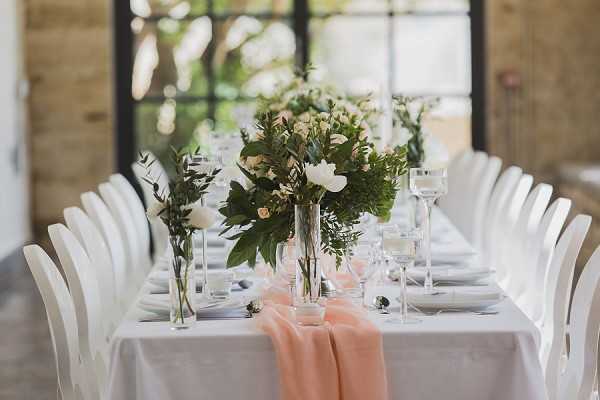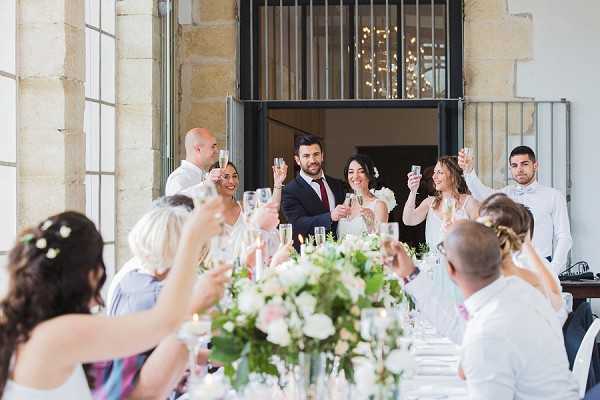 "The wedding stationery is also handmade by Celanie from CelaCom and matches perfectly the atmosphere. Beautiful handwriting and geometric shapes in silver, pink and white tones, her work is deliciously sophisticated! The cake topper, with the couple's names, sublimated the traditional French Pièce Montée!"
For even more South of France wedding inspiration check out this elegant and rural South of France wedding.
Destination Domaine de Rieucoulon Styled Shoot Snapshot
Wedding Vendors
Venue: Domaine de Rieucoulon | Photographer: Wedding et Confettis | Organisation: Emeraude & Coton | Wedding Dress: Amandine Grimm | Hair and Makeup: Annelie Barbier | Groom's Suit: Hugo Boss | Designer/Florist: Laura K Events | Catering: Traiteur Des Garrigues | Stationery: CelaCom | Furniture: AD-Sud Réception | Crockery: Les Pieds Sous La Table