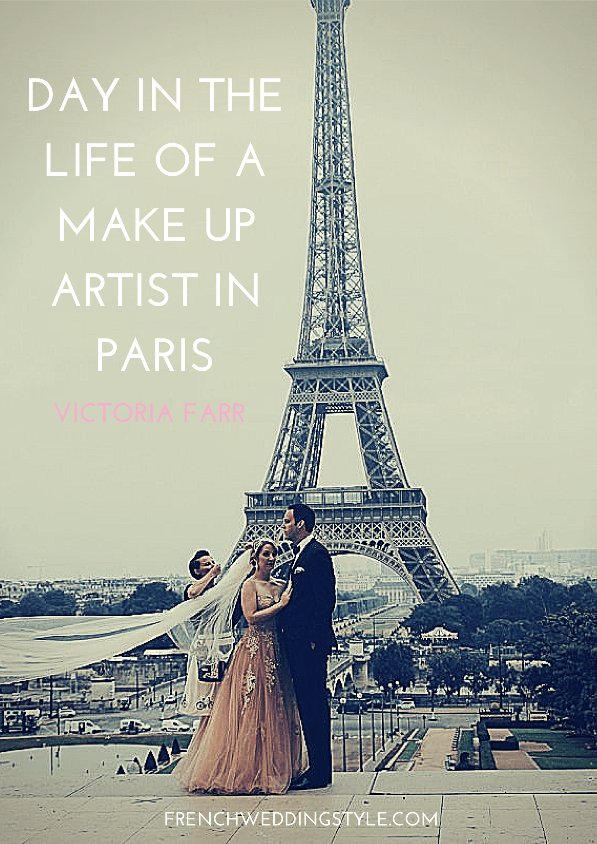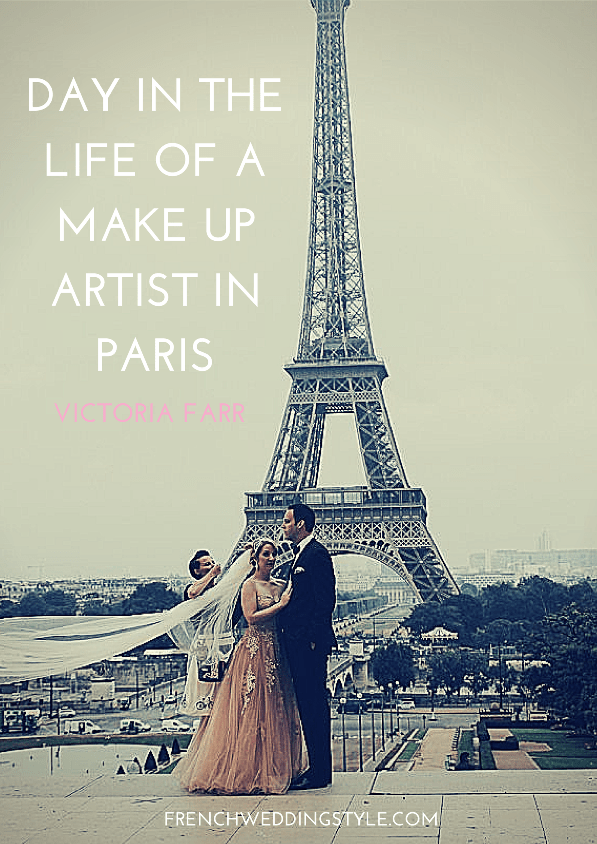 As a regular contributor to French Wedding Style of course I absolutely love destination weddings and working on location. Since establishing Victoria Farr Hair and Make Up I have had the opportunity to work in many beautiful locations in the world, including Paris and Loire Valley plus internationally such as New York.
So when I was approached by an amazing wedding co-ordinator from Texas who was putting together a shoot for her and her husband to celebrate their fifth wedding anniversary in Paris, I just had to be involved!
Whilst chatting with Monique she suggested that I share with you a glimpse into my day as a make up artist in Paris.
Prior to the shoot….
'Had an amazing Skype conversation with Marian this afternoon, not long now til we meet in Paris, we discussed in detail the Pinterest board she had set up, which includes her colour palette, what she will be wearing and her overall look regarding hair and make up, which has a very glamorous yet classic and chic feel.'
Whether it is a wedding or a photo shoot, I always have a briefing conversation or a consultation with my clients to discuss the styling and the locations. In this case, we will be visiting three amazing locations around Paris.
The Day Before…
'Met with Marian in preparation for tomorrow's shoot, confirmed once again our 5.30am call time with a view to meet Stacy the Photographer at the Trocadero at 7.00am – how exciting!'
Today's the day….
'So my kit is all ready to meet with Marian at her hotel and I'm excited for the day ahead. Using the warm colours of the Charlotte Tilbury Vintage Vamp palette worked perfectly with Marian's skin tone and I gave this a smoky effect complete with false lashes, keeping the lip colour quite natural to keep the full look balanced.'
Marian brought along her own head piece she wore for her own wedding and we incorporated this into her stylish up do which was inspired from old Hollywood.
Once on location, we chatted with Stacy on how she would like to begin the shoot, as Marian had brought along her veil from her wedding which we used throughout the morning on different shots. I loved working with this fabulous team and the amazing locations in Paris and I never tire of the attention my clients attract.  As we went from the Trocadero up to the Louvre, which was our second location of the day, tourists gave their congratulations to Marian and her husband John – how kind!
Our third location involved the most amazing patisseries at the Mollard Restaurant which formed part of the table scape for the shoot. Marian had sourced a Parisian florist who put together a beautiful floral headpiece, which I just loved working with and worked perfectly with the hair style I had created.
Once we had finished the shots in the restaurant – we were done! But not without having one of the sublime patisseries that had been made especially for the shoot, oh my goodness, they were amazing!
I received the most wonderful testimonial from Marian when she returned back to America; 'As a wedding planner & stylist, I work with lots and lots of hair and makeup artists.  I appreciated how personable and caring Victoria was.  Since I'm in the States and she is in the UK, we did a Skype chat and I immediately felt comfortable with her.  She took the time to get to know me and what I was planning for my 5 year wedding anniversary with my husband in Paris, France.
On the day of, she was extremely attentive, had a fantastic attitude and personality (even with it being 5:30am start time!) and was a dream to work with.  Five years ago, when my husband and I got married, I did my own makeup and always regretted it.  This time, I wanted to feel pampered and beautiful; Victoria made me feel confident and fabulous!'.
Although an international hair and make up artist, I will be in based in Paris from 15th November until 15th December.  I work with a variety of clients on engagement shoots, family travel portraits, honeymoon shoots, anniversary shoots and of course elopement and weddings in and around Paris.
Image by L'Amour de Paris
During this time there will be no charge for travel within the Paris area, so do get in touch as I'd love to discuss your plans.  Email [email protected] or see more of my work and services at www.victoriafarr.co.uk
Victoria xx