Well two days of attack phase of Dukan Diet done and on with the third of my shedding to wedding dress diet.  So first things first how are the numbers doing? I have always been a weigh in the morning kind of lady, so I am going to continue this – here they are:
Weight:      14st 1lbs
Chest:         46.75″
Waist:         42″
Hips:          47.25″
So a grand total for 3lbs lost in 2 full days!!!  I am delighted with this and the progress that I am making, even if I do say so myself.
In preparation for starting a long journey I had spent the weekend having my favourite foods that I knew that I would not be able to have for a while, wine, cheese, pate, bread.  In hindsight not the brightest move and for anyone out there planning on starting I would wind down carbs and non Dukan food in the week leading up to you starting.
In terms of the food I have had a Dukan Galette for breakfast with turkey ham every day and love it as it feels like a proper cooked breakfast.
As with any home worker you have the double edged sword of being able to cook and prepare all your meals, but having access to the fridge and cupboards at any time.  However I have been fine with this as long as I have my snack food that I can just grab, my favourites being:
crab sticks – max 8 a day
low fat turkey ham
low fat chicken
fresh king prawns
As my husband's work is out of the house, during the week I cook most of the meals especially as I don't like to eat late.  Which brings me around to my next point, you can't sustain Dukan in a fish bowl – so how do you cook for your family without cooking two meals every night?
So far my answer has been planning.  This is what I cooked last night and how it became non-Dukan:
Vietnamese Shaking Beef -for 2 people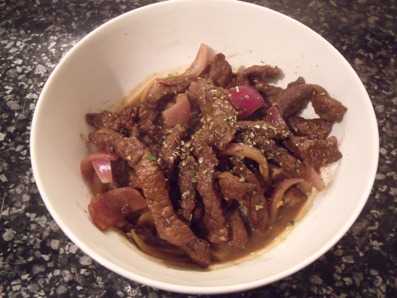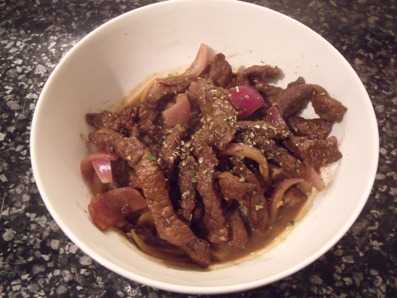 400g sirloin steak
2 tablespoons soy sauce
1 table spoon oyster sauce
1 large piece of ginger, grated
Black pepper
3 drops of oil
4 garlic gloves, crushed
1 shallot
A few coriander leaves
Cut the beef into 1cm cubes.  Mix with the soy sauce, oyster sauce, ginger and black pepper.
Leave to marinate for at least 30 minutes.  Just before serving, brown the garlic in a frying pan (oiled and wiped with kitchen paper).
As soon as the garlic starts to brown and smell good, add the meat and cook it over a very high heat, stirring the mixture quickly, for 10-15 seconds.  The meat should not be overcooked and a little pink.
Take out half the meat and then add into the pan Amoy Straight to Wok Noodles for 3 mins.
Result = 2 easy meals and a happy husband!
Anyone else looking to loose weight to fit into a wedding dress or attire for another occasion?  Leave a comment below and let me know when it is.
Monique x x