I am lucky to receive many real life wedding submissions and I love the shabby chic outdoor wedding reception in front of a Chateau, but if you were trying to create this as part of a DIY wedding how would you achieve this look?  So I asked Marie-Emilie Méjan from Mon Plus Beaujour wedding planners for her advice.
Today she shares with us a recent outdoor shabby chic reception and her tips and tricks if you are looking to create this for yourself.
Marie-Emilie: "When the bride and groom approached us for a "shabby chic" atmosphere, we recommended a romantic, intimate and feminine set, to which we added many little details and vintage/chic accessories to give the desired look & feel.
French Wedding Style Blog – Photography © –

Pierre Atelier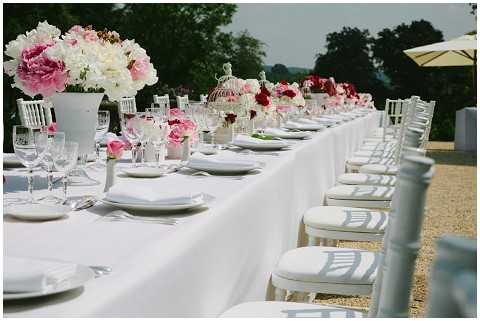 Using vintage/chic ornamental elements is crucial when seeking this atmosphere outdoors. We would decorate the tables with birdcages, timeworn books, vases of various sizes, shapes and textures, display patterned boxes, antique jewelry, bone china, fine lace and ribbons … Caring about the details brings an added value when seeking this refined atmosphere.
It is important that the contours of floral arrangements are not perfectly set, we would rather give the impression of "freshly picked" look and feel.
For this wedding, each person was assigned a seat which could be identified thanks to a small vase set to the right of each plate, in which rested a rosebud and the name of the guest. A small box filled with two macaroons for each guest was also set on a table aside.
Hosting an outdoor reception allows the option of a very long table setup. While one would believe that the length of the table would sever the guests' intimacy, if the width of the tables does not exceed 1m10, interactions and connections are actually fostered.
This intimacy look and feel can also be fashioned in outdoor sets through decorating elements such as natural-fiber mats laid on the floor and adorned with large pillows, but also with lampions, Chinese lanterns, pom poms in the trees…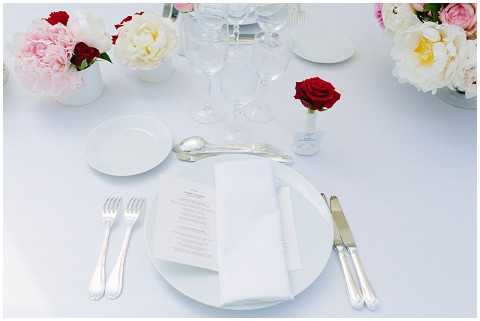 Because the bride and groom fall under weather contingency, they must ensure that they are comfortable with their venue' indoors. Beware of solely relying on outdoors! Ideally, the inside of the venue would allow the set of several rooms where intimate lounge areas and warm atmospheres would be arranged, in order to preserve the "shabby chic" style."

If you want to see Marie-Emilie and her team creating this beautiful style, then be sure to watch the behind the scenes film.

Thank you to  Marie-Emilie and her team, see credits below for more information.

Shabby Chic Wedding Suppliers:
Location: Château des Clos www.chateaudesclos.com
Wedding planner and design : Mon plus beau jour  www.monplusbeaujour.com
Photographer and videographer : Pierre Atelier www.pierreatelier.com