Today I am introducing for the first time to French Wedding Style, one of the UK's leading independent couture bridal wear designers Yemi Osunyoka from Bienvenue 20 by Kosibah.
As you all know I am a huge fan of the power of social media and its ability to connect suppliers and customers and it was through Twitter that Yemi and I connected.
Yemi Osunkoya launches his latest collection Bienvenue 20, focusing on dreams to mark his 20th anniversary and he should know about making dreams a reality.  Yemi established Kosibah (named in honour of his mother) during a recession in 1991 as a classically trained designer who had never worked for anybody in his chosen profession.  Yemi and Kosibah is now multi-award winning and counts a number of well known celebrities amongst its clientele.
Yemi likes to say that it is his clothes that should do the talking not him and on viewing the Bienvenue 20, you will see how wonderful they are.  So with out further ado let's view the ballet inspired collection, with elegant accents, sophisticated lines and glamorous silhouettes.
The first dress Odette is a gorgeous ruche fishtail gown made from organza with a zibeline base and swirls of embroidered organza roses accentuating the skirt  to give classical ballet look.  Slinky, with a sensual swish on movement, Odette will turn heads and is the sister dress to Odile.
Odile is sensuous, sassy and sparkling for the bride who wants to make a statement. Figure hugging, this gown has a taffeta base, the long bodice features tiny tulle ruched pleats. An overlay of four layers of tulle on the skirt to add volume and hand stitched black Chantilly lace appliqués on the left side of the gown, start on the train and work up to the bodice. Odile, is the sister dress to Odette and is made for drama and the pas de deux – dance for two.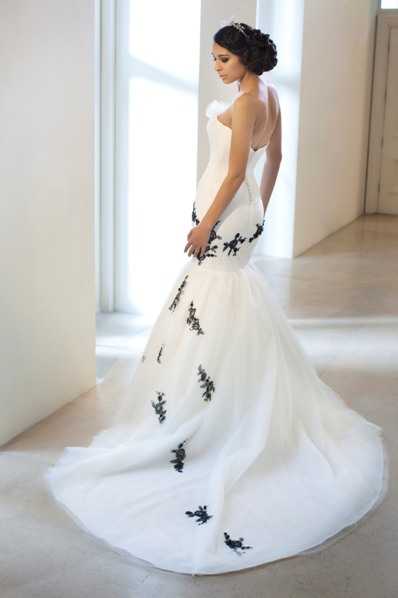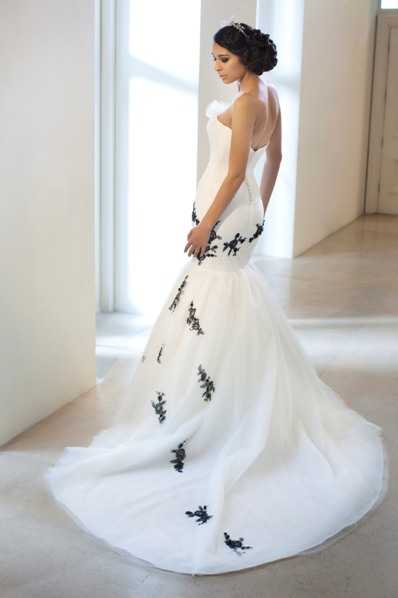 Alexandra is classic chic with a contemporary feel where the design is in the detail. This porcelain antique white fishtail gown, made from silk organza over duchess satin with hand stitched lace appliqué over French seams and an asymmetrical neckline, showcases two straps, which drape beautifully over the shoulder to show off shapely shoulders and spectacular jewels. It's also ideal for the bride who wants to bare her shoulders but isn't  ready for a strapless gown.
Grace, romance and class sums up Giselle. Tea length, in champagne organza backed with teal zibeline. Giselle has tiny ruching on the bodice and lace appliqué along the edge of the full length skirt. A tulle chemise with capped sleeves, a high neck and plunging low neck completes the look of this timeless, yet versatile wedding dress that is perfect for afternoon and cocktail celebrations.
Aurelie means golden and this treasure of a dress has hand stitched lace appliqués tightly in the bodice and sparsely around the hem. With an ivory zibeline fishtail skirt with organza overlay and an amended A line skirt, plus a removable lace chemise,  a bride can twinkle like the star who captured the leading man and won gold.
Delphine – an elegant Grecian gown in ivory slipper satin with an asymmetrical neckline, plunging back and hand crafted roses on the sleeves and bodice – the embodiment of love.  Delphine means 'flower' and this creation is worthy of a thousand bouquets. Delphine is the sister dress to Margot.
Ekaterina is a voluminous showstopper. A majestic zibeline strapless gown with pink and gold sequined appliqué delicately stitched across the bodice, a fish gown front in embroidered tulle, a full cathedral skirt and a sash tied into a glorious bow at the back. Ekaterina allows the bride a regal entrance and a stately departure.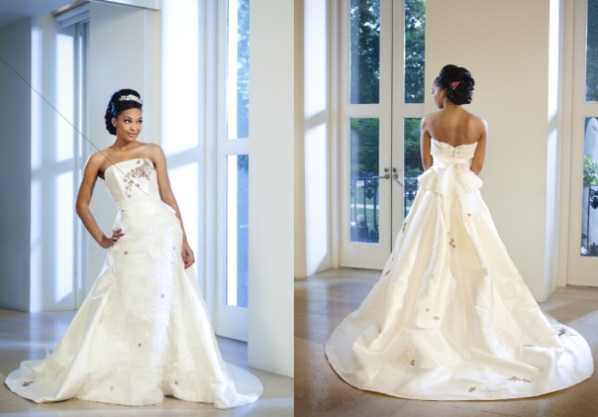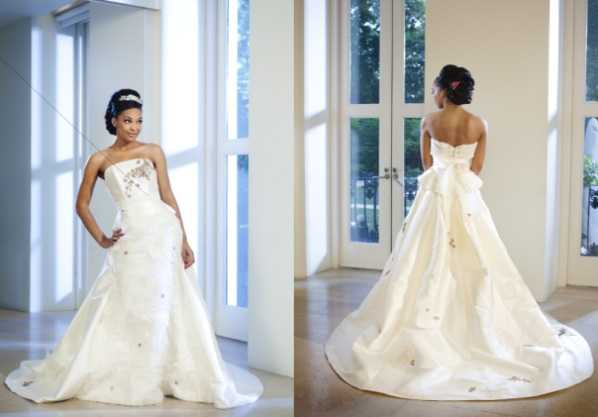 Irina is a strapless gown that has draped bodice fitted to the natural waistline and flaring into a circular skirt with a puddle train. It features hand stitched beaded lace appliqués over the bodice and skirt. Worn with a removable long sleeved organza chemise.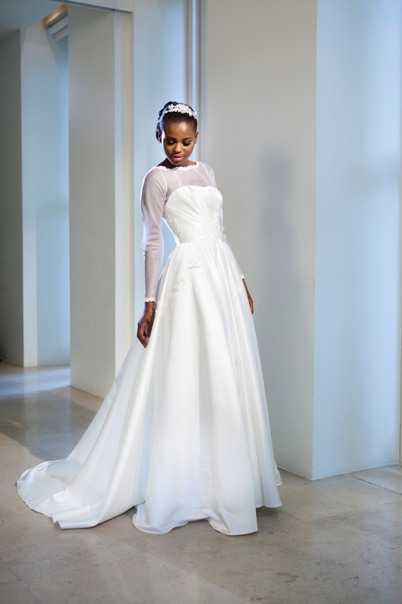 Titania – is  a romantic ball gown, a dress of dreams that is soft, floaty and glistens with hand cut Swarovski crystals.  True to the ballet with a tight lace bodice and a full skirt of  layers of tulle over silk taffeta. Worn with a removable boat necked tulle chemise, with hand cut lace appliqués front and back, and hand covered petite buttons on the sides of each sleeve, it is enchanting. Titania is the finale dress in the Bienvenue collection.
Yemi prides himself on his ability to transform any client that works through his salon. There is always a warm smile to meet you, graciousness in his approach, a willingness to listen and most importantly a feeling that as a client, you can trust his judgment, aside from the fact that he likens himself to a structural engineer who can take inches from a woman's waist.
The Bienvenue 20 Collection is simply stunning, but it is Yemi's genius at working with a womens shape and curves to provide beautiful silhouette for any lady on her wedding day.
Thanks to Yemi for sharing the collection with us and to find out more visit Kosibah or follow on twitter.


Credits for Photoshoot:
Photography – Damien Lovegrove –
Photgraphy Assistant/ second shooter  – Adam Dunn
Models – Rosemary Chileshe-Ellis, Lisette Mibo, Naomi Sharpe, Olivia Wood.
Make-up:Kemi Imevbore-Uwaga
Hair:Kasia Fortuna
Tiaras/Head pieces:Claire Ogden
Heirloom Bouquet – Tiny Gems
Pink hair clip and matching jewelled bouquet – Tiara Heaven
Venue: Room 17 at the Hempel Hotel in London