Coral is one of my favourite colours, which Kelly and Jon used as an accent colour in their destination rustic wedding in Bordeaux, captured by Beatrice de Guigne at Chateau Bachac.  The wedding is a vibrant palette of colours from the intentional coral and multi-coloured reception chairs to the natural fresh blues and green's of the french countryside.
Whilst Chateau interiors can be just resplendent, holding a wedding reception outside with the beautiful Chateau as a backdrop to your wedding reception, creates a relaxed and informal atmosphere for your guests to enjoy the scenery in France.
Newlywed Kelly share with us their big day: "Our wedding day surpassed our wildest dreams! We envisioned an intimate, outdoor wedding, with all of our best friends and family awash in the beauty of the french wine country.  The entire affair was picture perfect!  My fiance and I decided to take a walk that morning to calm my nerves and just soak in some of the magic of the day. 
As we were walking along the tree-lined drive leading into the Chateau, our adorable planner Kate came bopping along as she arrived for the day, greeting us with her lovely warm smile.  My bridesmaids and I spent the morning and early afternoon sipping coffee, then champagne, and gussying ourselves up while the gentlemen relaxed by the pool. We took our formal pictures, followed by a quick run-through of the ceremony, and then the guests began to arrive. I had pored over blogs and had carefully planned each detail of this day, but the emotion is overwhelming. 
The backdrop was absolutely surreal, and the reality of marrying my best friend made me an emotional mess with tears of joy!!  But, my bridesmaids were cool, calm, and collected and definitely knew how to lighten up the spirit and add humor and levity to the day. After our brief but meaningful ceremony, we made our way to the pool area for canapes, live jazz, and cocktails.  The backdrop at the Chateau Bachac was formidable, the weather couldn't have been more perfect, and our forty guests all mingled, laughed, and enjoy the fabulous host of hors d'oeuvres.
I loved the way that Kate had "staged" each setting in its own way, and so each phase of the reception had it's own unveiling and special feel. After a fabulous intimate dinner under hundred year-old magnolia trees, we took off back to the pool area (which Luminous Lighting had transformed into a majestic, candle lit, late-night disco) for dancing and carrying on.  Several of our guests remarked that it was the best wedding they had ever attended, and Jon and I loved every second of it!!"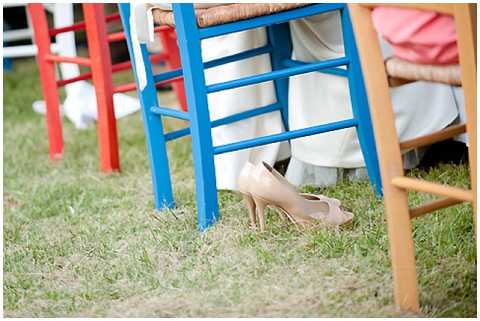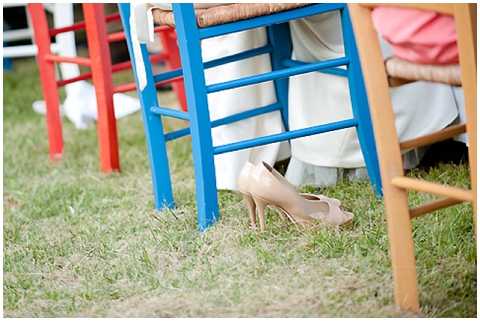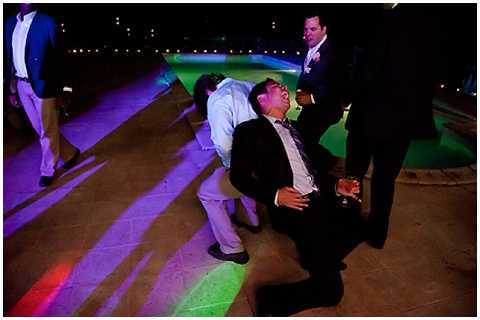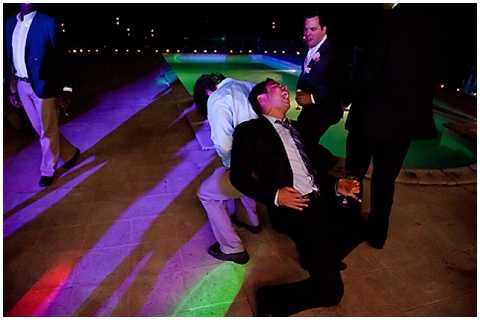 "My husband and I were so pleased with our event coordinator Kate Boyer of Get Married in France, with Beatrice our photographer, and with all of the fabulous vendors who helped put together our day!"
Congratulations to Kelly and Jon and thank you for sharing your wedding day with us.
Monique xx
Credits:
Dress — Winnie Couture,
Shoes — Jimmy Choo,
Bridesmaid Dresses — JCrew,
Shoes — BHLDN,
Suits — Wilfred Newman Chicago,
Venue — Chateau Bachac,
Flowers — Mairie Fluers,
Live Jazz Trio — Jazz et Cie,
DJ — Locomotion,
Chef — Sarl Clavier,
Photographer — Beatrice de Guigne,
Lighting/Decoration/Clean Up — Luminous Lighting,
Event Coordinator — Kate Boyer of Get Married in France