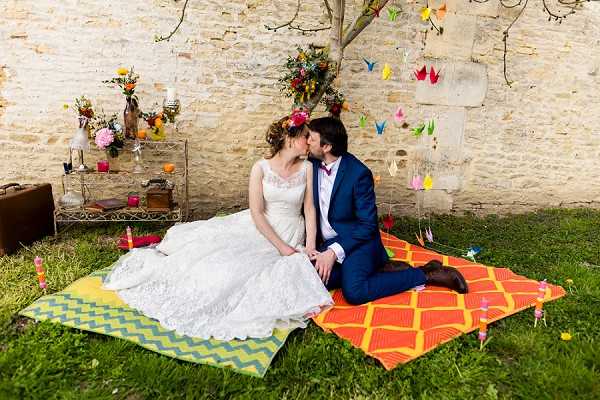 Good morning French Wedding Style readers, today's colourful Château de Canon wedding inspiration shoot is sure to brighten your Tuesday!
Chateau de Canon is an 18th-century chateau featuring tree-lined paths, walled gardens, orchards & an ornamental lake. It is situated in Basse, Normandie in the département of Calvados, just 24km from Caen so perfect for those travelling from the south of England by ferry for their destination wedding.
We love the cheery feel to the whole day from the colourful blooms to our favourite detail, the origami touches. We love the idea of the bride and groom creating these origami decorations together during the lead up to the wedding adding a real personal touch to their special day!
This shoot was made possible by the coming together of some wonderful vendors from florist Maison Dale to photographer Audrey Guyon…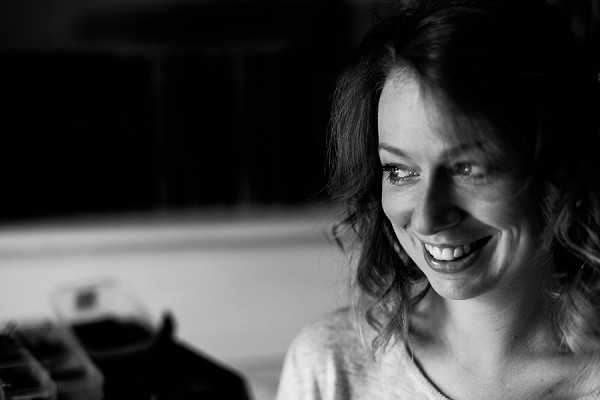 "It was a beautiful April morning, in the Château de Canon a mischievous team made of fairies and leprechauns wanted to turn this day into something unforgettable."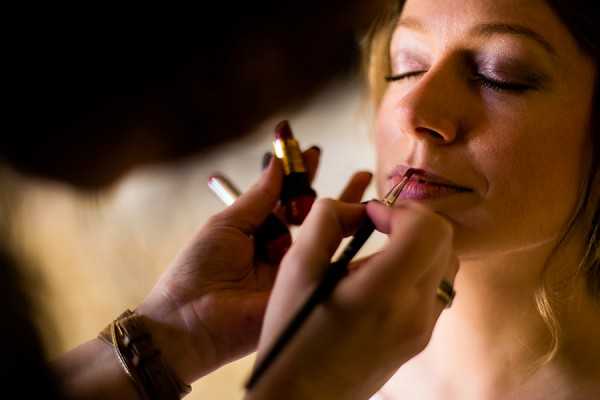 "Having worked the skin, Alison of L'Atelier d'Alison played her magic brushes by means of a "old rose" make-up to emphasise Marie's blue eyes."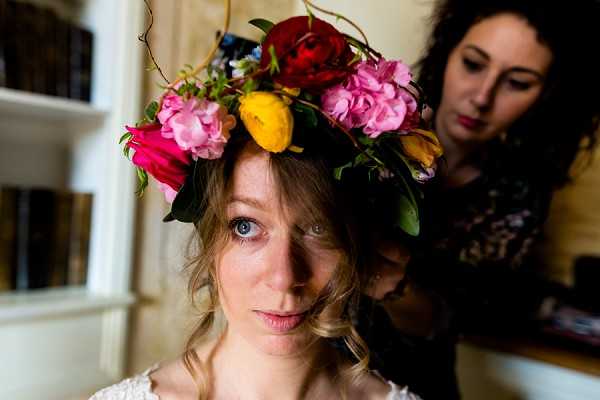 "She then applied a mixture of lipsticks to obtain a Fuchsia tint on the lips of our model."
"Alison then created a bun, skilfully ruffled the hair, with the aim of bringing a roguish air to the hairstyle which will be overcome by the crown created by Céline."

"With their magic wands, Céline Fleuriste Dale and Ophélie of Goodbye Mademoiselle turned some parts of the Château into a coloured setting to welcome Marie and Alexandre, our lovers. Armed with ribbons, rosettes, tassels and brightly coloured fabrics, Ophélie performed three atmospheres."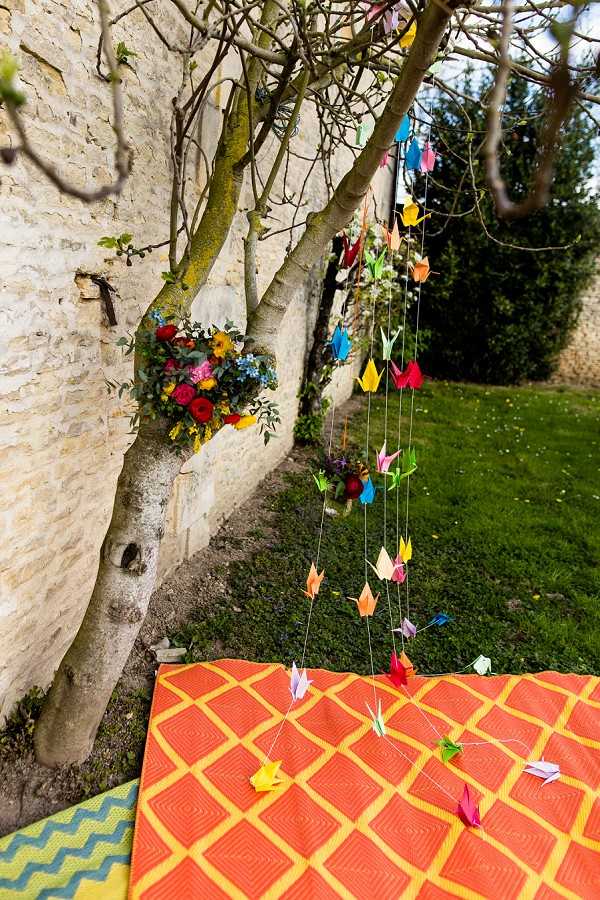 "She also created a garland of origami which decorates the tree under which the lovers kissed each other."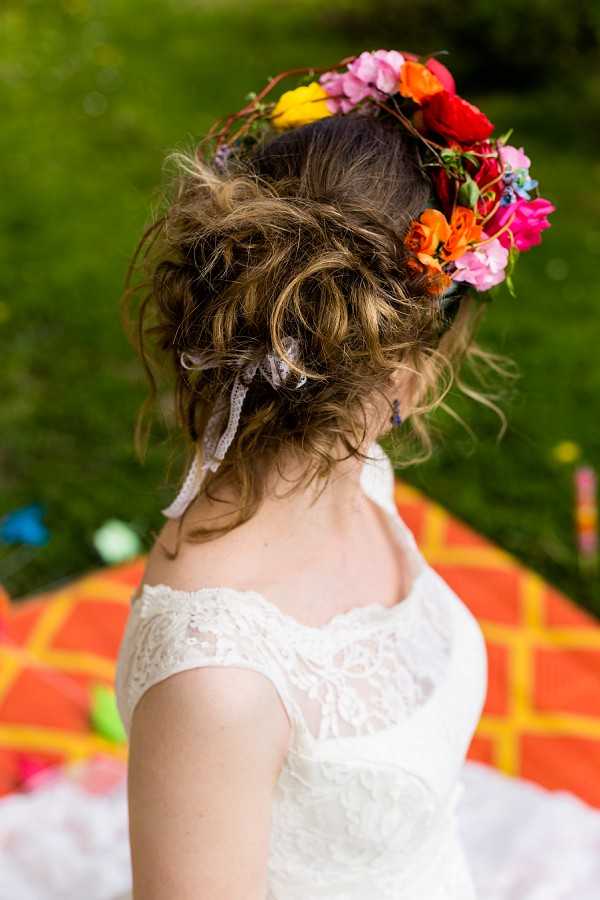 "Céline chose brilliant flowers which sublimated the decoration. By her fairy's hands, she made several bouquets in multicoloured and incomplete vases as well as a flower crown and a magnificent bride's bouquet which was entangled with pink Fuchsias, Hydrangeas, yellow and orange Buttercups, Marguerite"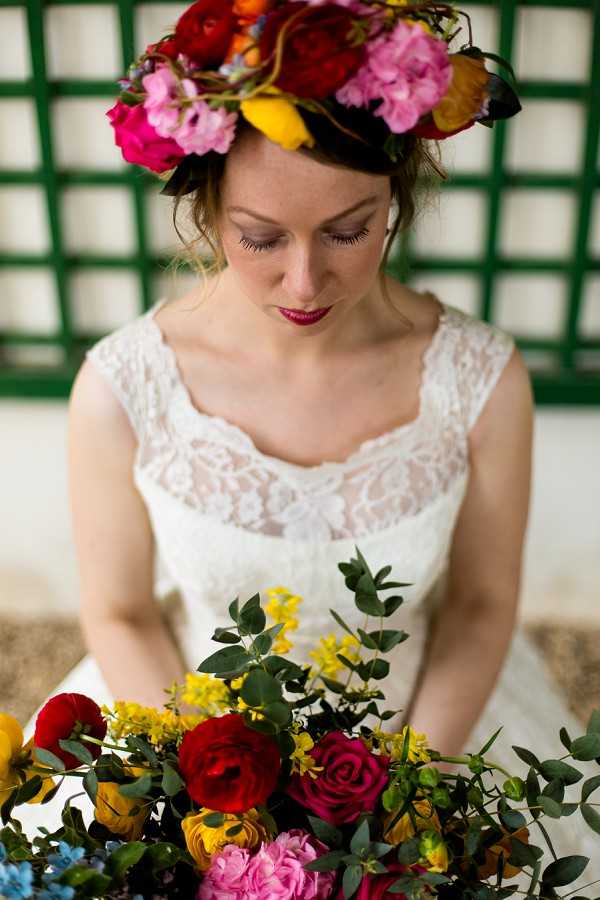 "In agreement with Nada of La Mariée Capricieuse, we chose for Marie an ivory laced dress with delicate details such as buttons on the back and fine ribbons enclosing the marked size of our "bride"."
"The grooms outfit came from Father and Sounds and the attractive blue colour emphasised his eyes. To tie his outfit in with the colours of his beautiful girl and bring a touch of originality, we added to his costume a Fuchsia bow tie."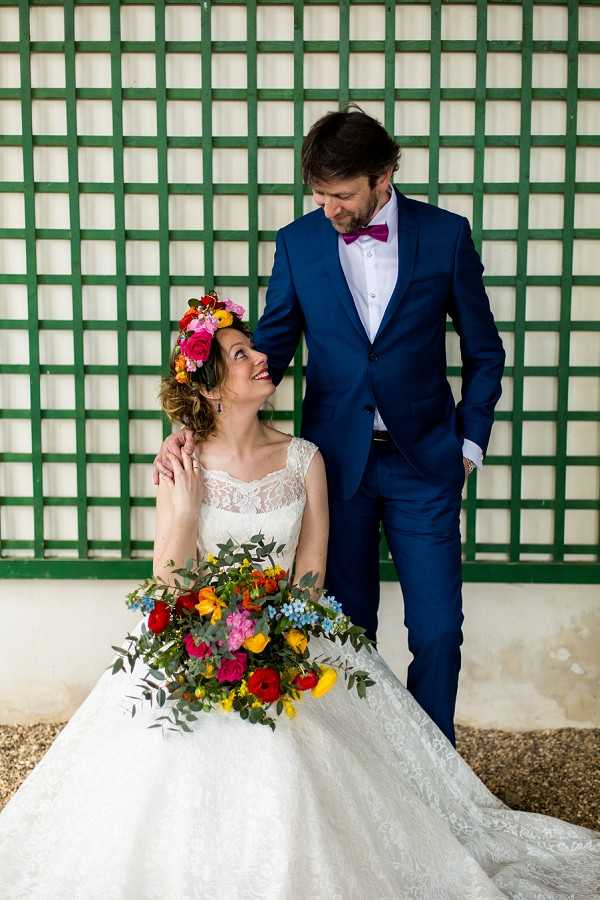 "Audrey, Christophe and a funny flying bird called a drone followed Marie and Alexandre in the reception hall of the castle, then in the Chinese detached house and in the orangery to end with a garden in which had been laid the table of the bridegrooms."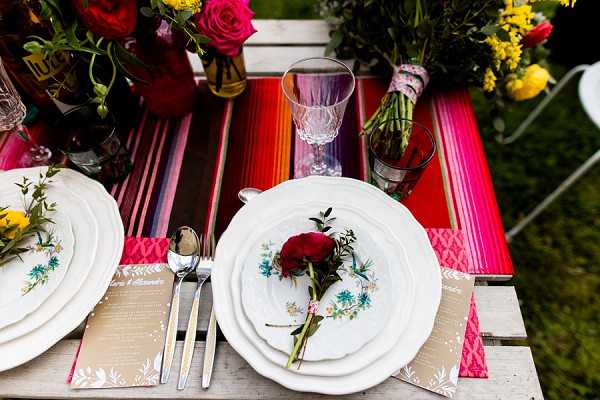 "The tables were decorated with vintage dishes and touches bringing a charming touch to the set."

"Once our young turtledoves were ready, Audrey Guyon Photographe and Christophe d' Icompo, created an atmosphere cheerful and relaxed to obtain the most beautiful images of this attractive day."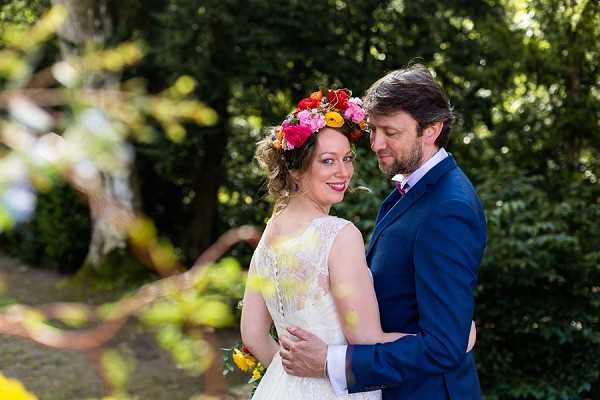 "The day was filled with sunshine and happy feelings."

For even more from today's colourful Château de Canon wedding inspiration shoot check out this lovely film created by Icompo…
Colourful Château de Canon Wedding Inspiration Snapshot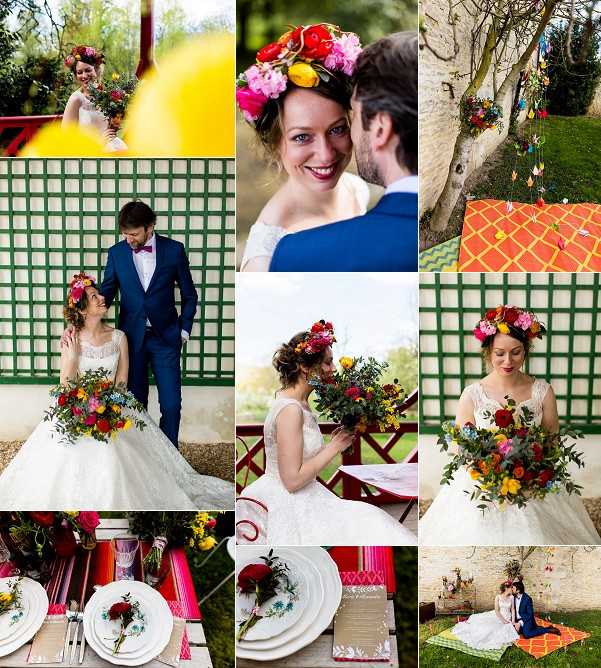 Wedding Vendors
Ceremony Venue: Château de Canon | Photographer: Audrey Guyon | Videographer: Icompo | Brides Dress: La Mariée Capricieuse | Hair and Make Up: L'Atelier d'Alison | Grooms Outfit: Father and Sons | Florist: Maison Dale | Decoration: Goodbye Mademoiselle | Entertainment: Norman Music
Save