It is the start of another beautiful week and we are off to the fabulous South West of France for a Classic Vineyard Wedding at Chateau Carignan near Bordeaux captured by David Newkirk Photography.   Today's pretty wedding also features a first as it is the first time we have featured a "friendymoon" on the blog, but I LOVE this idea for destination weddings!
Our beautiful bride takes us through their love story and wedding planning:  "Ruairi and I both attended the University of Utah, which is where we met, and got to really know each other during a trip to Lake Mead at the end of the spring semester in 2006. He went to Europe that summer and I attended summer school, but we kept in touch through email and the occasional phone call. When he returned in the fall we rekindled our romance and have been together ever since!
I had just finished my 3rd grueling semester of PA school in spring 2012, so we had planned to go to Park City for the weekend for a mini vacation. We were just about to pull out of the driveway, when Ruairi decided he needed to go back inside the house because he "forgot something". He then proceeded to call me and told me I needed to come inside, of course I thought the house was on fire or something horrible! So I ran inside where all the lights were off, and there was a trail of candles and rose petals that led to him down on one knee! I was completely shocked, I had no idea it was coming!
We wanted our wedding to stand out as an event and something to remember forever, France would do that for people. Ruairi and I visited his dad in Belgium in fall of 2010. A friend of Ruairi's family had recently purchased a vineyard down in Bordeaux, France so we decided to go visit and spend a few days there. We immediately fell in love with the property, the chateaux and everything about it. We were able to go back fall of 2013, and fell in love all over again and decided that was the place. It was a perfect location for Ruairi's side of the family who lived all over Europe and a great opportunity for my side of the family and our friends in the U.S. to make a trip to France.
We wanted a classic vineyard wedding where the scenery did the talking with minimal décor and a gorgeous backdrop. We wanted it to have specific details that were significant to our personalities and the location. We had a close friend marry us who did a fantastic job of telling our love story and incorporating my mom who had passed away in 2007. At the champagne hour we had pictures of my mom and our grandparents who had passed away. Most of our ideas for décor and details came from Pinterest.
We were fortunate enough to have a wedding planner who we had met with when we visited in fall 2013 where we walked around the property and I showed her all my "Pinterest dreams". From then on it was A LOT of emails! She did a great job of giving us options of vendors and suppliers. The biggest issue with planning a wedding in France is not being there to see or do anything, luckily I trusted our wedding planner with our vision and she made it come true. The best advice I have for planning a wedding in France is to find a wedding planner you trust who understands you and your vision.
My wedding dress was custom made by Penelope's in Salt Lake City, my belt was from BHLDN, my shoes were from Sarah Jessica Parker, my earrings were Alex Bittar, and my bracelet was my mom's. The bridesmaids dresses were from BHLDN. The groom's tux and the groomsmen's suits were from Tailor4less.com.
 We did a first look prior to all of the events starting and did most of our pictures prior to as well, towards the end we were fighting off the thunder and ominous clouds. Right as the guests arrived the skies opened up and let loose like we'd never seen before.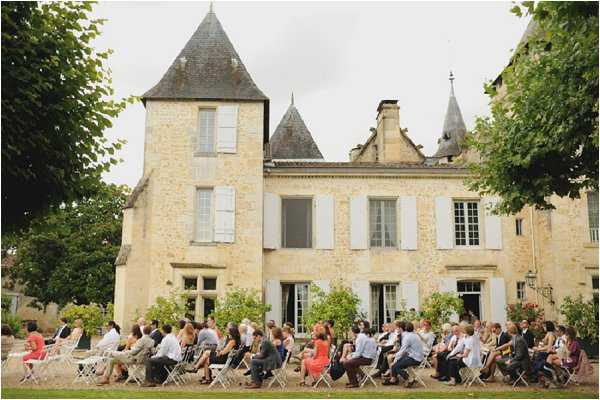 Rivers ran through the vines, two bus loads of guests were stuck staring out of their windows, and Lisa was drinking a large glass of wine! After 35 minutes it cleared and we were set to go, however, where we'd planned to do the ceremony was now under 3-6 inches of water, which was unfortunate as we'd been so focused on having it there. Ruairi quickly scanned the property, and we moved it but 20 yards away with the help of all of our guests, which added to the moment.
The new spot ended up being just as amazing, and shows that often you can be so focused on something specific in a wedding that you sometimes overlook things that can be just as amazing. The rain did have another effect which was welcomed, it cooled the late afternoon so that the temperature for the champagne hour and dinner were ideal.
We had a typical French affair in regards to the wedding, lots of wine, several courses, and an outrageous amount of desserts. Dancing didn't start until 11:45 pm, but once it did, there was no stopping it! When the buses came for pick up at 1 am we had to have another bus come back at 2am. It might have been the sweatiest dance party on record!
After the wedding we did what we like to call a "friendymoon" where we rented a villa in the south of France with a large group of friends, because when else will we all be in France together. We later went on our real honeymoon during the winter months in Belize."
Wedding Suppliers:
Wedding Photographer: David Newkirk  | Wedding Videographer: Erick Barbotin | Wedding Planner: Jennie Crawford | Wedding Venue: Chateau Carignan  | Wedding Reception Venue: Chateau Carignan  | Wedding Dress: Penelope  | Bridal Accessories: Belt-BHLDN,  | Bridal Shoes: Sarah Jessica Parker | Florist: Fleurs de Mars| Hair and Makeup Artist: Alycia Groesbeck | Bridesmaids Outfits– BHLDN Annabelle Dress by Jenny Yoo  | Grooms Outfit- www.tailor4less.com, www.tiebar.com | Grooms Shoes and accessories- Aldo | Wedding Rings– Groom: Zales, Bride: Morgan Jewelers and Zales |  Caterer: Catering by Dulou:  |  Wedding Favours: Etsy | Stationery & Invitations: Emily Green Roeder | Wedding Band/ Entertainment: Peter Harmsen-DJ |  Wedding Celebrant/Officiant: Andrew Huang |  Wedding Decorations: Etsy | Wedding Guest Book: Etsy | Honeymoon Accommodation: La Terrazas in Belize this February    |