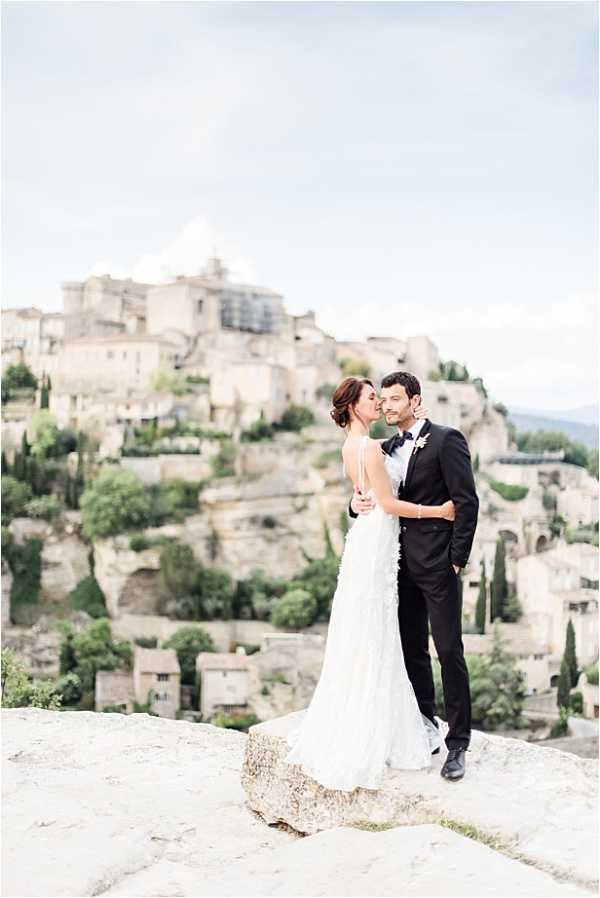 This is the story of a styled shoot which turned into a real wedding at La Bastide de Gordes. This couple is simply stunning and that is a severe understatement, even better than the views in this styled shoot.
The bride looks amazing in her dress by  Boutique Belle en Blanc , the stationary by  Faire-part à Part  is incredibly stylish and  The W Day  did an amazing job at planning everything.
Chloé and Florent are a couple and life separated them … Then, they came back together and decided to accept to do this styled shoot. It was moving for the whole team because the ceremony turned into a real declaration of love. It was really special for them to do it and it brought them together.
The styled shoot took place in La Bastide de Gordes, an amazing venue in Provence. It's a five stars hotel restaurant and it is very famous in France and across the world. Throughout the styled shoot, you can smell the odor of lavender and listen to the cicada song. Gianna decided to recreate the first moments of our lovely couple: complicity in the bedroom, going around Gordes, and laughing a lot. Then you have the wedding proposal during a fabulous dinner and lastly the wedding day.
The bride and groom get ready in two separate bedrooms of La Bastide de Gordes. Both of them decided to get ready with one of their friends to share a moment full of joy and love. Then they had a moment to discover them just before the ceremony.
After the moving ceremony, the couple decided to take a walk for a couple of session shoot with the photographer. You can see Gordes in the background and you have the impression they are alone in the world.
The stationery and the flowers are made with blush pink and green tones to match perfectly with the Provencal venue. Then, the diner took place inside La Bastide de Gordes. Gianna decided to keep the same tones as the flowers and the stationery for the design of the table.
Classic Provencal wedding inspiration at La Bastide de Gordes Snapshot

Vendors
Planner: The W Day | Photographer: Christelle Naville | Venue: La Bastide de Gordes | Hair: Cathy Sanchez | Make Up: Ylva Langenskiold | Stationery: Faire-part à Part  | Decoration: Options  | Florist: Marina the passenger of the wind | Wedding Dress: Boutique Belle en Blanc | Accessories: Gahlan Bijouterie | Accessories: Marlotte Paris | Cake: Mes Macarons