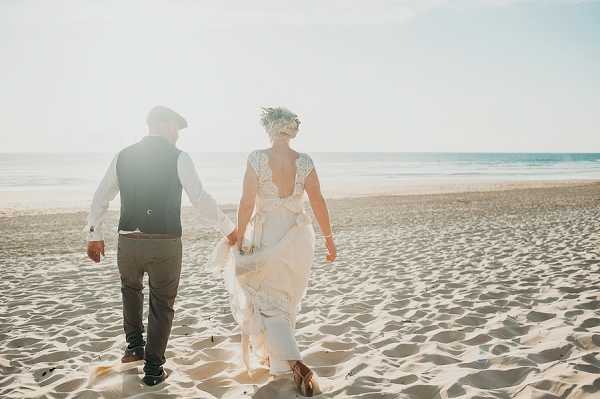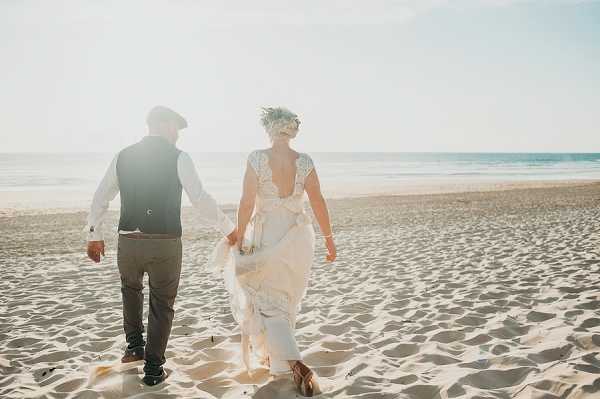 Good morning lovelies, yesterday we started off this brand new exciting year with a trip to Chateau La Durantie, one of our favouite luxury wedding venues in the Dordogne and today we are heading beach-side for this sweet relaxed beach wedding!
Our beautiful bride Laura wore a stunning Claire Pettibone gown to say I do to her one and only (read their sweet story below). We have a serious bridal style crush on Claire Pettibone bridalwear, have you seen her designs? If not you're really missing out.
Today's wedding has some really sweet details including sweet bunting, rustic centerpieces, simple but beautiful florals and not forgetting the cutest furry guest! We'll now pass you over to Laura who will be walking us through her big day…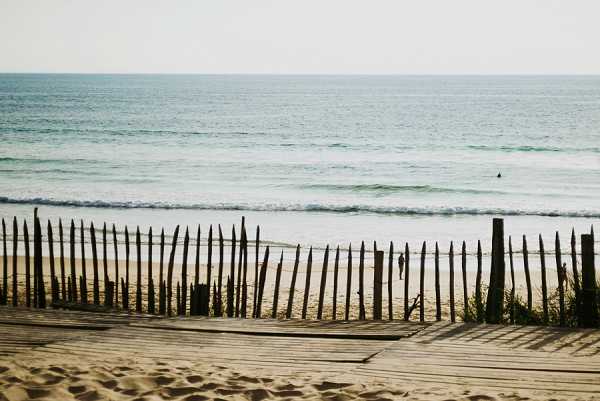 "Me and Sean met in our home town in the north of Lincolnshire in 2011. We had a chance meeting as we had both recently returned home after working abroad doing winter and summer seasons in various places over the world. An old friend came to visit me one Sunday afternoon as she had recently moved back to Leeds from also working away, we had lived together in Andorra and New Zealand."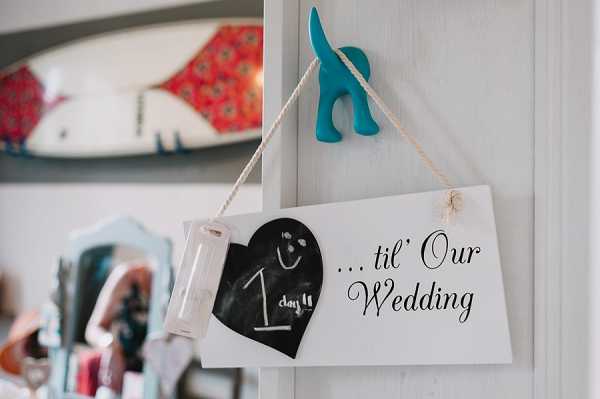 "When I picked her up at the station she said she had another friend from my small town who she had worked with in Andorra whilst snowboarding there, so we met him for a drink. As soon as he walked in I was immediately attracted but thought he liked my friend so left it there and didn't think anything else of it."
"Then a couple of weeks later I was at work and received a text message from Sean asking if I would like to go watch his band play that weekend in a local bar as he was drummer. I played hard to get and said no the first time! But he persisted and the next time I said yes and glad I did as 6 years later we are happily married and living in the South West of France."
"We are easy going people with a relaxed lifestyle, we both like to do a lot of sport, we didn't have a super romantic engagement, we were stood in the kitchen one Saturday night and Sean said shall we get married then! Haha… anyone that knows us knows that is our style! It was a no brainer to decide to get married in France as we moved here in 2014 so we wanted all of our friends and family to come and see where we live."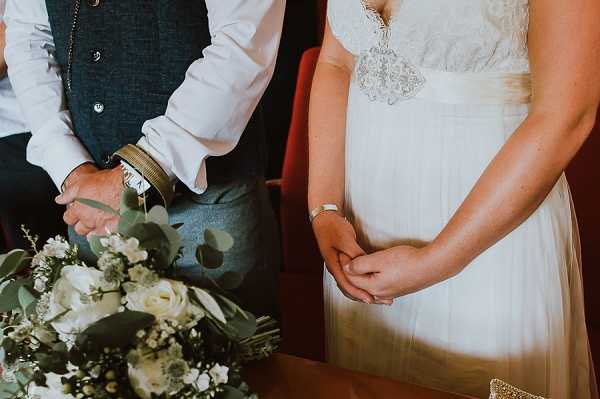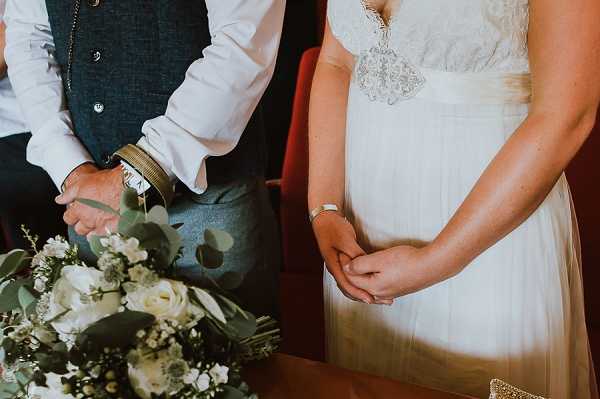 "We have never lived far away from the coast for too long even when we were living in the mountains we wouldn't feel right unless we were by the sea. So for us the reception had to be by the beach with a bucket of flip flops for guests to party in to the night in comfort! We were married in the local La Marie (town hall) which was straight forward as I was here to organise it all, there is a lot of paperwork to do when marrying in France and if you don't live here it might be easier to hire someone to handle that side of it for you!"
"A close friend of mine translated the ceremony from French to English for all the non-French speaking guests which was most of them, this was really nice as it meant everyone could follow what was happening, that was important to us. We had guests that had traveled from England, Belgium, Australia and Malaysia and nationalities from all over the world, it was really special."
"We borrowed a vintage 1970's VW campervan for the wedding car decorated with white beachy flowers and I left my house with dad to go to the town hall where Sean was waiting for me with our little ginger dog Gaspard at the top of the steps surrounded by all our guests. The sun came out and it was just perfect!"
"After the confetti throwing, we had photos taken on the lawn in the village behind the church and then everyone made their way to the reception venue. Myself and Sean travelled in the campervan with the dog, it was bumpy ride as it almost broke down half way back and then the side door flew open as we were driving along with the noise of the tin cans following us, we laughed a lot!!"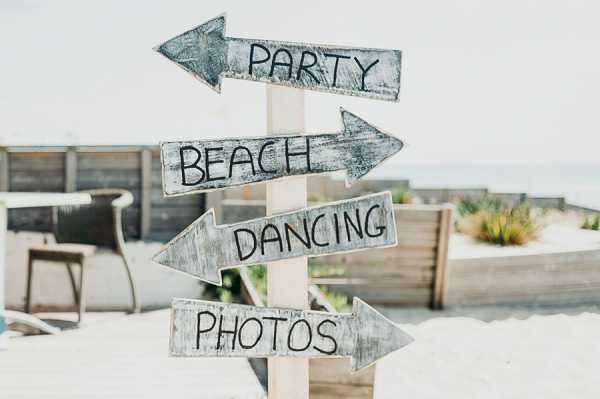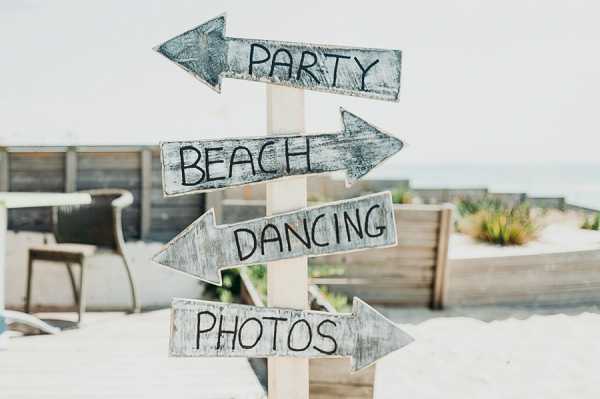 "At the reception venue everyone had drinks on the bar side of the venue with the view of the beach and the rolling waves of the Atlantic Ocean and then we moved over to the restaurant which was just for us with its own mini beach on the front where we had a D.I.Y photo booth with the ocean back drop! The décor was rustic/country/beach/simple, we gained a lot of inspiration from Pinterest and hand made a lot of the decorations from the seating plan to candle holders, photo booth, prop basket, signs, place names, candy bar, cards box and flip flop box."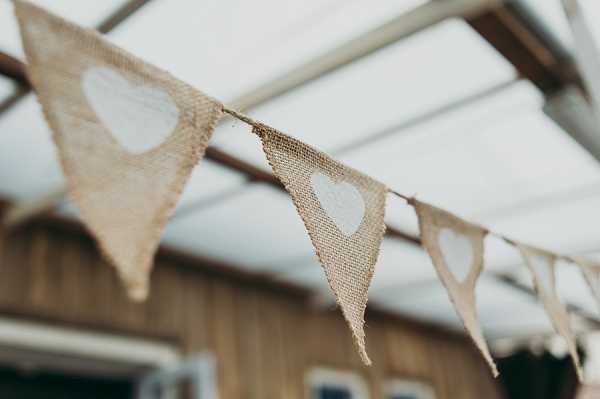 "White table cloths with hessian runners on the middle of the tables. We wanted the day to be easy and relaxed to suit our personalities and so that we got to spend the majority of the day catching up with loved ones we don't get to see very often. This is what inspired our choice for the food, we had a help yourself buffet in the style of barbecue. It started with an entrée of salads and cold meats (there were enough meats to feed an army), everyone thought that was the main meal and nearly dropped on the floor when we said you have got the main meal to go yet!!"
"The main included hot barbecue meats, homemade chips and fresh salads followed by cheeseboard breads and lots of delicious naked cake in chocolate or Victoria sponge layers."
"We watched the sunset and danced the night away to the great jazz/blues band followed by the d.j in to the small hours, even the kids managed to hold out, most of the guests wearing flip flops."
"Was truly a day filled with pure happiness… Can we do it again??"
Congratulations Laura and Sean from everyone here at French Wedding Style!
For even more beach side wedding inspiration check out this selection of areas for a perfect beach wedding in France.
Claire Pettibone For Relaxed Beach Wedding Snapshot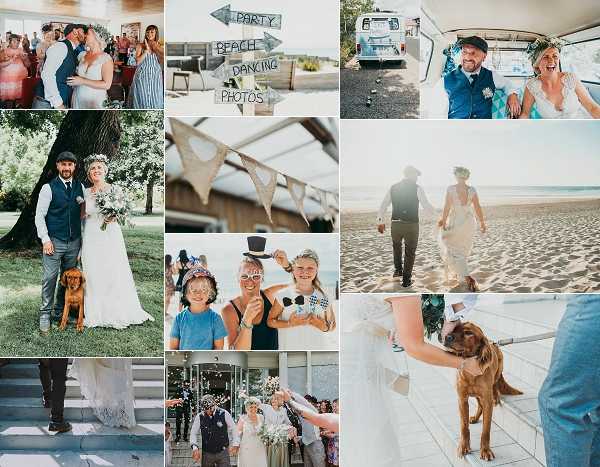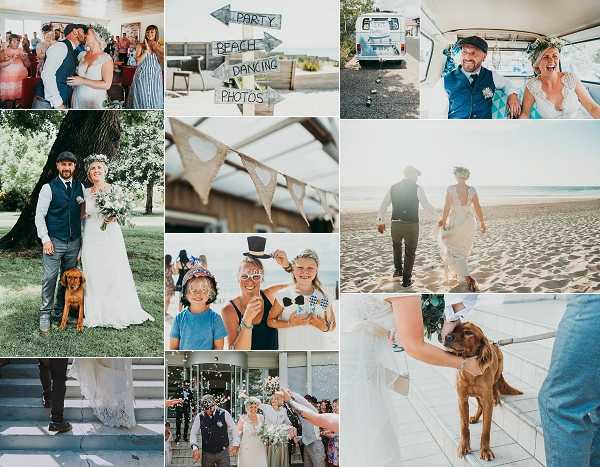 Wedding Vendors
Reception Venue: A Noste | Photographer: Thuriane Photography | Wedding Dress: Claire Pettibone | Hair: Sarah Bradshaw from Indulgence Hair & Beauty | Florist: Passion Fleur | Catering: A Noste | Cakes: Little Cake Sisters | Entertainment: David Carroll & The Migrating Fellows