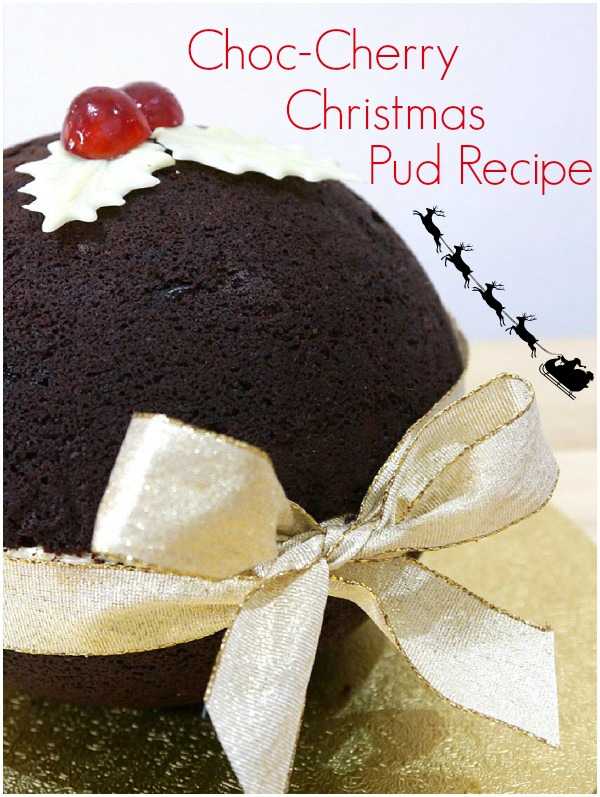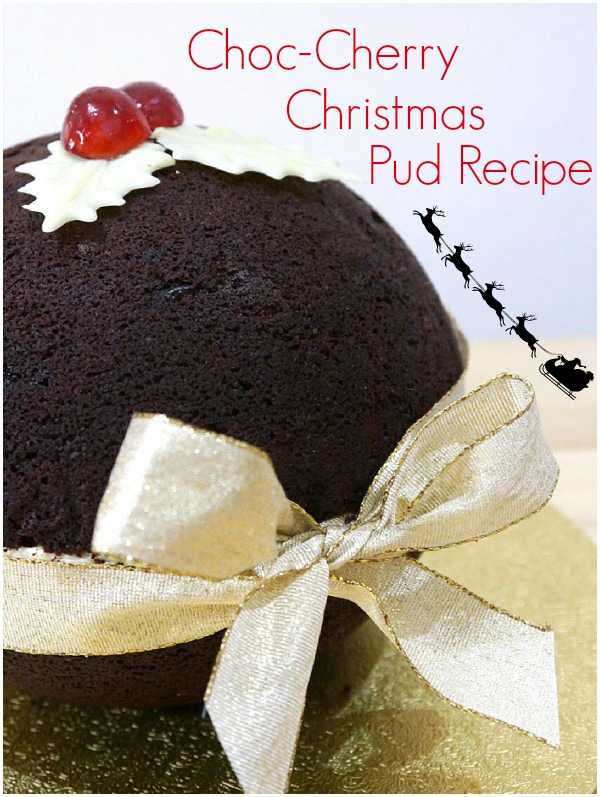 Are you feeling in the Christmas mood yet?  If not don't worry, as today's Christmas Cake Recipe by Cakes by Beth will have you baking up a storm in time for the festive season next week.
Now I do feel that I should start with 2 caveats – read this post and you will 1) want cake and 2) if you make this cake please send me in the pictures so that I can post them on Facebook with your name.
But enough of the preamble, I present to you Cakes by Beth's Choc-Cherry Christmas Pud Recipe!
Ingredients:
For the choc-cherry sponge:
260 g self raising flour plus a little extra to dust the fruit
225 g caster sugar
1 ½ tsp bicarbonate of soda
1 ½ tbsp cocoa powder
3 eggs
225 g chocolate (preferably dark chocolate with a high cocoa content)
110 g butter
110 ml oil (preferably vegetable or sunflower; oils which have a neutral taste)
225 ml milk or natural yoghurt
200 g glace cherries, rinsed, dried and roughly chopped
100 g dried cranberries, soaked overnight in a covered bowl 1 tbsp brandy
Extra brandy for soaking (~2 tbsp)
For the filling:
100 g butter
200 g icing sugar
A dash of brandy to taste
To decorate:
Wide ribbon (preferably wired)
Melted white chocolate
Glace cherry halves
Method:
For the choc-cherry sponge:
Place the cranberries in a small bowl, pour over approximately 2 tbsp brandy, cover in clingfilm and leave overnight to absorb the liquid and plump up. Top tip: if you don't have time to soak overnight, you can place the cranberries in a microwaveable bowl, cover with clingfilm and heat on full power for approximately 1 minute. Allow them to cool slightly before handling.
Preheat the oven to 160ºC for a fan assisted oven (180ºC for a conventional oven, 350ºF, Gas Mark 4).
Sift the flour, bicarbonate of soda and cocoa powder into a bowl, and add the sugar. Stir thoroughly with a spoon or spatula until the ingredients are fully combined. This will form a pale brown powder.
Place the chocolate and butter in a saucepan and heat gently until melted and fully combined. Allow to cool slightly.
Add the eggs and oil into the dry ingredients and mix to form a stiff dough. Add half the melted chocolate and butter and stir to combine, then add the other half and repeat.
Finally, add the milk and mix until all wet and dry ingredients are combined and the mixture is runny and glossy. The aim here is to mix a dough so that there are no dry patches in your mixture (this may happen if you add all liquid at once) and to not add too much hot liquid too quickly as this could scramble the eggs and cook the milk.
Place the chopped cherries in the bowl with the cranberries. Take a small extra spoonful of flour and stir into the fruit. This will help to prevent it from sinking. Stir the dusted fruit into the chocolate cake mix.
Take two halves of a six inch (15 cm) Ball Pan Set and line with baking parchment (or greaseproof paper, preferably with a touch of silicone for baking). I place a strip around the edge of each sphere and then a cross Stick the paper to the tin using white vegetable fat or butter. The curved bases of the tins will need to be supported in ring frames or oven proof pots so that they remain upright.
Divide the cake batter equally between the two tins and gently smooth down the mixture so that it is spread over an even thickness.
Bake in the centre of the oven for approximately 1 hour until a skewer inserted into the centre comes out clean, the tops of the cakes are springy, and the cakes have started to pull away from the sides of the tin.
Allow to cool in the tins for approximately 5 minutes, the transfer to a cooling rack to fully cool. Leave the greaseproof paper in place as removing it before the cakes are cool can cause damage to the outer surface. Once cooled, the cakes can be wrapped in clingfilm and stored for a day or two until needed.
To decorate:
The two cake halves and slice the risen surface off each to create two flat surfaces so that, when placed together, they form a sphere. Slice a small amount of cake from one of the halves so that it will sit flat on a plate or board. If you would like to soak your sponges, you can spoon a little brandy over the cut surfaces and allow it to soak through for an added boozy kick.
Place the butter, icing sugar and a dash of brandy in a bowl and beat for several minutes using an electric stand or hand mixer. This will form a light, fluffy buttercream. A little more brandy can be added for a stronger taste (and beaten into the mix), although make sure you don't add too much or the buttercream will be too thin and runny.
Either pipe or spread the buttercream onto one half of the ball cake and sandwich the two halves together. Place on a plate or cake board to display.
For the finishing touches, I have added bow and chocolate holly leaves. Add the ribbon just before serving so that the buttercream doesn't have time to soak into the ribbon and cause discolouration.
For the chocolate holly, melt a small amount of white chocolate in a bain marie (or gently in short blasts in a microwave). You can place the chocolate in a piping bag with a very narrow hole cut into the end, and pipe holly leaf shapes, or use a teaspoon and cocktail stick to form the shape. I chose to use a teaspoon. Take a small amount of chocolate on the  end of the teaspoon and slowly drizzle onto a sheet of greaseproof paper (or baking parchment) to form a rough leaf shape. Use a cocktail stick to move the chocolate around to create the thorny edges and vein details. If you need more chocolate, you can also dip the cocktail stick into the melted chocolate to add precise extra amounts. Make sure that the chocolate isn't too thin or it will break when you try to remove the shapes.
When you are happy with your leaves, place the sheet of greaseproof paper in the fridge until the chocolate has set (approximately 30 minutes). Once cool, gently remove the chocolate leaves from the paper back. Stick the leaves in place on the top of your cake using a small dab of melted chocolate and a cocktail stick. For added detail, add a couple of cherry halves for berries, again secured with chocolate.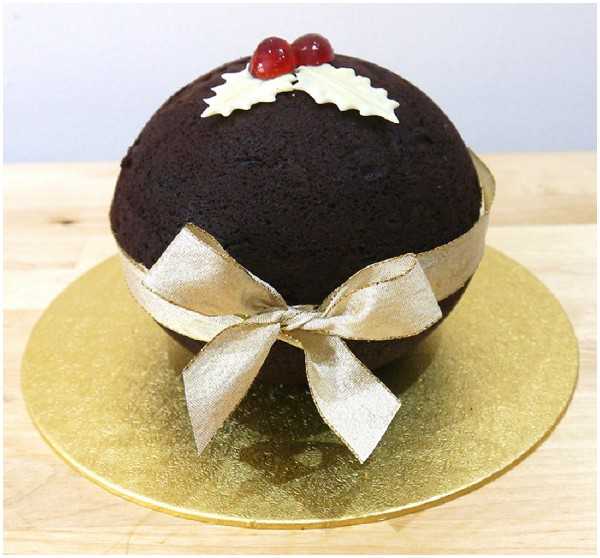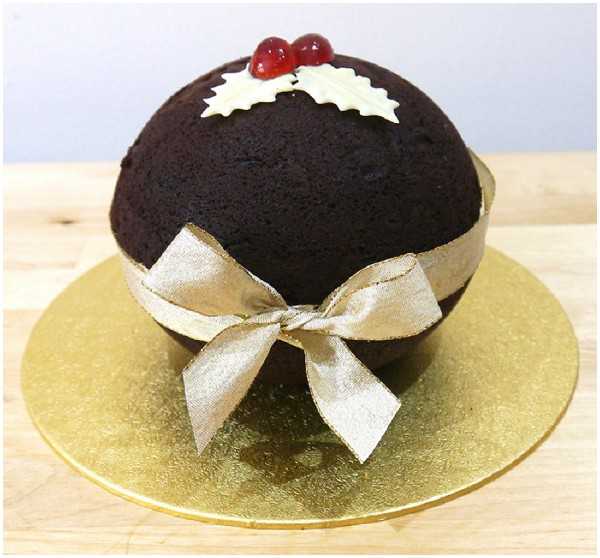 Et voila, one Christmas pud for chocolate lovers!
Alternatives:
For a very chocolatey experience, try using chopped dates instead of cherries and cranberries and fill with chocolate buttercream.
For a child friendly version, add a layer of cherry jam and vanilla buttercream and omit the brandy.
Thank you so much to Cakes by Beth for sharing this amazing recipe, don't forget I want to see your baking efforts!
If you have a cake related query for your wedding in France or culinary conundrum for your wedding dessert, send in an email to [email protected] with "Cake Question" in the subject line and you might appear on the blog.
To view more of Beth's stunning cake designs visit www.cakesbybeth.co.uk which are available for weddings across France and the UK.