As well as a love of all things french wedding, I am also rather keen on retro and vintage items (if you haven't guessed fromthe blog posts!).  Whilst I was putting together the post for Original Vintage Wedding Dresses, I came across Elizabeth Avey Vintage Wedding Dress a London Bridal Boutique which opened in 2008 and quickly developed a reputation as a hotspot for exquisite vintage bridal wear.
Drawing on over 22 years experience in vintage fashion, gained from her four previous boutiques, Elizabeth travels far and wide selecting each unique vintage wedding dress.  Elizabeth has an inexhaustable passion for beautifully created design, with an eye for couture and rare boutique labels.
So I thought who better to ask than Elizabeth when it comes to choosing a vintage wedding dress and what to consider when getting married abroad!
French Wedding Style Blog – Photography Copyright (c) 2012, Elizabeth Avey Vintage Wedding Dress
Elizabeth"It is a good idea to look into the possible seasonal temperature of your destination wedding and find out what facilities are available to you at your Hotel.
Our customers come to us with a huge variety of wedding styles and destinations everything from a rowing boat in Africa through to a five star city hotel and recently an ice rink in New York!  Any fabric can react to climate and vintage fabrics, which may well be structurally fragile, need a little more consideration.
 For example antique lace, already sensitive to ageing and prone to 'cracking' and 'shattering' can suffer in the heat. Where-as fun 50's and 60's, Nylon laces can take a bit more strain and travel well. They are often net lined so tend to spring back into shape and as most are worn with an underskirt do not need too much pressing. This style can take up a bit of space but are at least light!
Silk is a magnificent fabric for adaptability, as well as being breathable it works well to keep you cool in the heat and warm in the cold. When designing my own dresses I always use silk linings, it feels fabulously luxurious on the skin and is naturally absorbent and strong. 
 One of the most difficult of vintage fabrics to travel is probably Crepe. Popular in the 1930's and 40's we have had some stunning gowns of this fabric. Crepe has a low wet tension rate so will not hold much water before stretching  irreparably out of shape so really shouldn't be even hand washed. In short it is very prone to water marks, stains easily and is tricky to clean. 
Another Common occurrence in vintage dresses particularly those with a glossy textures is what we call 'rust spots' where by tiny amounts of protein in the fibres oxidise over time leaving little freckle-like marks. These rarely clean out completely as they are too established in the body of the fabric. This can worsen with the application of heat from cleaning or pressing.  
When you arrive at your hotel, it is advisable to unpack the dress and hang it somewhere safe as soon as possible. I would not advice the shower room technique of reviving a jet-lagged dress. In my opinion, this is too high risk as the heat and moisture are too unregulated. Even a small blob of water can mark some fabrics.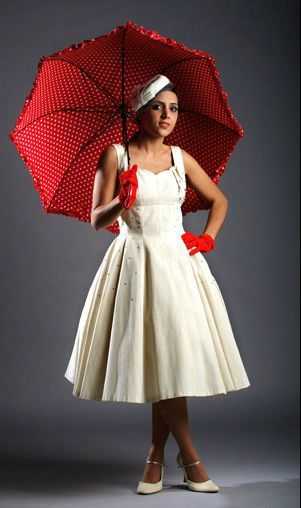 Another very important tip is never use wire coat hangers. They are the enemy of all clothes! I do not allow them anywhere near my studio or in even our storage and sewing rooms. Hung up in a good-sized breathable zip bag on a strong, high quality medium sized white padded hanger with no hooks or studs should be fine. 
If you are planning to wear your dress again in a second ceremony or to prepare it for long-term storage it is wise to have it cleaned as soon as possible after the first event. Never be tempted to machine wash or press your dress with a domestic iron. Always go to a recommended and established professional company.
When choosing a place to undertake cleaning or repair don't simply opt for the cheapest.  A good job takes time and quality products which will cost a little more, after all you are dealing with a one off dress! It is a good idea to remember after care in your budgeting as it can run in to a least a couple of hundred pounds.
Check out Perry de Montaignac,  www.pdem.co.uk  they are able to collect clean and box your gown. Or Jeeves  www.jeevesbelgravia.co.uk   by appointment of HRH the Prince of Wales!
For professional repair and alteration, try the superb Designer Alterations Battersea 220a Queenstown Road, Battersea, London SW8 4L 020 7498 4360 [email protected] www.designeralterations.com
For long term storage and for excellent  overhead locker size wedding dress travel boxes (including essential acid free tissue to ensure safe wrapping) go to The Empty box co www.emptybox.co.uk they have a wonderful quick and friendly service and lots of pretty designs to choose from. You can even personalise your box with your name and wedding date in calligraphy.
My general advice when dealing with a vintage wedding dress is do the minimum  a lesson I have learnt over my many years handling vintage garments is that  over processing can have an adverse effect.
Any little marks that have not cleaned after the wedding may be best over-stitched or beaded as over spot cleaning can lead to the area becoming lighter than the body of the dress, which can show more than the original mark.  Never rub at vintage fabric as it will break down the fibres and give a scuffed appearance. If you have to dab away an immediate spillage go lightly with the grain for a couple of strokes then leave it!  
If your dress has picked up odours such as cigarette smoke there are advanced treatments such as Green Dipping ( no idea why it's called that) This process can do a lot to lift a stale party smell and can be followed by a session in the ozone chamber to let air get through the fabric and harmlessly refresh your dress.
Although It is important to consider the climate of your wedding ceremony and the travelling it will need to endure when choosing your dress at least eliminate any additional stress it is also important that you choose the dress you love and that you cannot wait to put on. I would suggest start with that feeling then make the rest work with a little research.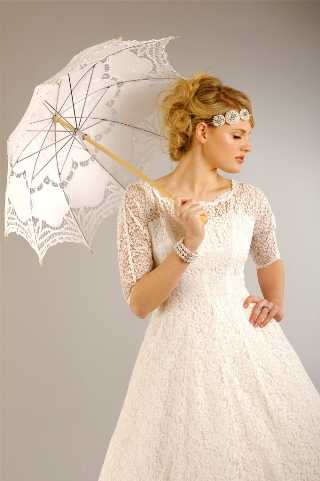 Any vintage or antique dress will have signs or age. This is part of its charm and authenticity. I also believe it is important to let go of any worries about damage on the day and enjoy wearing your dress without thinking too much about it.
It is a ceremonial dress and a party dress. Don't forget it has been chosen to be enjoyed specifically for your special day.
After months of deciding and a large investment in alterations etc my own wedding dress had red wine, champagne cake, mud and grass stains all over it but that just made me smile to think of the fun we had over that day.
Insert:
I feel I should add a little foot note about silk, having hailed it as a wonder fabric which in many respects it is. Vintage silk does not like being dry cleaned and doing so is high risk as it can simply turn to a very delicate paper like texture which tears very easily. This happened to us recently with a splendid 1930's gown I took the gamble on when I should have just green dipped it. So even with all my experience can mistakes happen! Antique silk such as two breathtaking Edwardian pieces I recently acquired to my personal collection would not withstand dry cleaning at all an will be left untouched.
We will be using some of the unaffected silk from the damaged gown and using it to create little belts and flower trims for the custom made accessories Demi-Monde make for us so nothing is wasted and it can still be turned into something to be treasured. "
Thanks to Elizabeth Avey for putting this vintage wedding dress for destination wedding post together, I found it really interesting and of course the advice translates to any vintage item and not just your wedding dress.