Bonjour everyone!  It has been a little while since my last post, lots of wedding planning and a Hen Do in the UK.
So what is a Bridesmaid? maid of honour? well traditionally they both important, but have different duties and have different criteria requirements.  You can read about it here via Google Wikipedia  However, as people's lives have changed somewhat the rules are not always adhered too strictly and you can add you our rules.
I always knew that I would have bridesmaids,  if at the time I would marry  we had children in our families.  But as we don't it was able to stick with my Maid of Honour.  I knew who that would be from the moment I started to think about it.  She was my best friend and someone who is always there for me and my fiance.
I met my Maid of Honour at a dance school, never did I imagine I would meet such a lovely person whom I feel is like a sister to me.  It is often that we find out we have thought something the same, or done the same thing at the same time… spooky at times… She is glamorous, fun, organised (like me) and generous.
So last christmas after meeting up for drinks, I presented her with a card, asking her to be my Maid of Honour and why and she said yes (it sounds like a proposal..lol) She said yes, and we were thrilled.
It wasn't long before we needed to start thinking about how we organise getting her Emma's dress etc.  I booked some flights and headed over, where Emma had already arranged some appointments to have a look in some shops… One of which we knew from Emma's wedding.
It helped that I knew what I wanted and what would suit Emma.  I was surprised by a shop assistants reaction when she said it was lovely that I was wanting Emma to look at her best as some brides don't like if their mid of honour stands out more. I personally can't think of anything more bizarre.  Why would you not want you maid of honour/bridesmaid to look nice? I don't really see how that helps.  Anyway, we were lucky and came across the perfect dress not long after our search.  I'm not going to tell you too much about it now as I would like it to be a surprise, but I will tell you that it looks amazing and we all love it.
The actually dress is not one of these, but here ar some fuchsia maid of honour dress suggestions.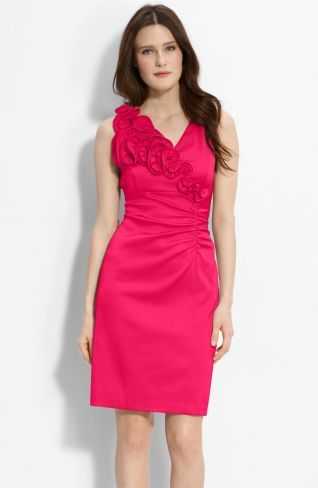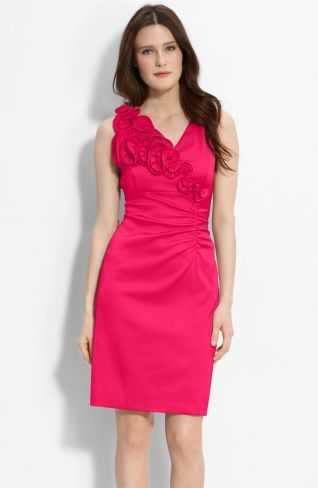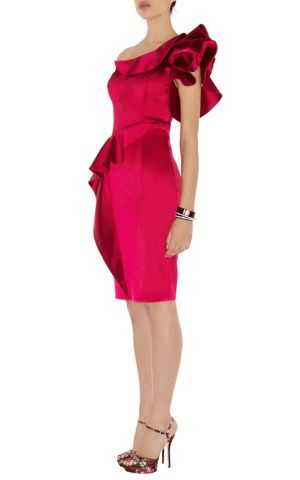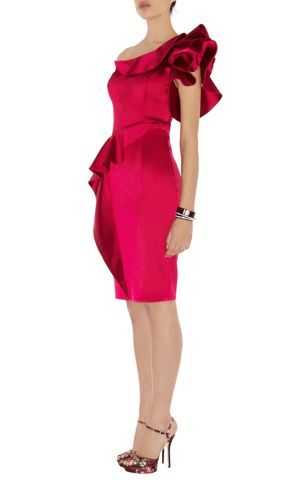 The shoes and head wear are also sorted as Emma has the most gorgeous pair or Jimmy Choos that will look lovely and headwear from her wedding.
It really is lovely when things just come together without you feeling like you have to try too hard.
I contacted my Maid of Honour and asked if she would answer a few questions on her new role.
Have you been a Bridesmaid or Maid of Honor before?
I have been a bridesmaid before for a family member, my mum and also my friend Catherine from University. However I have never been maid of honour(or actually as I am now a matron of honour because I am married) or the only bridesmaid!
How did you feel to be asked?
I was so thrilled to be asked by Claire to be part of her and Dan's day in this way and of course excited to have an excuse to go dress shopping with Claire.
What do you think the role entails?
My strong belief is that bridesmaids/maids of honour should always be someone who knows the bride extremely well and not a family member who "had" to be asked. The reason for this is that I think the job is about knowing the bride needs something just from a look between you and then you sorting it out or even better you get her the thing she needs before she realises she needs/wants it. The job is to make sure the bride enjoys every second of her day and doesn't spend any of it worrying about the details (she already spent months planning it) and that everything runs smoothly for her. Oh and of course helping her visit the ladies if her dress requires two people to handle it!
What are you looking forward to most from your role and the Bride and Grooms day?
I am looking forward the most to seeing two people that I love and think are perfect for each other having the best day of their lives, the fact I get to share that with them is just a bonus. Also the dancing is sure to be a highlight.
What do you think the challenges are having a Bride in the South of France and a Maid of Honor in the UK? if any?
I think that with all the technology and communications tools, Internet, Skype, FaceTime, Pinterest etc that it doesn't present too many issues. We can talk about things, look at dresses and ideas etc without having to be together, plus we factored in a few visits of the things we needed to be together for.
The wedding will take place in the South of France, do you think French wedding are different to English ones?
 I think French weddings are very different to English ones from what I hear. I think there is more focus on good food and the party certainly goes on for longer. I am so looking forward to attending my first ever French wedding.
Are you nervous to deliver your wedding speech?
Anyone who knows me, knows I can talk for England, but I am a little nervous of making sure I deliver a speech that really captures Claire and Dan as a couple but I am working on it already so am quietly confident. The really scary part is having to deliver it in English and French!!!
Gros bisous
Claire x