To beat those Monday blues we have for you a beautiful Chateau De Robernier wedding in Provence, France planned by Rose Gold Wedding Planners. Choosing a destination for their dream wedding wasn't easy for today's couple who grew up in different countries, fortunately, upon laying eyes on Chateau de Robernier they knew it was the venue they were looking for.
As you can see they were not wrong with their choice, the chateau looks amazing and forms a perfect backdrop for such a chic outdoor wedding, where they used the services of lovely FWS vendor and English celebrant Celia Drummond to perform their very personal ceremony. Celia's personal touch really makes your ceremony even more personal and unique.
Celia – "Celebrating in France means that you and your friends and family will have traveled a long way to share your day with you, and so I like to include them in your ceremony as appropriate, thus making them feel as welcome and special as you feel they are."
Our beautiful bride walks us through her rustic-chic Chateau De Robernier wedding…
"Having grown up in different countries, our initial search for a venue was a little bit all over – ranging from the Lake District to Oxford to London to Provence. My main concern was the weather, having grown up in the South of France I live for sunshine and wanted guaranteed sunshine at the wedding. In the end the unpredictable British weather made the choice for us; South of France it was."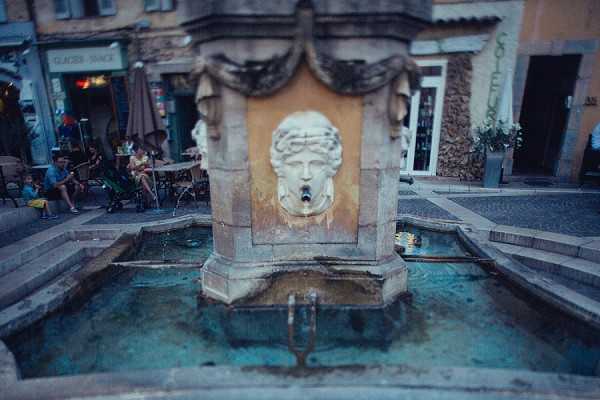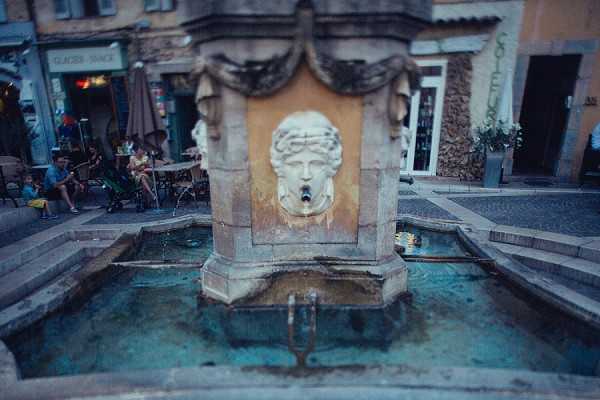 "Knowing that most of our families would have to travel to France, we were eager to find a property we could rent for the weekend and host the whole family. We wanted something exclusive where everyone could just relax. After researching and using French Wedding Style as a venue locator we narrowed the search down to a few venues – including Chateau de Robernier."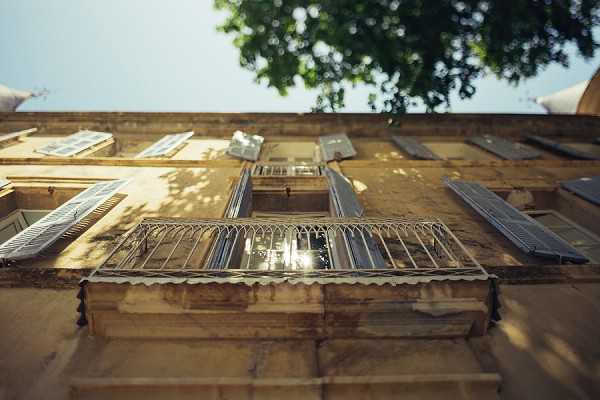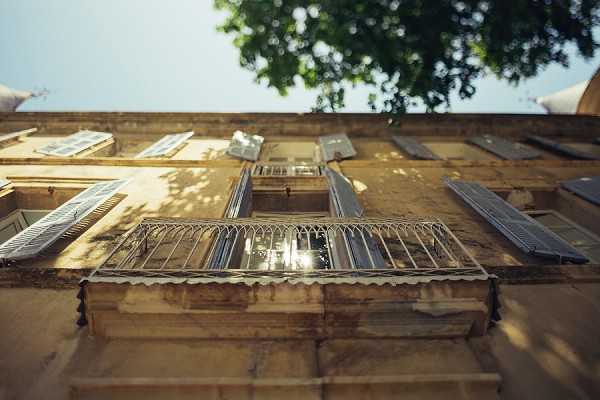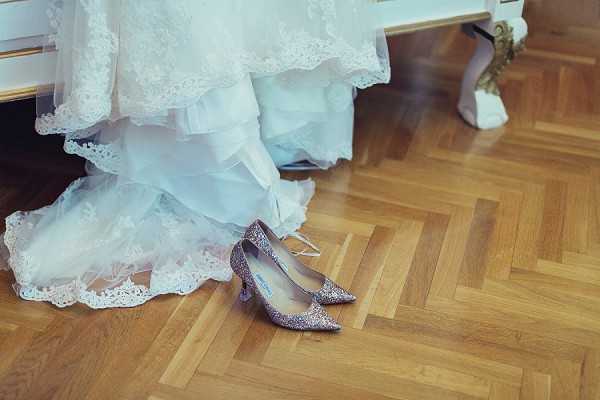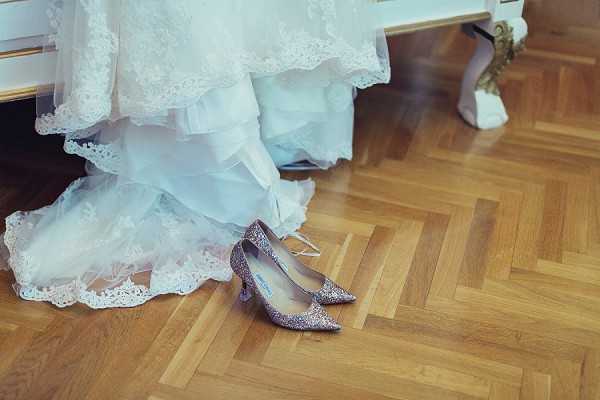 "I chose my dream Pronovias gown, a beautiful lace mermaid dress with long sleeves (I know, it's ridiculous for a wedding in Provence in the summer!). The lace was skintight and looked as though it had been glued to my body – I loved it. The staff at Pronovias were absolutely fabulous and the seamstresses were just the best."
"The 'save the dates' which we had made bespoke by Pear Paper Co – tea towels with a map of the south of France, and a hand drawing of the Chateau. They were posted to our guests nicely folded, knotted with bow and a sprig of lavender. It's a great keep sake as we kept a few for ourselves and actually use them as tea towels."
"Through the choice of vendors and use of decorations our wedding had our desired rustic-chic feel to it. The ceremony was held in front of the Chateau with a lovely floral arch with white drapes blowing in the wind. I walked out in my Pronovias dress with my Dad via the magnificent wood doors of the Chateau."
"The ceremony was made personal for us by the warm and friendly Celia. Celia asked us a series of questions a few months before the wedding and wrote our ceremony based on our personal answers and our history together."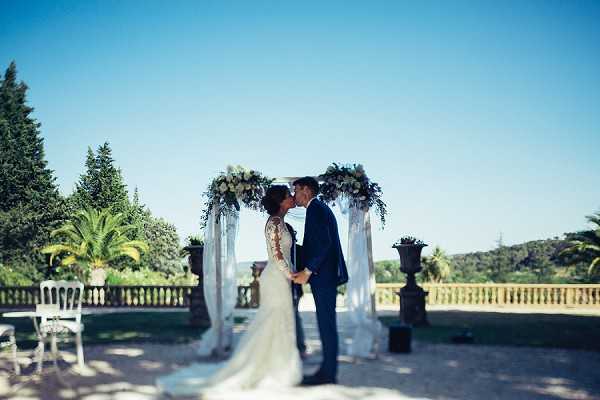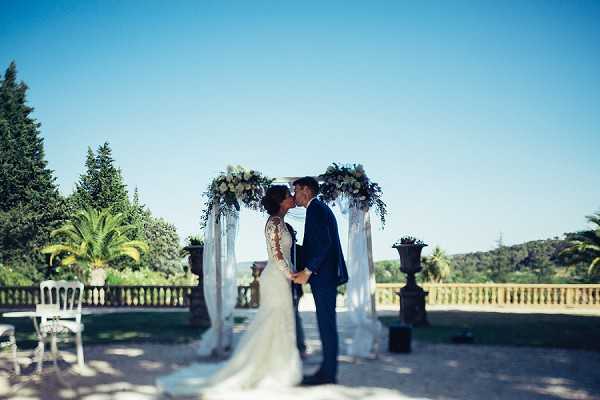 "Our photographer and videographer were at the Chateau from the early morning – taking in all the preparations (including some helium balloon pumping which had everyone in giggles when some bursts or ended up escaping into the wilderness). They blended in to the Chateau and we never felt like they were there. Their work was excellent too and we would definitely recommend having a videographer to would-be brides and grooms, especially if elderly relatives cannot make your big day."
"The ceremony was followed by cocktails, canapés and pétanque on the lawn. It was great time to catch up with family and friends who came from all corners of the world. We had two great babysitters from Allo'z Enfants who were fantastic with the children and kept them busy with all sorts of different games."
"We then entered into the courtyard for our dinner. The courtyard was lit up by fairy lights, hanging from the beautiful old tree and had a little lounge area with chesterfields from BeLounge. Everyone, including ourselves, were delighted with the food (my Dad reminded me that even the French guests were raving about the food – so must have been good) – thank you Gaudefroy Receptions.
"Our cake was made by Louis Patissier; who coordinated with the caterer and florist. We had a delicious baked cake with red fruits, fresh flowers and lavender placed on the cake."
"The next day we hosted a very casual barbecue at the Chateau for all the guests as we wanted to make sure we spent as much time with everyone since many came from abroad and we don't often get the opportunity to see them. Most people just lounged around the pool and sat in the gardens – it was the perfect end to our wedding weekend and exactly how we wanted it to be. It was elegant but relaxed at the same time, I just wish we could do it all again!!"
Chateau De Robernier Wedding, Provence France SnapshotWedding Vendors
Planner: Rose Gold Wedding Planners | Brides Dress: Pronovias | Florist: L'Art Qui Pousse | Celebrant: Celia Drummond | Ceremony Venue: Chateau De Robernier | Photographer: We Are In Love Paris | Stationery: Pear Paper Co |  Cakes: Louis Patissier | Make Up: Sophie Killian | Hair: Jennifer Hillyard | Catering: Gaudefroy Receptions | Furniture Hire: BeLounge | Babysitters: Allo'z Enfants
Save
Save
Save
Save