Good morning lovelies! What better way to start the weekend than with today's elegant Chateau de Bourron wedding, filled with lots of love and romance and a bride wearing a customised Mila gown by Modern Trousseau. Lisa our beautiful bride chose a pretty updo with a stunning headdress to perfectly finish off her look.
Today's wedding will live on forever in Lisa and Brian's wedding photography and videography. My own wedding truly taught me the real value of both these imperative elements. After the wedding day has passed which seems to happen in a heartbeat they are the only things left which preserve your special day for years and generations to come.
Today's wedding film oozes emotion and even allows us readers who haven't attended the wedding and don't even know the bride and groom to experience the love and happiness from the day making you feel like you were there too, such a powerful talent. You can see Lisa and Brian's beautiful wedding film created by the very talented Studio80 at the end of today's feature.
Lisa and Brian from San Francisco California met at a speed dating event one night and immediately hit it off. A couple years later they decided to get married and as usual the question was, 'where'?
Lisa had spent a good part of her childhood growing up in Paris, and spent weekends at her parent's second home in the quaint town of Bourron Marlotte located close to Fontainebleau about an hour south of Paris by car. It's there that she fell in love with riding horses and spent long hours at the local pony club. Brian also loved horses and even rode competitively. Thus, a lovely chateau wedding near Paris with guests from all over the world made perfect sense.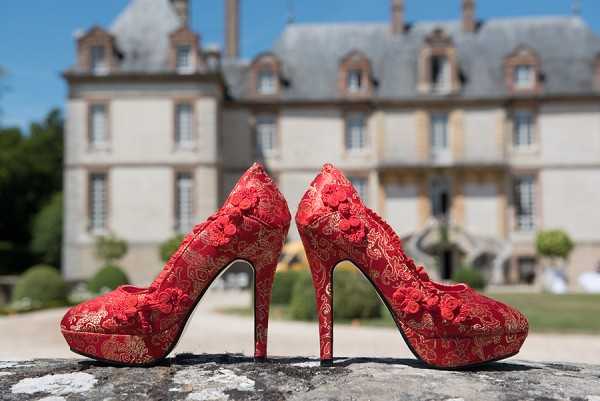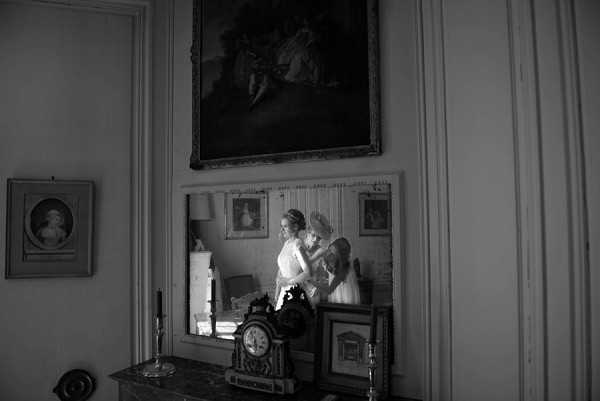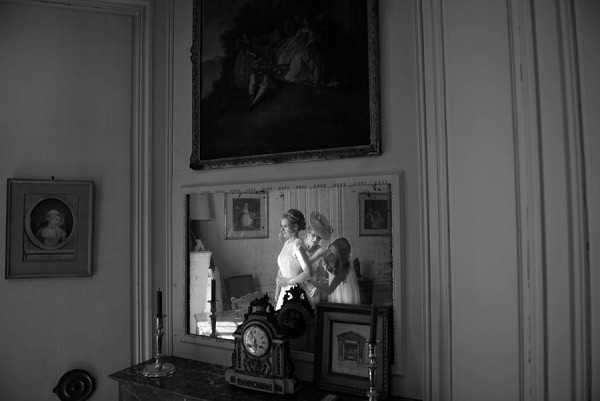 They picked the stunning Chateau de Bourron which is located at the edge of the village. Lisa and some of her close friends and family got ready in a small carriage house at the entrance to the chateau gardens.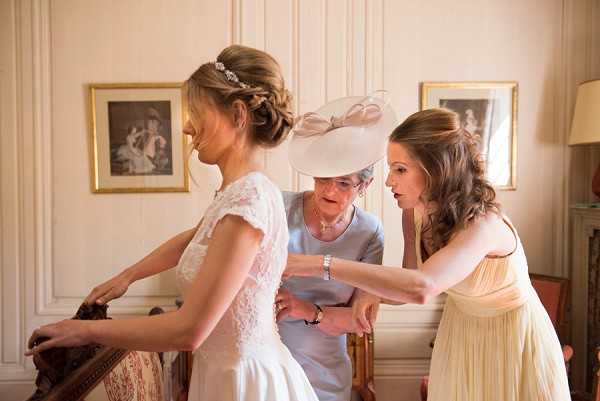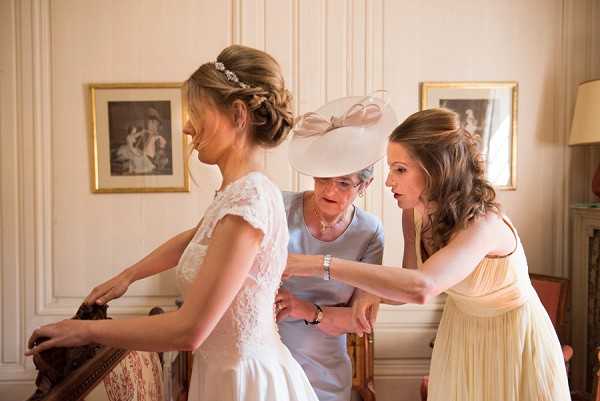 An antique carriage whisked Lisa and her father off to the town's stone church where Brian was waiting impatiently.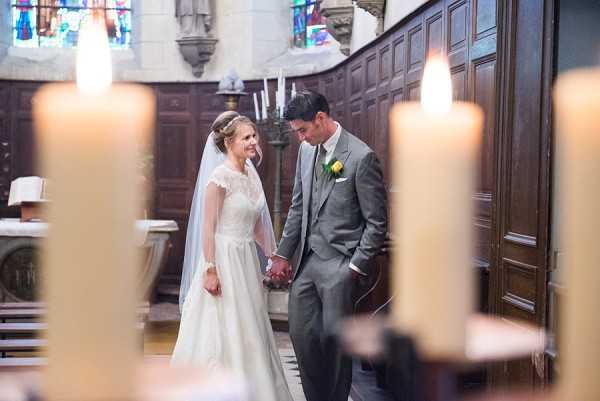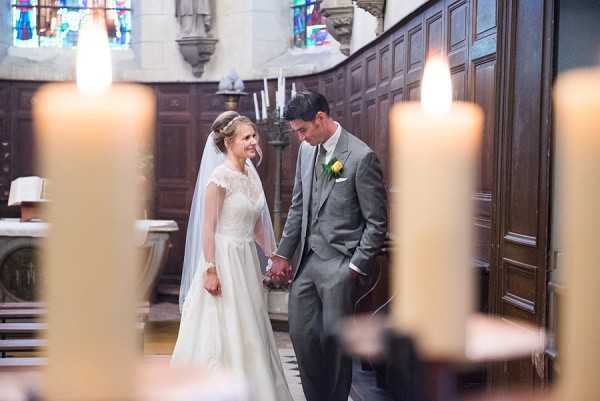 Following the ceremony, Lisa and Brian were greeted by guests and showered with rose petals.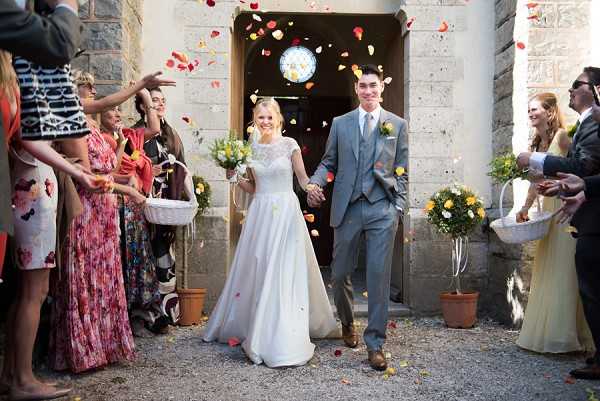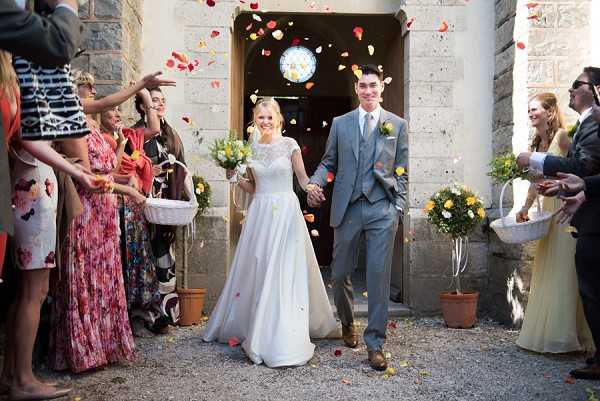 The photographer, David Bacher, then accompanied the couple for a carriage ride around the village and ultimately to the pony club where Lisa had many fond childhood memories. She mentioned that was the one place where she especially wanted photos on her wedding day. The photographer managed to capture some special moments of the couple petting the horses and even trying to keep them from eating Lisa's bouquet.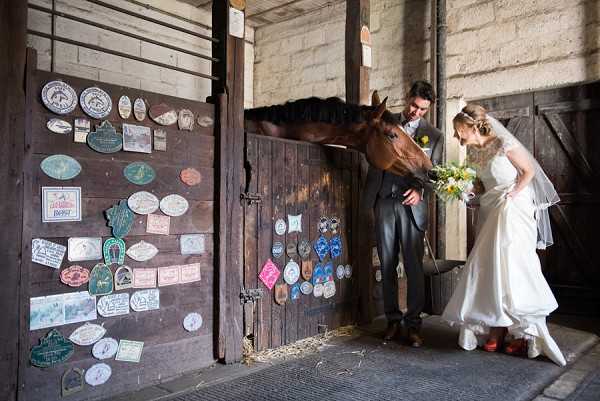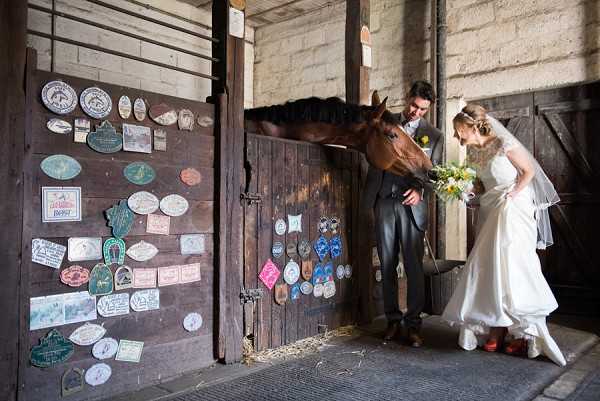 Following the photo session, the couple returned to the chateau for an outdoor cocktail and some rather humorous speeches made by close family members. Brian's brother also sang a song that he had written especially for the wedding.
The evening began with dinner inside the chateau's two main dining rooms. The cuisine was prepared by chef Dominique Maes who also runs the Michelin restaurant Les Premices.
Just after sunset, guests watched a lovely firework display in front of the chateau, and then were served dessert outside. The specialty was a fabulous multi layered piece montee chou.
How romantic! I particularly loved their wedding film, do you have a videographer booked for your big day?
For more Chateau wedding inspiration
click here
.
With love,
Christina x
Chateau de Bourron wedding outside Paris Snapshot
Wedding Vendors
Wedding location: Chateau de Bourron Marlotte | Caterer/Chef: Dominique Maes | Hair and makeup: Modern Beauties | Video: Studio80 | Photographer: David Bacher | Floral:  Atelier Miguel | Brides ceremony dress: Mila (customized) by Modern Trousseau | Brides reception dress: Theodore by Delphine Manivet | Horse and Carriage: Attelages de Fontainebleau | Jazz band:  Lovely days | Brian Suit: Canali | Honeymoon: Micato safaris / Tanzania – (Brian and I are huge animal lovers)
Save
Save