Planning your wedding is most often not a straight road, with twists and turns that the Universe throws at you.  All we can do is try to deal with these life bumps with as much love and grace as possible, but what about when you just simply decide to change your wedding?  Our real bride Victoria is dealing with both of these issues ahead of her 2017 wedding in France, and today we catch up with her.
Victoria: "Hi everyone,
The sun is back here in Halifax and love is in the air, even more as we just came back from Montréal, absolutely delightful and for many reasons our getaway to Montréal was also is big « what if » time.
Source via Pinterest by Tessa Tadlock
Indeed, we are in the process of getting our permanent residency in Canada after 2 years working here, but when we arrived in Montréal we got a really bad news from Immigration Canada regarding our future in this country. So trying to make plans to overcome this one more obstacle, we ended up thinking "What is we were getting married here…" and that opened the flood gates to lots of other 'what ifs'.
So I thought I would write about that, not following the rules, changing our minds, making our own path. Before going further I wanted to let you know where we are with the organization. We already booked and paid half of the wedding venue, got appointment with the floral artist, the band, the DJ, the photographer, the video maker, the caterer and for my dress. We also wrote all our save the date and designed our website.
My first change of mind was my dress, as you might know, a designer dress can be expensive and the ones I tried were between 2500 and 3500 euros, so I was really waiting for a "Coup de Coeur" (crush) and as much as I loved the two dresses selected I needed more.  Mainly because I won't be back soon enough in France before the wedding, I won't be able to chose another dress there so I have made an appointment next week with a custom designer.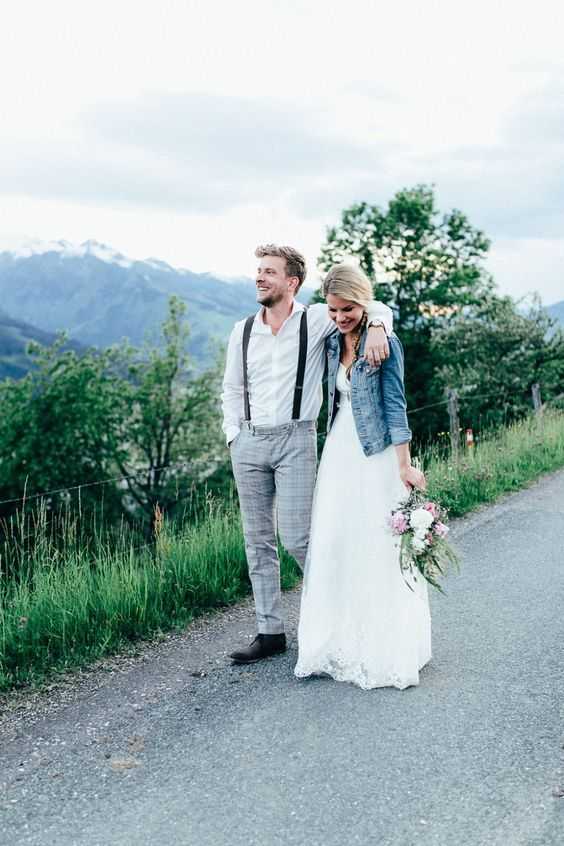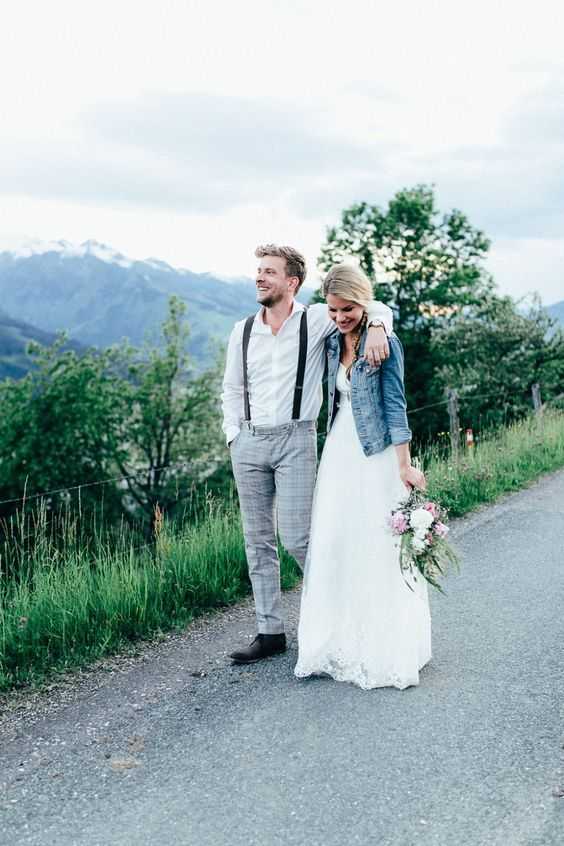 Source via Pinterest from Julia und Gil
Then because of visa issues we might have to get married as soon as possible. Yes I know, this is crazy, this would mean no family, no friends, no party, no dress, no decoration and everything, but somehow there is a little something about it that we love. Just us, no family drama, no requirements. We haven't decide yet if this is happening, if so, it will be this summer with 4 close friends in a wild place in Nova Scotia. This would be for legal purposes and we could still keep our wedding in France…
What would you do? Is this something some of you experienced? Throwing away all the plans, jump in a car or a plane and get married?
When we decided to get married we really agreed about the no tradition, no requirement, no drama rule but the more we are planning the more we force ourselves into things we wouldn't want (invite this or this person, eat this instead of that because of tradition, choose this chair over those because of that…).
We don't want to have a perfect wedding for others, we want a wedding that look just like us : simple and fun with so much love !
Source: via Pinterest
What are you thoughts about that? Do you also have second thought?
I hope I can tell you more next month,
Have a wonderful summer."
Victoria's Wedding Vendors so far:
Reception Venue: Domaine du bois Saint Mard
Photography:  Ricardo Vieira
Vidéographer:  Julia Swell
Band:  Nazca
DJ:  Gystere
Flowers:  La Fontaine Fleurie
Bridesmaids and Maid of honor skirt: Bayi de Souza
Gluten free wedding cake: Helmut Newcake
If you are looking for ideas and inspiration on planning your wedding in France, don't forget you can catch up with Belle Bride Victoria and you can find all the Belle Brides past and present here.
Save