Real bride Hollie C joined the French Wedding Style Belle Brides, back in March this year and boy has she had a year of Chamonix wedding planning activities with some dark clouds cast over her dream wedding! But she is back this month with some more news on her wedding venue search!
Hollie: "Bonjour and we're back in the game! 
Well I am so pleased to report that following our trip to Chamonix in early October we have found our new venue!! Woop!
I must say though, bearing in mind the bad luck we've encountered so far with our previous venue going bust, I've come over all superstitious and feel as though I don't want to get too excited about it in case something goes wrong again.
Sounds silly I know but I even feel a little nervous writing this post in case things go wrong again!
Have any other Brides out there encountered any superstitious feelings in their wedding planning? I've be genuinely intrigued to know.
We still have to finalise a few details and pay a deposit but it is such a relief to know that we're back in the game, so to speak, and aside from all the superstition we are so excited about it that it seems only right to share that on French Wedding Style.
 So how did it all happen…? Well, honestly I think it was a lot to do with fate and pure chance.

I've mentioned in a previous post that I had decided to take a short break from wedding planning as the search for a new venue and consequential stress had become all consuming.
 Well it was during that break that completely by chance I came across a tweet by a photographer that had been re-tweeted by You and Your Wedding Magazine – his tweet was in response to their question asking "Where is your favourite wedding venue?"
The photographer had responded with a gorgeous picture of a wedding in Chamonix! I couldn't believe it, a potential venue that I hadn't already come across in my previous searches.
 It turns out, that venue is a stunningly beautiful (there just aren't enough superlatives) 250 year old Savoyard Farmhouse called Les Vieilles Luges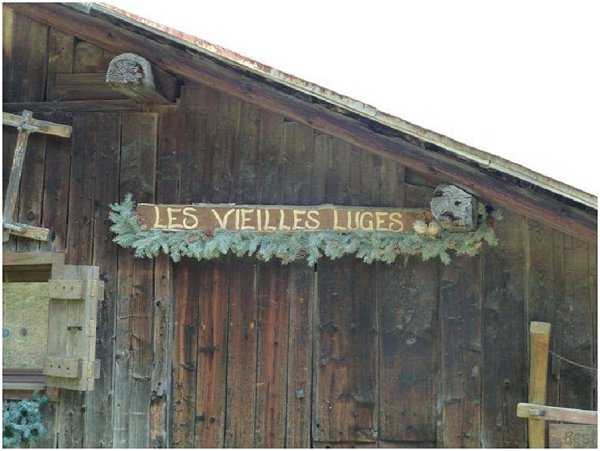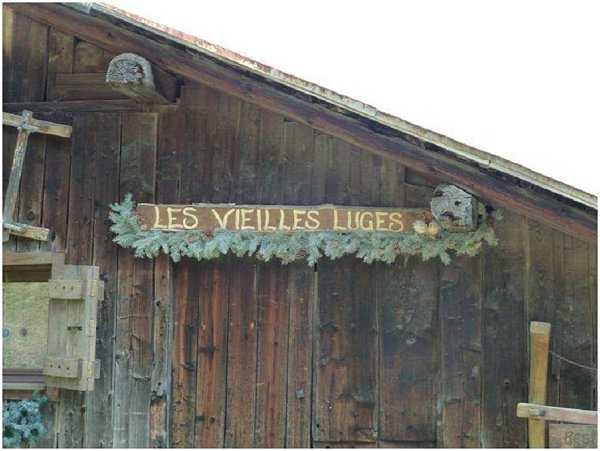 After pouring over the website gallery, I decided to bite the bullet and email them. I tried not to get my hopes up, especially as there are a few logistical issues, most notably the lack of access as you can only get there after a 20 minute hike or a short ride in a four wheel drive vehicle.

I also decided not to say anything to Mat, as I didn't want the both of us to get excited if it turned out they were already booked, the price was too high or the logistics simply proved too much.

It was an agonising few days waiting for the initial response, and then after exchanging a few more emails over the next fortnight with our plans for the day, the owners Julie & Claude, sent over a quote.

So it was time to tell Mat…

At first Mat couldn't quite believe I'd managed to keep it under my hat for almost two weeks (and to be honest, given how excited I was, neither can I!) but his next response was "I've got butterflies in my tummy."

So within a few days we'd booked our flights, been back in touch with Wedding Planner, Monica and arranged a date to go and meet Julie and Claude and see for ourselves.

We weren't disappointed, Les Vieilles Luge is simply stunning and once again both Mat and I got those excited butterflies, fluttering about in our tummies!
 Julie & Claude were so friendly and only too happy sit in the glorious autumn sunshine and chat with us and Monica about our wedding plans, as well as sharing with us the fantastic history of Les Vieilles Luges. The land on which it stands which has been in Claudes family for over 500 years as both a working farm and now a restaurant!

But, we had to remain practical, there are some logistical issues and we have to mindful of the ever changing mountain weather in Chamonix, so we also hiked up to see another venue that we'd briefly visited during our trip in July – La Bergerie de Plan Praz

A gorgeous mountain restaurant situated at 2000m, half way up the Brevent mountainside.
The Ski-lifts close at the end of September, hence our hike up. But we had a fabulous picnic lunch up there, just us, a few birds and the cable car maintenance team, also on their lunch break.
It's an entirely different kind of mountain experience up at Plan Praz, but with an equally strong "wow factor"as Les Vieilles Luges.
So we went from having no venue, to having two really strong options – what a turnaround!
So our remaining few days in Chamonix were spent weighing up the pros and cons of each, well in the end it came down to those wonderful butterflies in our tummies and we've decided on Les Vieilles Luges!

So, subject to some final arrangements I'm so pleased to say we're back on track with the planning and I can't wait to get stuck into all the details with Monica over the next few weeks and months.

Whilst you enjoy some of our photos from the venue, I'd better get cracking on with the invites!

A la prochaine!"
 If you are looking for ideas and inspiration on planning your wedding in France, don't forget you can catch up with Hollie C and fellow Belle Bride Fiona and you can find all the Belle Brides past and present here.