Ahh, the sweet taste of Friday! But here at FWS, we are still blushing with excitement from this Celestina Agostino wedding dress photo shoot in the truly French – Deux Plateaux. The place itself is a historical source of romantic inspiration such as engagement events, wedding events and even rekindling wedding anniversaries.
Here we have our talented Camy Duong relive their tale with her expert shots as Vincent Truong helped them plan this event. We also see the lovely roses from Aude Rose and hair and makeup by Xing Maquillage, and well – let's have Camy do the telling!
Let me introduce you the most romantic Parisian couple I ever met. Capucine and Bertrand got married one year ago and for their friend the talented photographer – Vincent Truong – who was holding his very first workshop in Paris that I was participating.
During the shoot, the two lovebirds accepted to wear their wedding gown and costume one more time for the needs.
The shoot had a very romantic blue and gold theme. Capucine was wearing a very iconic gown from the famous designer Celestina Agostino and Bertrand was wearing a dark blue suit from Les Francs Tireurs.

This sweet couple and the colors highlighted the Parisian architecture, especially this very special place "Les Colonnes de Buren" at the Palais Royal.

This photoshoot is even more romantic because it was shoot in film with my favorite film roll – Fuji 400h – processed by Carmencita Lab.

Vincent Truong was the host of this beautiful workshop and we wanted to create a very chic and elegant photo session in Parisian way. That's why Capucine had two hair set up, the first one is more chic and elegant, the second one is more romantique. Vincent also chose very talented vendors who are capable to create delicate and refined work.

I was one luckiest to attend Vincent first workshop, it was my very first photo session entirely shoot on film, the grain and the softness of film photography is "inimitable".
I hope that you will find interest in this love session as much as I loved capturing these two souls.
Camy Duong Photographie Snapshot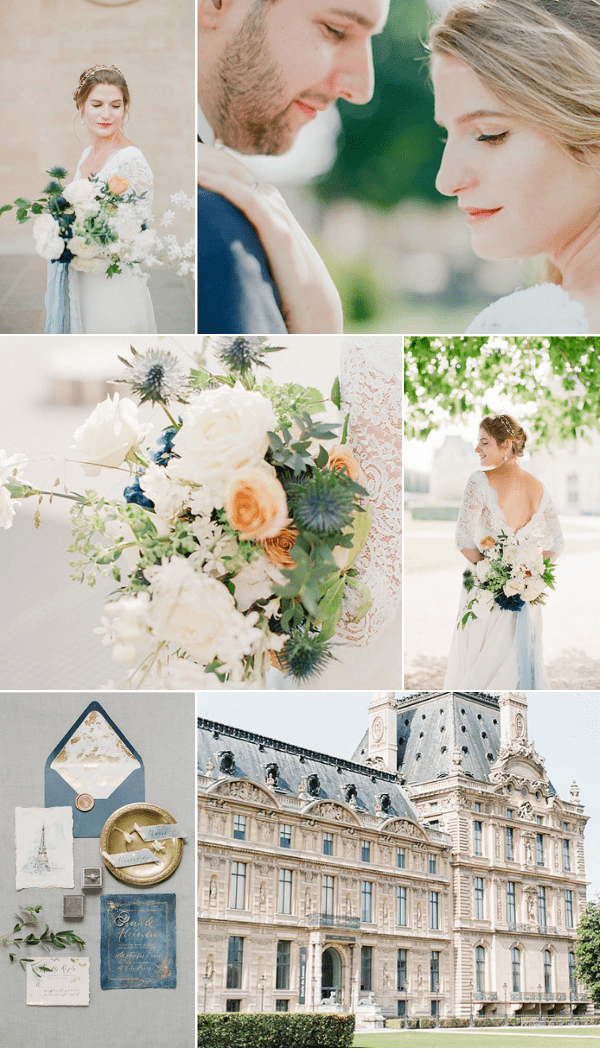 Vendor Details:
Photographer: Camy Duong | Wedding Dress: Celestina Agostino | Grooms Outfit: Les Francs tireurs | Hair and Make Up: Xing Maquillage | Florist: Aude Rose | Stationery: Tinge and Flourish | Accessories: Filles Box | Planner: Vincent Truong