So today is a very special day here at French Wedding Style HQ as editor Laura is celebrating her 10 year wedding anniversary today… HUGE Congratulations!! To mark this joyous occasion (of celebrating love) we thought we would take a look back at the very first year of French Wedding Style and share with you our top 10 weddings from year 1 of FWS, so here we go…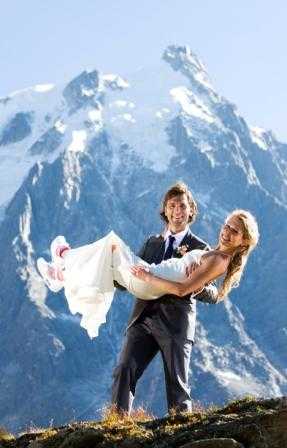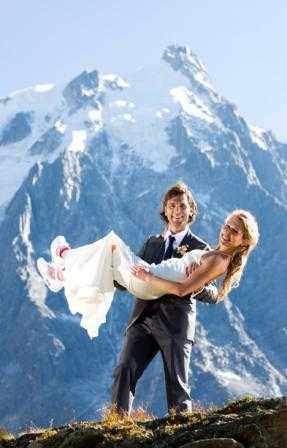 Elyse & Andy's outdoor mountain wedding in Chamonix was organised by destination wedding planners Haute Weddings.  American ex-pats living in Geneva the couple love the mountains and decided to exchange their wedding vows under the towering spires of the Mont-Blanc range in France.
Their guests all wore hiking boots and tennis shoes to access the ceremony location in a clearing at the Plan d'Aiguille above Chamonix. The crystal clear blue skies and radiant sun dazzled the couple and their guests as paragliders flew overhead, the glaciers glistened in the distance, and the guitarists notes carried high up the mountain tops. Read more about this wedding here.
Andy and Loan's wedding combines simple elegance with personal touches in sunny South West France.
The wedding was an informal affair set at Domain de Bassilour situated just outside the town of Bidart, close to the beaches and to Biarritz, tucked away in the greenery of its pretty little park.  The 16th Century farmhouse is in the heart of the Basque country, with the Pyrenees as a backdrop. The bride wore a stunning silk organiza vanilla petal strapless gown by Italian born Carla Zampatti and Jimmy Choo shoes.  We love the soft feminine flow and movement of the dress. Read more about this wedding here.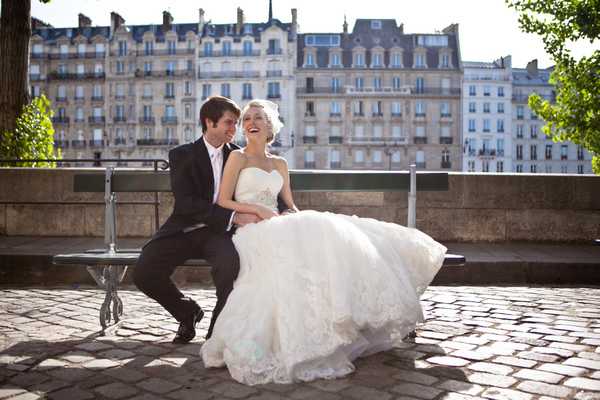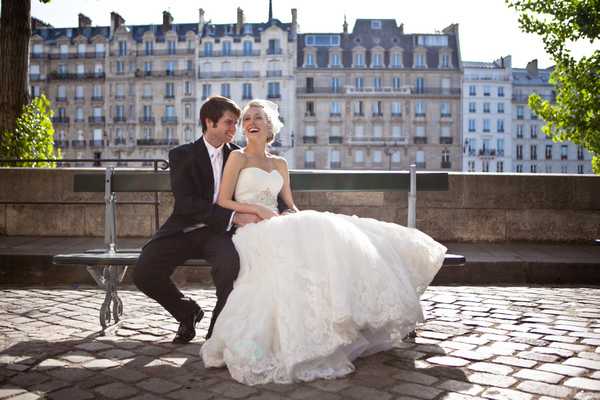 A real life wedding in Paris of Tiffany and Matt, planned by the lovely wedding planners at Fête in France.
Tiffany & Matt decided to come to Paris with an intimate group of immediate family and close friends to celebrate their big day that was captured by One and Only Photography Paris. Read more about this wedding here.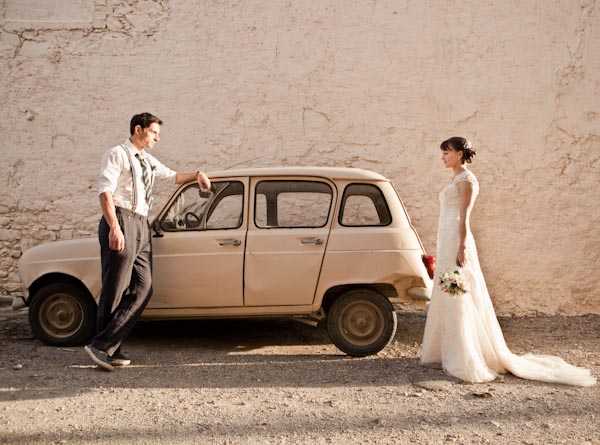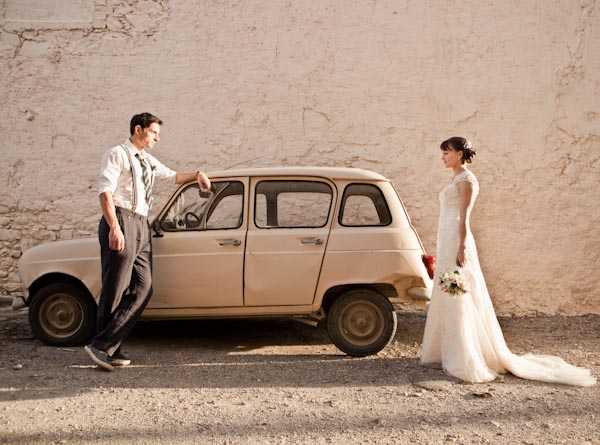 The real life wedding in South West France of Dan and Caroline held at Chateau du Puit es Pratx is a rustic french glam affair. Dan and Caroline combine their retro style with hand made elements to create a stylised yet personal wedding, and the old school Renault car placement is genius! Read more about this wedding here.
Chic, glam and sophisticated – everything that you want when you elope to Paris and Tiffany and Brian achieved all this and more! Wanting to avoid the "big thing" Tiffany and Brian decided on an elopement to Paris but still wanted all the beautiful elements of a wedding. The couple choose to splurge on certain key ingredients such as a gorgeous hotel, fancy car, Vera Wang gown and a delicious dinner in an exquisite French restaurant. Read more about this wedding here.
The most delightful shabby chic country real life wedding in Provence, captured by Jean-Louis Brun and planned by Fête in France.
Fête in France talk us through the wedding day: "We just had the pleasure of planning a rustic chic wedding for a lovely couple from Toronto, Leah and Matt. The two had originally began their wedding plans with their native city in mind, but as the guest list (and therefore, expenses!) kept expanding, a very appealing alternative option presented itself: to get married in France! Read more about this wedding here.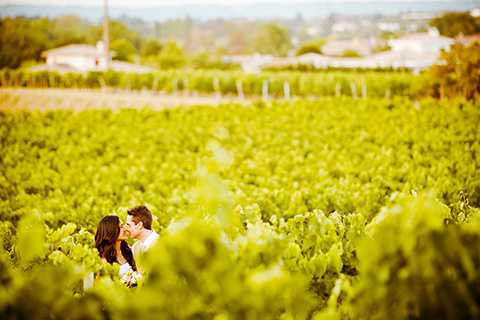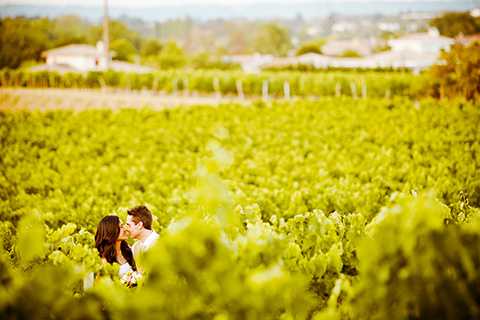 José and Julie came from California to celebrate their intimate wedding in St Loubès, a village near Bordeaux. The happy coupled travelled with their family and friends to celebrate their wedding at La Villa d'O on top of a hill in the St Emilion vineyard. Read more about this wedding here.
This weekend real life wedding in Biarritz is so full of wonderful details and scenery! Celine and Stephan planned a wedding to celebrate not only their love but the loved ones in their lives, combining a formal wedding ceremony and celebrations at Chateau de Brindos with a weekend of activites. Read more about this wedding here.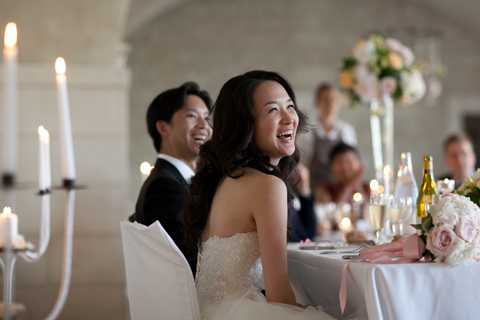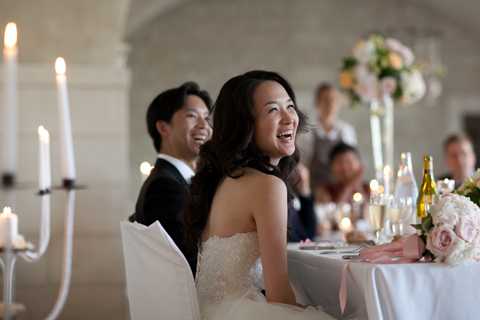 A real life elegant Chateau wedding in the Loire Valley of Meejung & David, took place on a beautiful May weekend at the Chateau de la Bourdaisiere captured by Studio Cabrelli. Read more about this wedding here.
So much loveliness in this real life wedding of Typhaine & Benoît in Brittany, North of France and captured by Emilie White. The day is full of so many thoughtful details that you know the guests would have enjoyed and appreciated.
Not to mention we LOVE the green beetle wedding car and the juxtaposition against the ancient stonework of Château de Pommorio is a triumph.  If you are planning a french country or shabby chic wedding, then be sure to watch out for the reception details as there are lots of ideas and inspiration. Read more about this wedding here.
We hope you enjoyed our trip down memory lane, see you again tomorrow!!