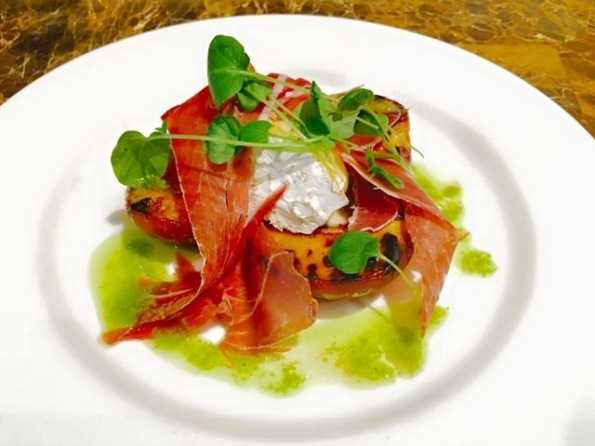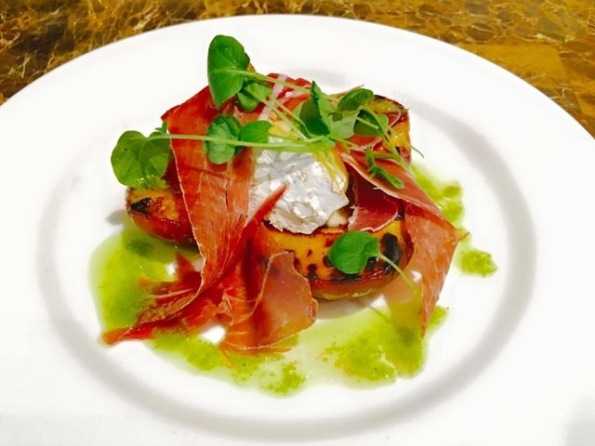 We are flinging open the doors of The Cakes and Catering Study today as we welcome Chef à domicile and owner Lori Mazziotta-Gardet to French Wedding Style.  Based in the South of France Chef à domicile' has brought together all the various influences of their culinary education to bring you fine fusion dining tailored to your tastes. For you to enjoy in the comfort of your home, office or holiday villa, for weddings or any celebrations.
Whether you enjoy Mediterranean cuisine from France, Italy, Spain, or Greece; or your tastes lean towards Lebanese or Moroccan specialities. Chef à domicile discusses and plans the menu that works best for you.
It also offers a selection of furnishings, including tables, chairs, table settings and staffing and would be pleased to recommend their trusted partners that they have been working with over the years, including wedding planners, photographers, florists, celebrants and entertainment.
French Wedding Style caught up with Lori to find out more.
How did you become a caterer and involved in wedding catering?  
I think I owe my deep-seated love for food to my Italian roots. My family is from Sicily, so naturally, our life was centered around the kitchen. I found myself spending a great deal of my "downtime" cooking, entertaining family and friends.  Cooking never seemed like work or something that you just did to satisfy hunger, it was the combination of the food preparation, experimenting with new ideas and flavours and then watching the expression on someones face as they took their first bite that made me realize-this is my passion.
I started by catering cocktail receptions and dinner parties, often increasing the guest numbers by ten or twenty.  I soon realized that I didn't have to compromise my cooking, just changed the quantities  Now we can comfortably prepare a 5 course sit down dinner for 150! And every guest enjoys a meal like they were a member of my family.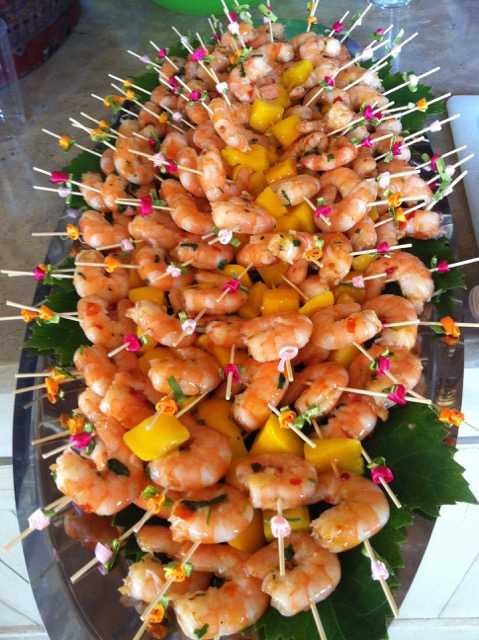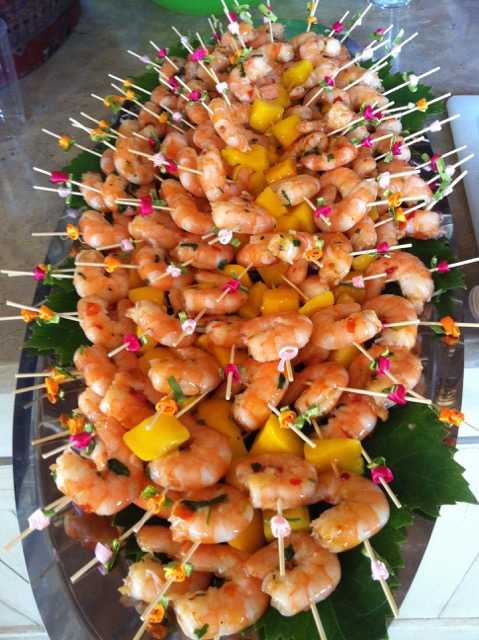 What skills do you think that it takes to be a fabulous caterer and how do you approach the menu for someone's big day?
Weddings are unique. You have to strike a very delicate balance between reflecting a couple's' personal tastes and remembering you have 100 other people eating that night that might not love the same things they do!
Each couple comes to us with a vision. It's one of the most special days of their lives and they want it to perfectly embody who they are together. We get to know them, we really listen to their tastes and their dreams – and then it's our job to make it all come true.  We tailor make menus so it's a great deal of work. I strive to make each menu as unique as the couple, so I'm always trying new things in the kitchen, editing menu's, coming up with fresh ideas for plating, so it not only tastes fabulous but looks incredible too.
I guess the vital elements are a love of great food and surrounding yourself with people who share your passion. Luckily I married a Frenchman who is also a cookaholic, and who is my right (and left!) hand man in the kitchen. I have a fantastic team! Im very proud of them, they are often mentioned and complimented by our guests as "going the extra mile" and taking a personal interest in their needs.
Are there any trends or usual requests when it comes to your clients and their wedding menu?
Living and working in the South of France, the most common request is to have a Provencal/Mediterranean reception, which for us, is perfect, as this is our specialty. There are so many wonderful flavors and smells that come out of a French kitchen. I think this is one of the special things about a Provencal style Wedding Menu, the aromas, the herbs we use, the meats, fish and cheeses we select – completely reflect our area. For guests, especially those traveling in for a wedding, our menu's help immerse them totally into their destination. There's nothing like a bite of fresh sea bass with sauce vierge or 7 hour slow cooked lamb to make you feel right at home in France!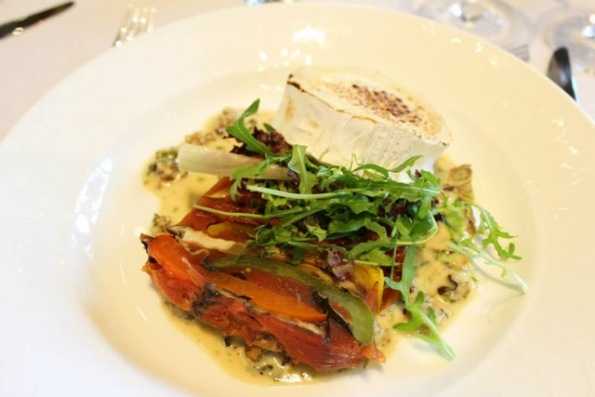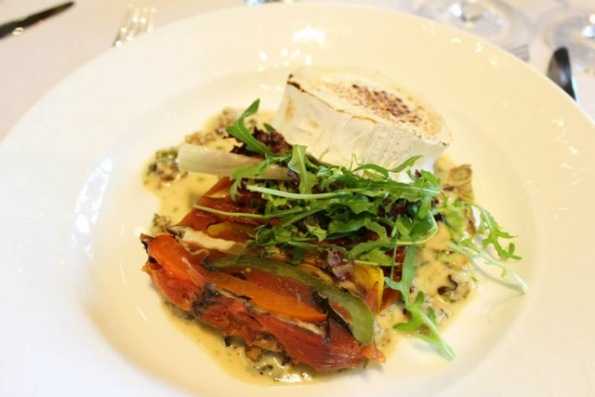 How does working with a destination couple differ from a domestic couple planning a wedding in France?
There's not a huge amount of difference on our end. Each couple to us is individually just as special as the last and we work very closely on exactly what fits food wise for each client. We have a sample menu we send over to initiate conversation about what works and what doesn't, but honestly no two weddings we've done has ever been the same.
I think people who are looking for traditional Mediterranean food for their wedding truly love good food – and so do I – so we already have common ground! Eating is such an intimate business, we form relationships over menus, in fact we are still in touch with couples we catered for over 5 years ago! We've developed friendships with so many of our clients that lasts well past the reception.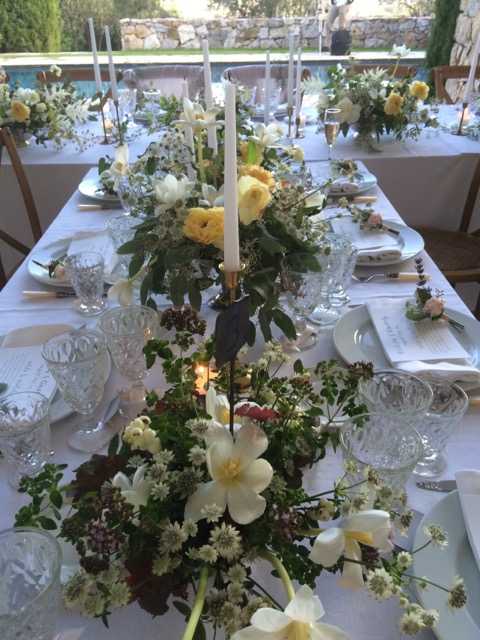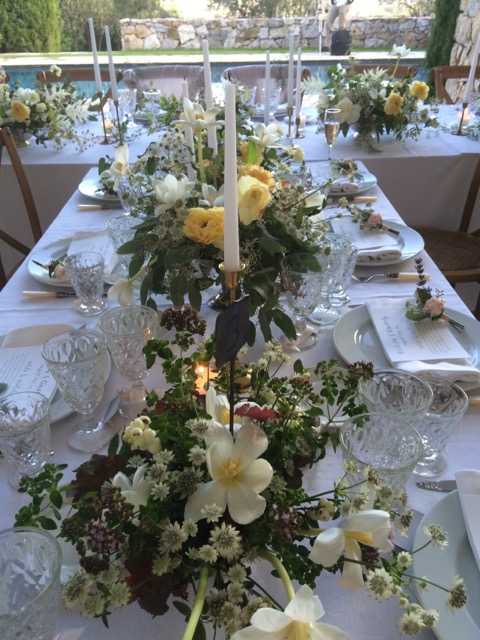 What are some of the questions that you frequently get asked by brides as a wedding caterer?
Hmmmm.  That's a good question.  I think THE most common question is-do I think it will rain on their wedding day, which is always a bit difficult to answer as it may be 9 months to a year away!
What is the funniest story about being a caterer?
I have my fair share of bad DJ stories or embarrassing speeches but by far the funniest has to be Rod Stuart showing up to one of our cooking classes! He was lost, and asking for directions! Needless to say, he disrupted the class (just a bit) as all 8 women promptly left the kitchen to have a chat with him. He was a hard act to follow, lots of giggles and photo sharing of Rod and his wife, but we all tried to stay focused on the task at hand and knocked out a pretty fabulous 4 course menu, despite the stars in our eyes!
What is the best thing about being a caterer in the South of France?
There is something truly special about the South of France. I feel very blessed to be living in one of the most beautiful areas in the world, and it's renowned for its food! To me, you know if you think of Switzerland you think of Chocolate, when you think of France you think food and wine and cheese and fresh bread and the list goes on.
For a caterer you couldn't find a better home. I'm surrounded by a truly spectacular selection of fresh produce and excellent wines. It's much easier to produce magic in the kitchen when you start with the very best ingredients.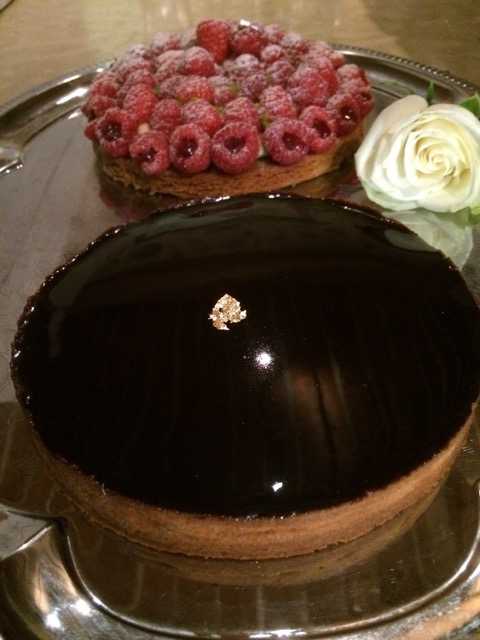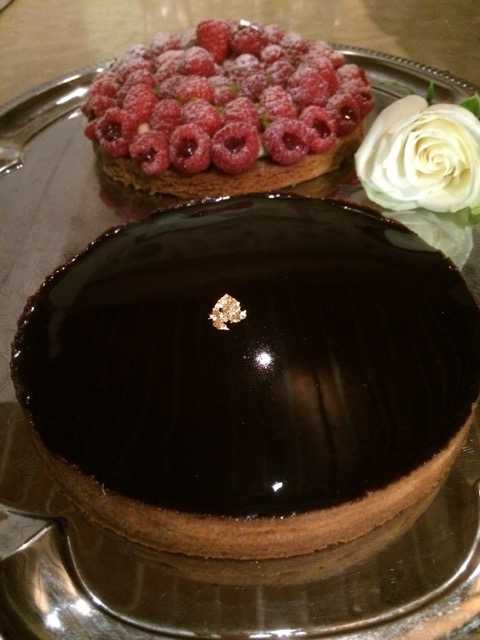 Tell French Wedding Style about your services and packages
We do so much more than just weddings and Mediterranean food! Be it a sophisticated cocktail party, an intimate dinner, an informal family celebration or all the meals for your private villa holidays. Whether you enjoy Mediterranean cuisine from France, Italy, Spain, or Greece; or your tastes lean towards Lebanese or Moroccan specialities.
I also spent a large part of my life in the Turks and Caicos Islands where there was an emphasis on seafood dishes and spices.  Every event is specifically designed for the individual desires of our clients and we always strive for excellence. At the base of it all though, the service we offer is very simple: quality food prepared from scratch using fresh local ingredients at reasonable prices.
Initially, I send over a few menu suggestions, in order that they get an idea of what we can offer with regard to our menus and pricing. There's so much choice, but we start with a good selection of entrees, plat principal, cheeses, dessert or wedding cake. We also do midnight snacks, and often a more relaxed brunch or BBQ the following day.
Then I try to arrange a meeting, very often it's via Skype or Facetime, so we both have a visual introduction. I think this is important. I think I become quite animated when I talk about my food, it's good for people to see I'm passionate and that I care.
After that, I work on tailoring the proposal to better suit the clients tastes. I love the process, making their vision come to life through food. No two events are ever the same for us, our menus change constantly, in tune with the seasons and the availability of the best locally sourced produce. We take every meal very personally!
View more of  Chef à domicile creations here and email Lori to find about availability and prices for your wedding in France.
Contact Details for Catering in Provence with Chef à domicile
Website: www.chef-adomicile.fr
Save
Save