Today I get to share with you the second winner from exclusive competition by Keith Pitts Photography to win an engagement shoot in Paris, if you missed it view Lindsay and Robert's engagement shoot here.
Todays carnival engagement shoot in Paris stared Charles and Melissa and began near the Eiffel tower at the Trocadero Carousel. The session continued from there to the Metro then a walk through the Tuileries Garden.
Keith Pitts Photography: "We went to the carnival at the Tuileries to incorporate a little bit more of the theme she had envisioned. She was wearing a long black dress by Givenchy, a top hat and red umbrella with Louboutin shoes. She was a trooper walking everywhere. The session ended after a walk into the Palais Royal area with the black and white marble pillars as the back drop.
 Melissa and Charles are not only a beautiful couple – but they are so pleasant to be around. Full of enthusiasm for life that is contagious. We certainly hope our paths cross again."
But lets find out what won them the prize: "One of the most romantic gestures in my relationship is really quite a simple one. It was out first Christmas together in our apartment. We had just moved in together in the month of November 2007. We got ourselves a mini Christmas tree and decorated it together one cold night before Christmas so we would have a little bit of holiday cheer in our new home together.
We wanted to take a picture of ourselves in front of the tree, but since we didn't have that much furniture yet, we had nowhere convenient to set the camera and put on the timer. So we used Charles' webcam and set the computer on a chair. He took a couple of shots, but me being the shutterbug that I am wanted several more pictures to be able to choose from. He kept swatting my hand away from the button as I kept trying to take more photos and thus we got several shots of us both laughing hysterically together. Charles took ALL those photos and made me a little diaporama collection set to music, that we both love, and he plays it for me often…it's one of the ways he tells me he loves me."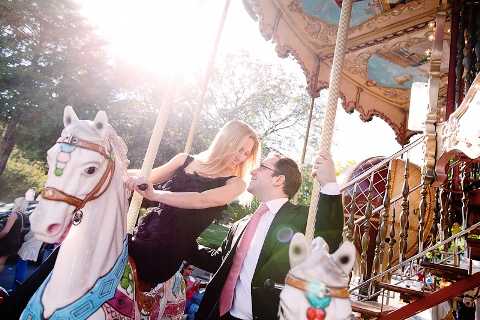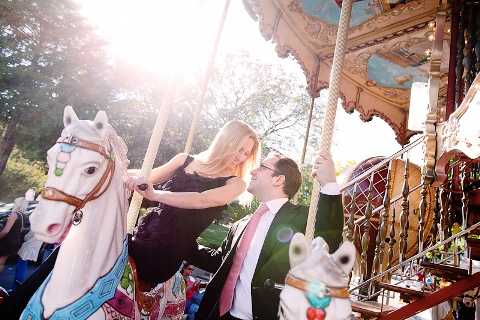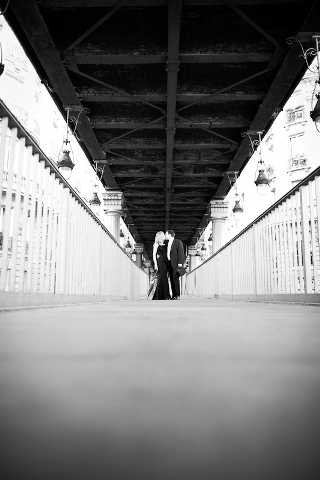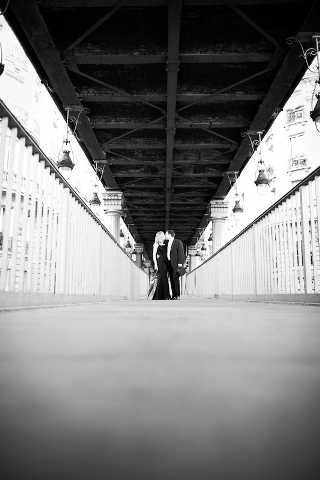 Charles and Melissa recently got married and to find out more about their wedding and life in Paris follow Melissa's blog Prête-Moi Paris.
Don't forget if you want to capture your love in Paris find out more information over at www.keithpitts.com
Monique xx