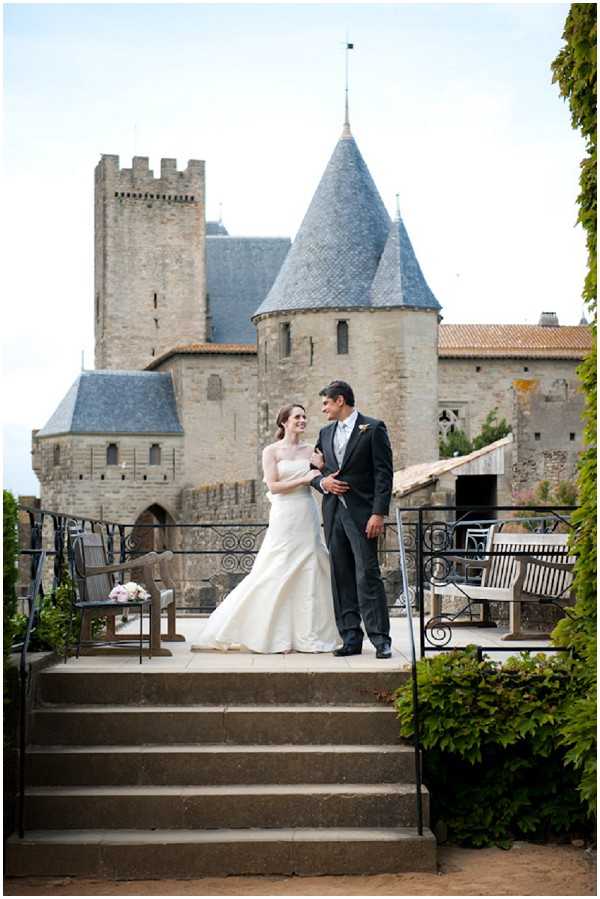 Good Morning Trulovers and how are we all, any more newly engaged readers joining us today?  This is the second real wedding of 2014, if you had a little of a sore head and missed Wednesday's Brittany wedding you can catch up here.
I am continuing on with the start of so many fabulous weddings to bring you in 2014 with Gabby and Sébastien's Carcassonne wedding in the South of France, planned by Fête in France and captured by David Bacher Photography.
French Wedding Style – Photography © David Bacher
Coming all the way from Texas for their wedding in Carcassonne, France, the fête incorporated cultural details from both sides of the families, with traditions from Texas and France. The couple was wed amongst family and friends surrounded by beautiful views of the city walls and castles.
The celebration started with an intimate dinner at a nearby vineyard Domaine Gayda. Guests tasted wine, olive oil and grilled barbeque while enjoying the view of the vineyards and lavender fields.
The wedding took place the next day in the garden of the Hôtel de la Cité.  The couple recited their vows under a beautiful trellis of lush flowers and billowing white fabric.
In order to incorporate some local traditions from the bride's side of the family, a Cajun-style band played in the garden during the outdoor cocktail in honor of Gabby's father who is originally from New Orleans.  The couple went off to take photos on the hotel grounds while their guests enjoyed the lively music, atmosphere and cocktails.
Dinner and dancing took place inside the Salon du Jardin, where guests enjoyed the many garden details that were incorporated into the reception. Each table was named after a flower and accompanied by a vintage print (including Texas' state flower, the Bluebonnet!).  Another way of adding cultural detail from the bride's side into the wedding evening.
When they were growing up, Sébastien and his siblings would often come through Carcassonne and buy candies from their favorite candy shop.  In keeping with tradition of the groom, the guests enjoyed a sample of these confections; including gourmet lollipops as a gift from the couple.
For the wedding guest book, guests were also encouraged to leave their fingerprint and name on a fingerprint tree, as well as use some fun photo booth props to take memorable pictures throughout the reception.
As a surprise for their guests, the couple performed two first dances – one more traditional and a second dance that was a choreographed swing number and saw the bride change into her second wedding dress.
I do love a wedding video and Gabby and Sébastien's, is so romantic and captures the essence of the beautiful city of Carcassonne.
The entire wedding weekend was magical, romantic and full of both American and French tradition.

Wedding Vendors
Wedding Planning: Fête in France
Wedding Venue: Hôtel de la Cité, Carcassonne, France
Photographer: David Bacher
Flowers: Sarah Ménager
Cajun Style Band:  New Orleans Phil's Band
Wedding Videographer: ZEN Film Works